Along with Newegg jumping the gun and listing the Visiontek RX 480 a week early, we've now got a number of other listings from other RX 480 manufacturers all appearing online. From Sapphire, to XFX, to PowerColor, we can learn a little bit more about each of them in the lead up to the official release in a few days' time.
It seems like Newegg can't decide which listings it wants to leave up and which ones it wants to take down, as at the time of writing the Visiontek and XFX listings are still up. The rest appear to have been removed, but thanks to the screenshotters over at PCPer, we can still see them in all their glory.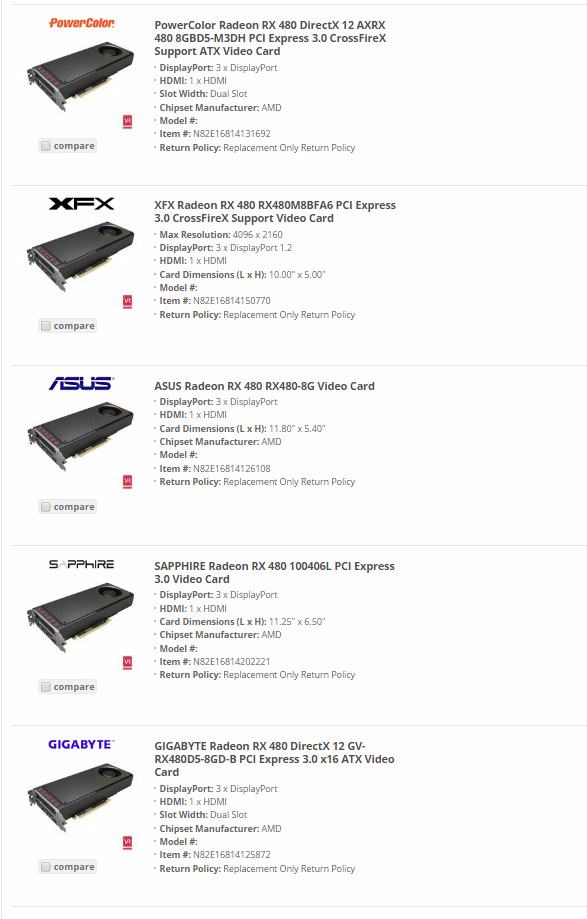 Unfortunately none of them detail clock speeds, so we won't know whether these are all stock cards or come factory overclocked until release it seems. However we can see from their dimensions that some are likely to come with aftermarket coolers. While the XFX card measures up at 10 inches by five inches, the ASUS card is 11.8 inches by 5.4 inches and the Sapphire one is a larger 11.8 inches by 6.5 inches.
All of the pictures shown with the cards are the reference design with new stickers attached, so it seems likely that that's not the design some of these cards are using, though what the final designs are for their third party options remain to be seen.
Hopefully the large number of partner cards means that stock will be strong for the RX480 at launch. Considering performance pegs it as close to a GTX 980, but at a $200 price point, it has the potential to be a big seller.
Discuss on our Facebook page, HERE.
KitGuru Says: Are any of you planning to buy an RX 480 when it launches next week?