When I sat down at the Nvidia GTX 800M briefing I was confident that I knew what was coming. The Kepler technology in GTX 700M would be superseded by Maxwell which would reduce power draw and increase battery life. No doubt there would be a long list of OEM partners who would ally the new GPUs with Intel Core i5 and Core i7.
Well I was partly correct.
Nvidia has a new product stack that starts at GTX 880M and goes down to GTX 820M. Every GPU is a GTX, unlike the 700 family where the big boys were GTX and the little kids were only GT.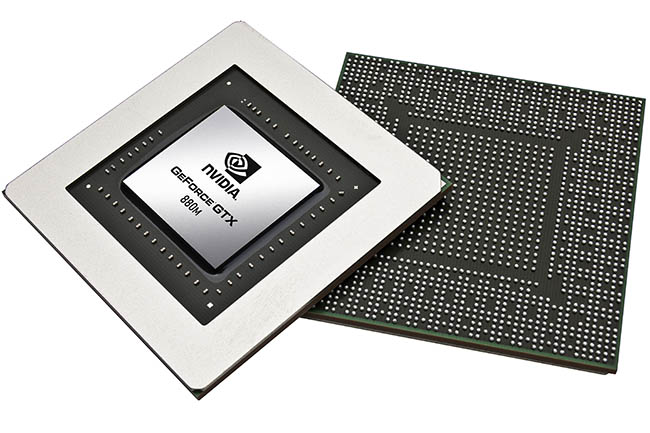 During the Press event Nvidia focused on GTX 880M, 870M, 860M and 850M but they were talking in general terms about how, for instance, GTX 880M compared with GTX 780M. Hard facts about feeds and speeds were entirely absent until Nvidia released an FAQ sheet after the event.
The first surprise was the revelation that GTX 880M and 870M will continue to use Kepler technology. Perhaps they will migrate to Maxwell in the future but that isn't happening any time soon.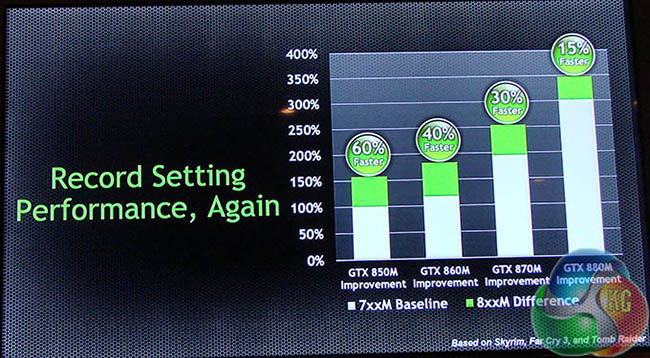 So how, you may wonder, does GTX 880M gain 15 percent performance and GTX 870M some 30 percent? I stuck my hand in the air and asked whether the Kepler GPUs had gained some cores and was told that Nvidia has found some 'improvements'.
After the event I cleared up this mystery. Both GTX 880M and 870M gain 130MHz in core speed and GTX 870M has 1,344 cores where GTX 770M only has 960 cores.
Maxwell makes an appearance in GTX 860M and 850M, although Nvidia later added that Maxwell is also in 840M and 830M. GTX 820M continues to use Fermi so that gives us three distinct architectures in the product stack.
Nvidia muddied the waters after the event when it said that GTX 860M will be available in two forms; one based on Kepler and the other on Maxwell. The Kepler version has 1,152 cores and runs at 797MHz while the Maxwell GTX 860M has 640 cores that run much faster at 1,029MHz.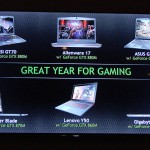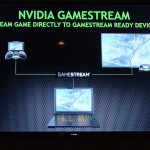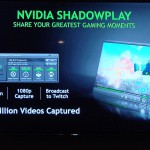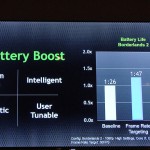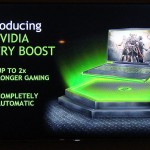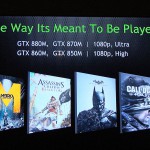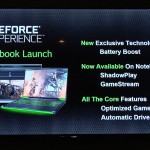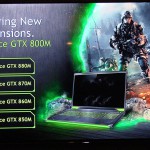 Nvidia told me that 'Performance is very similar between the two' so I shall be interested to see whether there is any impact on battery life.
Once Nvidia had glossed over the silicon that forms GTX 800M they were able to get on to the subject they really wanted to discuss which is the software that comes with the package.
Nvidia Battery Boost is something you download through GeForce Experience and which only works with GTX 800M. The claim is that gamers will get up to double battery life, partly by setting a frame rate cap and also by clock gating the hardware in the laptop. This extends beyond the GPU and includes the CPU and memory.
The other cool feature is Shadow Play which is an always-on recorder that captures a defined amount of gaming on your drive, say the last 20 minutes. Video is recorded in H.264. You can review, edit, add music or whatever before uploading to Twitch or YouTube. I have never heard of Twitch but apparently it is massive in the USA (Ed: Seriously? http://en-gb.twitch.tv/). This recording has a tiny overhead as it uses the on-GPU video encoder that is otherwise sat idle.
Kitguru says: Reviews coming soon!