Back in July, AMD accidentally listed the RX 490 on its website for a brief time, which swiftly prompted rumours surrounding AMD's higher-end GPU plans for 2016. It has been a few months since then with very little in the way of new information but this week, reports popped up claiming that we may actually get our first look at the RX 490 as soon as December.
Right now, reports are sitting on top of shaky ground with not much evidence really to back them up. According to some, the RX 490 may end up being a dual-GPU card with two Polaris 10 chips on one PCB. This would then be priced competitively against the likes of the GTX 1080, though in terms of performance you would have to live with the drawbacks of using a dual-GPU setup. Alternatively, if the RX 490 ends up coming next year instead, it may end up being a single-GPU card with Vega 10 on board.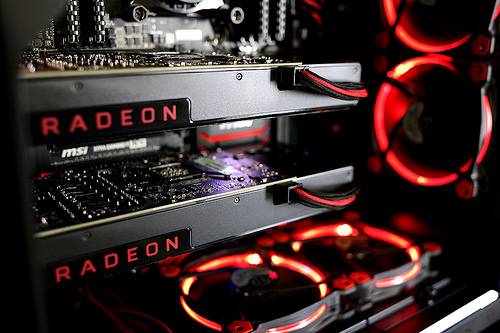 So why do some seem to think that the RX 490 may be a dual-GPU card? Well, wccftech's report seems to cite a Zauba shipment manifest and an RRA certification, which contains variants of GPUs we have already seen (RX 480, 470 and 460) alongside one card we have yet to see. This board is codenamed 'C99' and it happened to pass RRA certification way back in April, long before AMD wrapped up development on Vega 10.
Since this card was certified prior to Vega 10 being finished, that leaves us with Polaris 10 as the potential GPU. The insurance value for the C99 board listed on Zauba is also roughly double that of the RX 480, making it more likely that this could be a dual-GPU card featuring two full Polaris 10 chips. Given that AMD has previously claimed that two RX 480s can beat out a single GTX 1080, that gives us a hint at what sort of performance they would be aiming for with the RX 490.
While the certifications and shipment manifests do serve as some evidence that AMD is currently putting together a new GPU, there isn't actually any compelling evidence to support the claim that it will arrive in December. There also isn't a ton of evidence pointing towards the RX 490 naming aside from the accidental listing on AMD's site earlier this year.
Discuss on our Facebook page, HERE.
KitGuru Says: As much as I love theorising about graphics card releases, if the RX 490 was being planned for launch so soon, I imagine we would have some more concrete evidence by now, alongside a few leaks from AIBs. It will be worth keeping an eye out over the next couple of weeks just in case anything more solid comes along but I wouldn't put my upgrade plans on hold just yet based on what we have so far.