EVGA this week has launched its all new ICX technology, which will serve as an upgrade to its ACX graphics card cooler. ICX makes use of additional sensors on the graphics card PCB and a newly designed diecast baseplate and backplate with directed airflow chambers to give users more ways to monitor temperatures and manage heat.
EVGA created this to give users more control over the GPU cooler, which could be particularly advantageous to overclockers as they can get a more accurate reading of temperatures across the PCB and fine tune cooling performance as they go.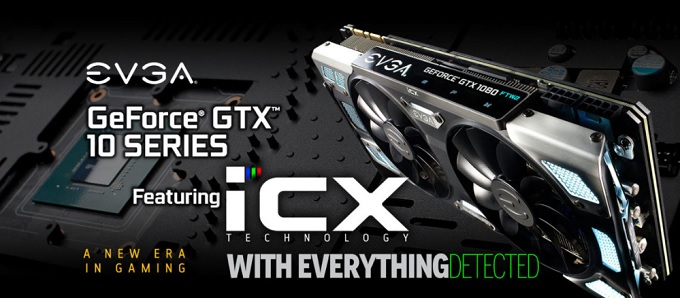 Here is the full feature set from EVGA:
EVGA iCX Has 9 Thermal Sensors and Multiple MCUs – All 9 sensors can be display in EVGA Precision XOC and OSD.
Asynchronous Fan Control – Separate left/right fan control including fan curve
A New and More Efficient Way to Cool – GPU fan determined by GPU temperature. (Left Fan) Power/Memory fan determined by Power/Memory temperature. (Right Fan)
Full Control with EVGA Precision XOC – Each sensor can be monitored in real time and displayed in PXOC OSD.
Interactive Cooling with Thermal LED Display System – User customized RGB color and visual alarm settings
Optimized Airflow Fin Design – Fin holes direct airflow through fins. Half open fin maximized airflow and L-Shaped fins increase surface contact
Die Cast and Form Fitted Baseplate and Backplate – Makes direct contact with all vital components. Maximize heat dissipation with increased surface area on baseplate.
Peace of Mind Gaming – An EVGA ONLY fuse adds another layer of protection to your card and system.
ICX cooling will debut on a refresh of EVGA's current graphics card line-up, so all current FTW and Super Clocked cards will now be known as FTW2 and SC2 for the entire GTX 10-series. If you already own an EVGA 10-series GPU, then you will be able to ask for an upgrade from your ACX model to an ICX one, but it will cost you $99 to do so.
KitGuru Says: All in all, this seems like an interesting way to upgrade a GPU cooler. It will be interesting to see how it performs and how well the software-side works when we can get our hands on an ICX card.