This new GPU tool, called TessMark, is small synthetic graphics benchmark focused on one of the main features of Direct3D 11 and OpenGL 4 capable cards, focusing on GPU tessellation.
Like Unigine Heaven, TessMark allows to select the level of tessellation. The small difference is that TessMark offers four different levels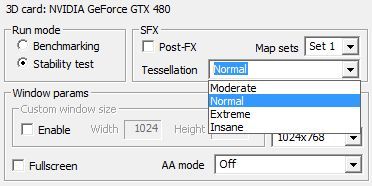 moderate = tessellation factor of 8
normal = tessellation factor of 16
extreme = tessellation factor of 32
insane = tessellation factor of 64
Moderate and normal levels are levels we'll find in real world applications like games. Extreme and insane levels are not really realistic 'real world' tests. We are using the normal settings today.
We were surprised to see such staggering performance from the reference and overclocked GTX460 hardware. We spoke with Jerome from Geeks3d.com who said that 'TessMark is focused only on the tessellation engine of the DX11 graphics cards'.
AMD told us that this benchmark doesn't mirror a 'real game' situation at all, but we felt it would be interesting to include, even if it isn't a real world style benchmark.