Backblaze, a cloud-storage provider that uses consumer-class hard disk drives and extensive replication mechanisms to store data, has published a new hard drive reliability report. It is not a secret that many consumer-grade HDDs are not very reliable, but what is surprising and alarming is that failure rate of certain hard drives actually increases throughout their lifespan.
According to the new report from Backblaze, HGST (formerly Hitachi Global Storage Technologies) produces the world's most reliable consumer-grade 2TB, 3TB and 4TB hard disk drives that fail in about 1 per cent of the cases per year. Seagate's 4TB hard drives and Western Digital's 1TB HDDs are also pretty reliable and have only 2 per cent annual failure rate. Unfortunately, there are drives from Seagate and WD that demonstrate rather extreme failure rates. Moreover, some drives get less reliable over time.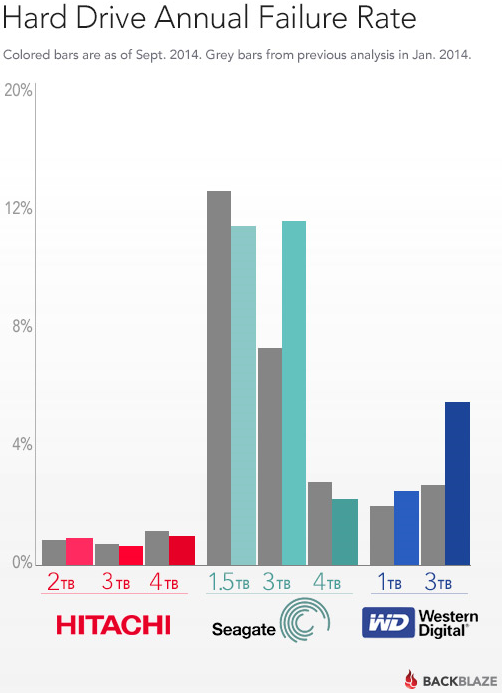 The alarming news is that Seagate's 3TB drives now fail more often than they did in the past; their failure rate has jumped from 9 per cent to 15 per cent since January, Backblaze said. It should be noted that the company uses several versions of Seagate's 3TB HDDs. The Barracuda 7200.14 has annual failure rate of 15.7 per cent, whereas the Barracuda XT has 6.7 per cent annual failure rate. The Seagate Desktop HDD.15 4TB seems to be more reliable than some other drives from the company. It fails in 3 per cent of cases per annum.
The Western Digital 3TB drives have also became less reliable at Backblaze. Failure rate of the WD 3TB drives went up from 4 per cent to 7 per cent, according to figures provided by the company.
Backblaze has 34881 hard disk drives and stores over 100 petabytes of data in its datacentre. The company uses only consumer-class HDDs and replicates data constantly. Backblaze monitors which consumer HDDs are reliable, and which ones need to be replaced. Since replacements cost money, the company tries to avoid failing hard drives. Still, even with 15 per cent annual failure rate it makes sense for Backblaze to continue using consumer-class hard disk drives instead of much more expensive enterprise-grade HDDs.
The table below shows the detailed breakdown of how many of which drives Backlaze has, how old they are on average, and what the failure rate is.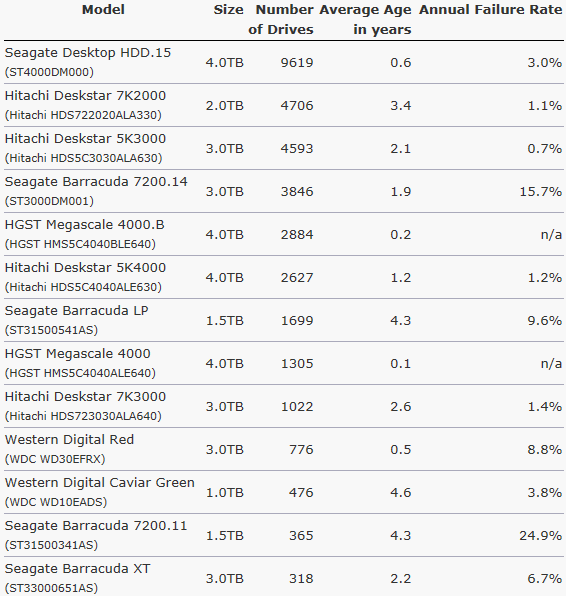 It should be noted that statistics from Backblaze reflects situation when consumer-class drives are used in datacentres. Consumer-class HDDs are designed for personal computers, not server and/or RAID environments.
Discuss on our Facebook page, HERE.
KitGuru Says: While the data here may not be completely reliable, it should be kept in mind when shopping for a new HDD.