Samsung Electronics predicts that the NAND flash industry will triple output of non-volatile memory over the next five years and will produce whopping 253 exabytes of NAND in 2020. Although the increase is impressive, total output of flash memory will account for less than 10 per cent of storage capacity the industry will need at that time.
Samsung Electronics revealed at its SSD Global Summit 2015 that the NAND flash industry would increase production of NAND flash memory over the next five years to 253EB (exabytes, 1EB = 1 million TB = 1 billion GB), or by about three times from 84EB set to be made in 2015, reports PC Watch. Output of NAND flash bits will increase as a result of multiple factors, including new process technologies, proliferation of vertically stacked NAND flash memory production, expansion of current manufacturing facilities and introduction of new fabrication plants.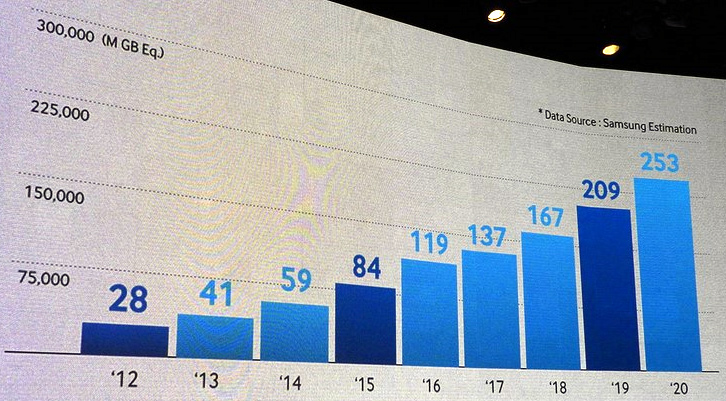 The demand growth for NAND flash bits will be driven by various mobile, consumer and wearable electronics as well as by solid-state drives used in personal computers. In fact, according to Samsung, SSDs will use more NAND flash memory bits than mobile devices starting from 2017.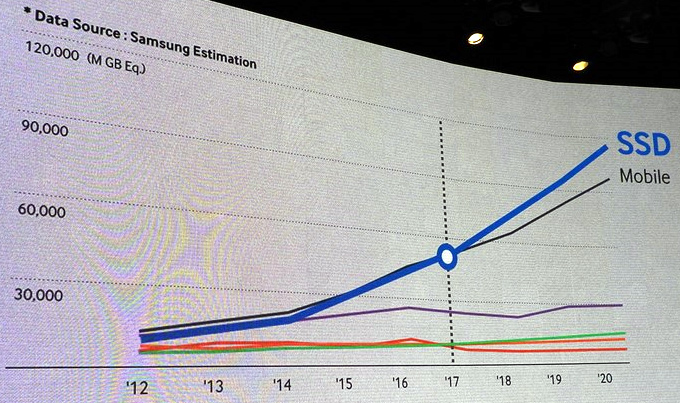 While the amount of NAND flash memory bits to be made in 2020 is impressive and the increase of total non-volatile memory capacity is remarkable, it is evident that NAND (or NAND and its successors/competitors) will account for less than 10 per cent of storage needed by the industry at that time.
According to estimates made by IDC and Western Digital in 2014, the industry will demand around 2900EB of storage in 2020. Capacity requirements will be driven by demand for enterprise storage, personal storage (NAS, personal cloud, etc.), personal computers and consumer electronics and so on.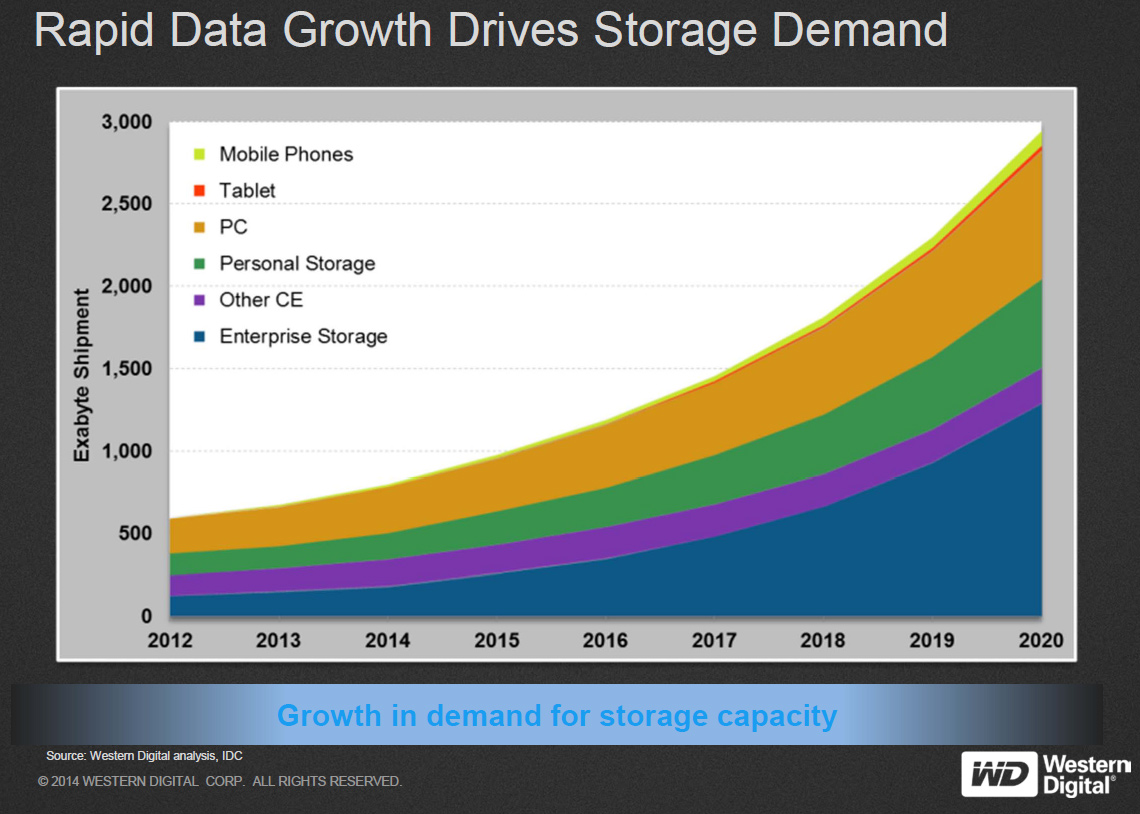 Based on projections by Samsung and Western Digital/IDC, capacity of hard disk drives sold in 2020 will be about nine times higher than capacity of NAND flash produced in 2020. In general, it means that HDDs will continue to account for more than 90 per cent of devices used for data storage. Moreover, keeping in mind that a state-of-the-art NAND flash manufacturing facility costs many billion of dollars, it is nearly impossible to quickly expand production of non-volatile memory to challenge HDDs in terms of supplied capacity.
While the future of both solid-state drives and hard drives in general looks good, there are a number of things that should be noted:
Sales of what Seagate and Western Digital call "client HDDs" have been falling for a long time, partly because of overall PC decline, partly because of slowing demand for mainstream desktops and partly because of popularization of SSDs in notebooks. According to TrendForce, 30 per cent of notebooks in 2015 will use solid-state drives instead of HDDs. By contrast, sales of consumer SSDs are strong (i.e., flat or growing), according to market analysts from TrendFocus.
Shipments of what hard drive producers call "enterprise HDDs" have been growing very slowly, but with introduction of models that can store 8TB or 10TB of data, it is evident that their average capacities are increasing pretty rapidly. Sales of enterprise-class SSDs are also expanding.
Given the current trends, it looks like unit shipments of hard drives will continue to decline whereas unit shipments of SSDs will increase. However, HDDs will continue to gain capacity, especially when technologies like HAMR [heat-assisted magnetic recording] and TDMR [two-dimensional magnetic recording] are introduced. Moreover, as soon as PC market hits the bottom, unit shipments of hard disk drives will likely stabilize. Since NAND flash remains considerably more expensive on per-gigabyte basis than rotating magnetic media used by HDDs, the latter will continue to store the vast majority of data in the next five years. As a result, both HDD makers and NAND flash manufacturers will continue to post increases of their revenue in the coming years.
Discuss on our Facebook page, HERE.
KitGuru Says: It is obvious that hard disk drives are not going anywhere and sales of Seagate and Western Digital will only grow going forward. However, it remains to be seen how many mobile PCs will continue to rely on HDDs in the future.