Serial Attached SCSI continues to be the interface of choice for mission-critical storage sub-systems. At a recent conference, the SCSI trade association, the organization that oversees development of the technology, said that the next-generation of SAS – the SAS-24Gb/s – remains on-track for commercial launch in 2018 or 2019. The first fourth-gen SAS products will be showcased two years from now.
The SAS-24Gb/s technology is more than a speed-bump for Serial Attached SCSI interface to 3GB/s, but a major overhaul of the technology. The new interconnection for storage devices will support a number of important optimizations for solid-state drives, will use the all-new 128b/150b encoding, 20-bit forward error correction as well as a number of new features. While the SAS-24Gb/s will require new connectors, the technology will maintain backwards compatibility with previous-generation SAS implementations, which means that older drives will be compatible with newer controllers.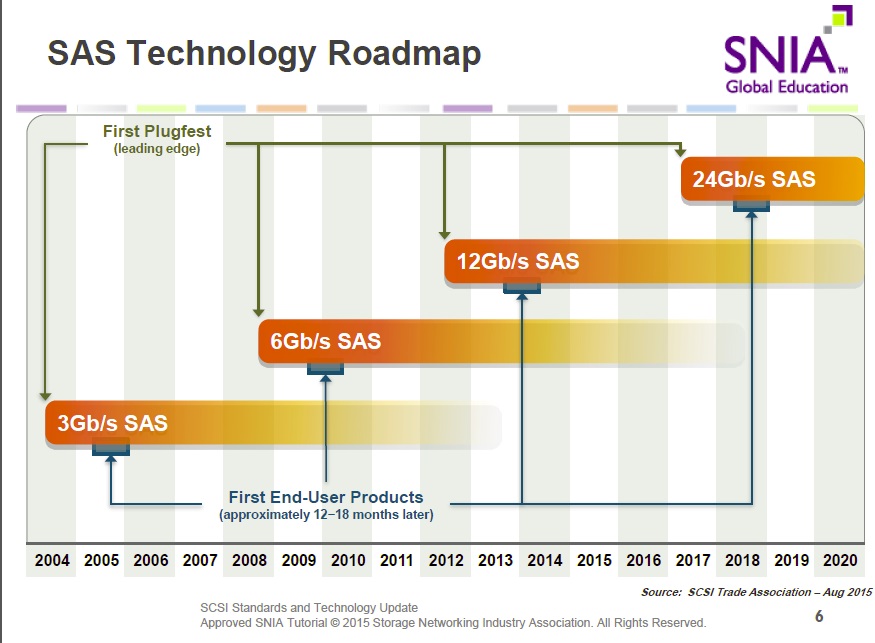 At a recent conference in Santa Clara, California, the SCSI trade association revealed that the first SAS-24Gb/s plugfest (an event, where designers of electronic equipment or software test the interoperability of their products or designs with those of other manufacturers) would take place in 2017, reports PC Watch. Typically, the first commercial products emerge 12 – 18 months after the first plugfest. Therefore, SSDs with SAS-4 interface will hit the market in 2018 or 2019.
While 24Gb/s Serial Attached SCSI is on-track to hit the market several years from now, for many cases the new NVMe-based storage systems will be more preferable not only because of IOPS or read/write performance, but because of higher efficiency of the new protocol (which was designed for SSDs) and lower latencies. While the SAS-4 will be optimized for SSDs, it will still have to support various SCSI-specific commands, which will affect performance. As a result, if a storage sub-system has to be compatible with both SSDs and HDDs, the SAS-24Gb/s will be the natural choice. However, if only SSDs are used, usage of SAS is not exactly the perfect solution.
Discuss on our Facebook page, HERE.
KitGuru Says: While the Serial Attached SCSI will continue to make sense for years to come, its importance is going to get lower going forward as more storage sub-systems migrate to SSDs and use NVMe interconnections.