Seagate Technology has been shipping hard disk drives based on media featuring shingled magnetic recording technology for about two years now, but so far the company has not shipped a lot of such drives. Nonetheless, Seagate seems to be happy with SMR and plans to expand shipments of SMR-based hard drives in the coming quarters.
Shingled magnetic recording increases areal density of HDD media by about 25 per cent by writing data on overlapping magnetic tracks compared to media based on perpendicular magnetic recording. The overlapping tracks may slow down the recording process since writing to one track overwrites adjacent tracks, and requires them to be rewritten. In a bid to compensate lower writing performance of SMR-based hard drives, HDD makers have to tune firmware in a bid to maximize sequential writes to certain regions of the drive. Alternatively, operating systems or software should to "recognize" storage with SMR and only write sequentially to certain sectors.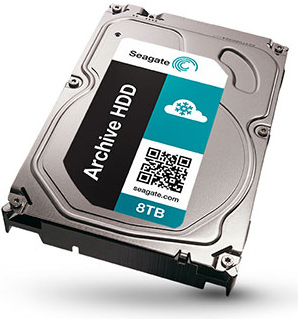 In general, hard drives featuring SMR media are slower than HDDs featuring perpendicular magnetic recording technology and therefore datacentres, which adopt them in a bid to increase storage capacities, have to tune their software, which is why sales of such drives have so far been slow. Nonetheless, before TDMR [two-dimensional magnetic recording] and HAMR [heat-assisted magnetic recording] arrive later this decade, SMR will be used to increase areal densities and capacities of HDDs. Moreover, Seagate has learnt how to hide disadvantages of SMR drives in a datacentre.
"We have shipped about four million of 'shingled' drives," said Dave Mosley, president of operations and technology at Seagate, during the company's analyst and investor strategic update earlier this month. "We view this as a very successful achievement because we have learnt a ton about our customers' applications. We are ready to hide 'shingled' behind tiers and caches so that […] [our customers] don't have to make tough changes to their software."
Seagate is working with its customers who want to tune their applications for SMR storage, but it is also adjusting its firmware to speed up such HDDs for cases, where changes to the apps are too complex or impossible.
"We are very happy with the progress that we have made [with SMR hard disk drives], we are shipping [shingled HDDs] for different platforms and are ready to get big enough in 2016," said Mr. Mosley.
In addition to server-class hard disk drives, Seagate plans to use SMR for high-capacity client storage solutions. Keeping in mind that apps for client PCs will not change overnight, Seagate has to hide lower write performance of shingled magnetic recording by adjusting firmware of its products.
Discuss on our Facebook page, HERE.
KitGuru Says: It looks like Seagate has big plans for shingled magnetic recording. While so far sales of SMR-based HDDs have been pretty low, in the future the company will increase their shipments.