Toshiba Corp. on Thursday introduced a new enterprise-class MG04-series hard disk drive family with up to 5TB capacity as well as 7200rpm spindle-speed. The new drives are engineered for the high-capacity demands of mid-tier servers and cloud application workloads and for capacity-optimized data center storage systems that benefit from high capacity per spindle.
Toshiba MG04 hard disk drives are based on 1TB platters and are available in 2TB, 3TB, 4TB and 5TB capacities. The HDDs feature 7200rpm spindle-speed and 64MB or 128MB cache. The MG04SCA drives utilise SAS-6Gb/s interface, whereas the MG04ACA sport Serial ATA-6Gb/s interface. Maximum power consumption of the MG04 hard drives is 11.3W; in idle mode the drives consume 6W – 6.2W.
The MG04 series is the industry's first 3.5" enterprise capacity category models supporting industry standard 4K advanced format sector technologies. The new MG04 family of HDD also supports optional persistent write cache technologies that help to protect against data-loss in the event of sudden power loss, while also helping to improve performance and data reliability. Models supporting sanitize instant erase (SIE) option are also available.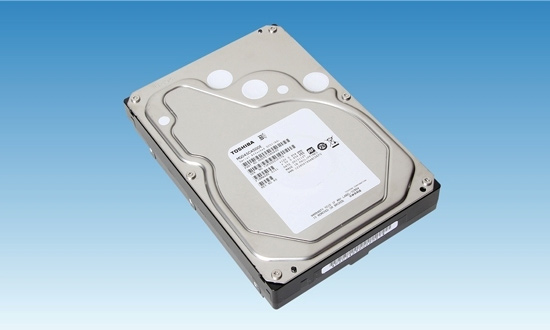 "With the MG04 series enterprise capacity disk drives, our customers will benefit from the increased storage capacity and performance made possible by the latest industry-standard long sector technologies," said Scott Wright, product marketing manager at Toshiba Storage Products Business Unit. "We understand the importance of peace of mind when it comes to data integrity, and persistent cache technology included in this series not only helps protect against data-loss but also helps to improve performance and data reliability."
Customer samples of the MG04 series will begin shipping in February 2014.
KitGuru Says: The release of Toshiba's 5TB drives further heats-up competition on the market of high-capacity enterprise-class hard disk drives. At present Western Digital's HGST unit offers 6TB hard drives filled with helium, in April, Seagate will introduce its own 6TB HDD. Probably, the demand for such drives is increasing.