Toshiba Corp. has finally started to sell its 2.5" hard disk drive with extreme 3TB capacity in retail. The drive is not compatible with the vast majority of mobile personal computers, but can be installed into servers and network area storage (NAS) systems.
The Toshiba MQ03ABB300 hard disk drive with 3TB capacity is based on four perpendicular magnetic recording (PMR) 750GB platters produced by Showa Denko K.K. (SDK). The HDD features 5400rpm spindle speed, 16MB cache, Serial ATA-6Gb/s interface, 512e advanced format and 5.56ms average latency time. The drive is very power efficient for its capacity: it typical power consumption is 1.7W, whereas its idle power consumption is 0.7W.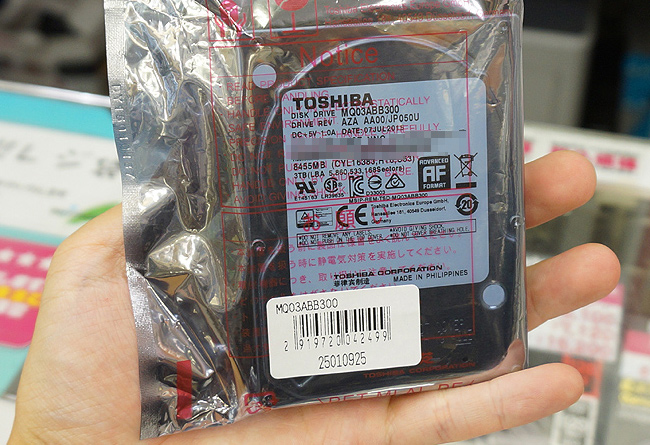 Since the hard disk drive relies on four magnetic platters, it is 15mm thick – two times thicker than mainstream 2.5"/7mm HDDs – and cannot be installed into contemporary laptops. Toshiba positions its MQ03ABB300 as an ultimate solution for various storage systems that rely on 2.5" HDDs.
Toshiba introduced the record 3TB 2.5" hard disk drive in January and started to sample it with select customers in May. At present, the drive is used inside Toshiba's Canvio Connect II 3TB as well as Western Digital's My Passport Ultra external HDDs. This week the 3TB hard drive finally showed up in Japanese retail and is available for ¥22800 ($189, £125), reports Akiba PC Hotline. It is noteworthy that the pure drive costs more than external storage solutions on its base, which are available for $150 – $170 in the U.S.

Although Toshiba's MQ03ABB300 continues to be a unique HDD, there is also a 4TB 2.5"/15mm HDD model from Seagate Technology (which are sold under Samsung brand). The latter is used inside portable external storage devices only, whereas Toshiba's product can be "officially" used everywhere as the company designed it with NAS (and vibrations) in mind.
While the Toshiba 3TB 2.5" hard drive yet has to make it to the U.K., it is possible to buy Western Digital My Passport Ultra 3TB external HDD for £123.95 inc VAT. The Samsung M3 4TB external drive is available for £149.95 inc VAT.
Discuss on our Facebook page, HERE.
KitGuru Says: If you own a NAS that uses 2.5" drives and is compatible with 15mm HDDs, then it is now possible to upgrade its capacity with the Toshiba MQ03ABB300 hard disk drives. They are not exactly affordable, but they are unique and designed for NAS environments, which means enhanced durability and reliability.