Although we keep hearing the death knell for the mechanical hard drive particularly in the consumer market, they will still be around for some while yet. Sales figures for HDD's actually picked up in Q3 2016 (desktop drives were up 12.4%) although this must be seen against the steep drop in sales in Q1 and Q2. Even with the market in decline, the three HDD companies still sold over 113M drives between them in Q3 2016.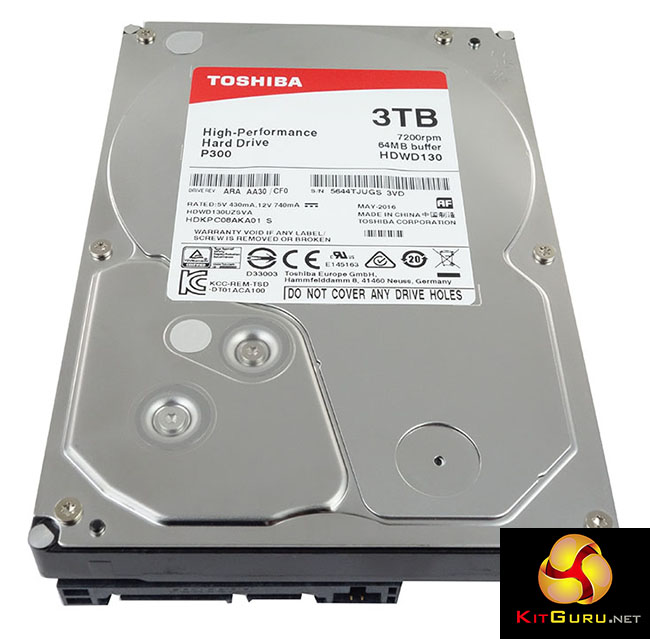 Toshiba's P300 drive ticks all the boxes for a modern hard drive; Perpendicular Magnetic Recording (PMR), Tunnel Magneto-Resistive recording technology (TMR), Halogen Free and Advanced Format technology. The range also adds another couple of data protection features to the list; an internal shock sensor and ramp loading technology.
The 3TB drive (and the 2TB one) also have a dual-stage actuator which helps overcome the difficulties of positioning the read/write heads accurately when dealing with today's high-density disks and it also helps prevent misalignments caused by any vibration effects on the drive. Although home users may not give hard drive problems caused by vibration a second or even a third thought when you start adding a few drives together in a large NAS type enclosure, vibration problems may start to become an issue.
The drive is very quiet in operation even when it was being pushed hard in some of the benchmarks. Quoted power consumption for the 3TB P300 is 6.4W for typical Read/Write operations and 5.2W in low power idle mode.
We found the 3TB P300 for £79.97 (inc VAT) at Ebuyer HERE
Pros
Overall performance.
Internal shock sensor
Dual-stage actuator
Cons
2-year warranty is a bit mean
Kitguru says: Toshiba hard drives are often overlooked particularly the 3.5in ones, but the P300 3TB model is a very competitively priced mainstream drive with decent performance.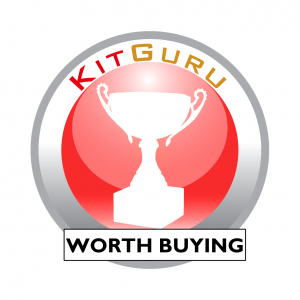 Be sure to check out our sponsors store EKWB here