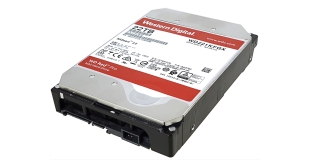 WD recently refreshed their Gold, Red Pro and Purple product lines with new 22TB flagships. Aimed at NAS systems with up to 24 bays, the 22TB Red Pro features WD's latest technologies for CMR hard drives and the company's NASware 3.0 technology. Today we find out if this drive is worth its asking price of almost £600.

The 22TB Red Pro (WD221KFGX) uses WD's latest ten disk / twenty head platform, using 2.2TB discs. It has a spindle speed of 7,200rpm and a 512GB cache. WD quote a maximum sustained transfer rate of 265MB/s for the drive, which is 3MB/s slower than the quoted transfer rate of the previous flagship 20TB Red Pro drive.
The official power consumption figures for the drive are 6.8W when operating, 3.4W when idle and 1.2W when in standby and sleep modes, all three of which are slightly lower than the 6.9W, 3.8W and 1.6W respectively of the 20TB version of the Red Pro.
WD quote a workload figure of up to 300TB/year for the 22TB drive (the whole Red Pro range has the same workload figure) and back it with a 5-year warranty.
Physical Specifications:

Usable Capacities: 22TB.
Spindle Speed: 7,200rpm.
No. Of Platters: 10.
No. Of Heads: 20.
Cache: 512MB.
Recording Method: ePMR (Energy-Assisted Perpendicular Magnetic Recording).
Interface: Serial ATA (SATA) 6Gb/s (SATA III).
Form Factor: 3.5in.
Dimensions: 26.1 x 147 x 101.6mm.
Drive Weight: 67g.
Firmware Version: 83.00A83.
Be sure to check out our sponsors store EKWB here