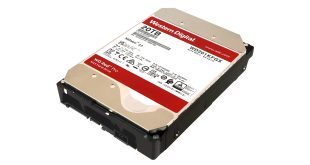 WD has recently added a new flagship HDD drive to their NAS orientated Red Pro range, in the form of a huge 20TB capacity model. It features WD's latest technologies for CMR hard drives, including OptiNAND, ePMR and triple-stage actuator technology, as well as the more NAS-focused features that the Red Pro product line brings, such as the company's NASware 3.0 technology.
The 20TB Red Pro (WD201KFGX) makes use of WD's latest nine disk platform, with each of the 2.2TB discs having an areal density of 1,131 Gbits/sq² along with eighteen heads. It has a spindle speed of 7,200rpm, a 4.16ms average latency and an impressive 512MB of cache. WD quote a maximum sustained transfer rate of 268MB/s for the drive, which is 4MB/s slower than the quoted transfer rate of the previous flagship 18TB Red Pro drive.
The official power consumption figures for the drive are 6.9W when operating, 3.8W when idle and 1.6W when in standby and sleep modes, all three of which are slightly increased from the 6.1W, 3.6W and 0.9W respectively of the 18TB version of the Red Pro.
WD quote a workload figure of up to 300TB/year for the 20TB drive (the whole Red Pro range has the same workload figure) and back it with a 5-year warranty.
Physical Specifications:
Usable Capacities: 20TB.
Spindle Speed: 7,200rpm.
No. Of Platters: 9.
No. Of Heads: 18.
Cache: 512MB.
Recording Method: ePMR (Energy-Assisted Perpendicular Magnetic Recording).
Interface: Serial ATA (SATA) 6Gb/s (SATA III).
Form Factor: 3.5in.
Dimensions: 26.1 x 147  x 101.6mm.
Drive Weight: 69g.
Firmware Version: 83.00A83.
Be sure to check out our sponsors store EKWB here