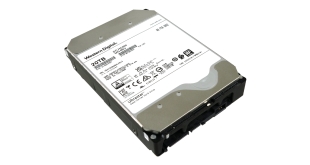 WD's 20TB Ultrastar DC HC560 aims to meet the storage needs of hyperscale cloud data centres and is the first drive to feature WD's OptiNAND and ePMR (Energy-Assisted Perpendicular Magnetic Recording) technologies. We put this drive through its paces and see what is on offer for the £400 asking price.
The 20TB DC HC560 uses nine 2.2TB discs, (each with an areal density of 1,131 Gbits/sq².) to reach its capacity, along with eighteen heads. It has a spindle speed of 7,200rpm, a 4.16ms average latency and has an impressive 512MB of cache. WD quote a maximum sustained transfer rate of 269MB/s for the drive.
At the time of writing this review, there are two versions of the DC HC560, the standard version we are looking at here (WUH722020ALE6L4) and a SED (Self Encrypting Drive) version (WUH722020ALE6L1).
The official power consumption figures for the drive are 7W when operating and 6W when idle.
WD quote a workload figure of up to 550TB/year for the DC H560 and back it with a 5-year warranty.
Physical Specifications:
Usable Capacities: 20TB.
Spindle Speed: 7,200rpm.
No. Of Heads: 18.
No. Of Platters: 9.
Cache: 512MB.
Recording Method: ePMR (Energy-Assisted Perpendicular Magnetic Recording).
Interface: Serial ATA (SATA) 6Gb/s (SATA III)
Form Factor: 3.5in.
Dimensions: 26.1 x 101.6 x 147mm,
Drive Weight: 690g.
Be sure to check out our sponsors store EKWB here