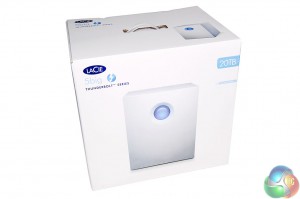 The LaCie 5Big Thunderbolt RAID ships in a large, very heavy white box. On the front is a generic image of the unit. Top right, they list the capacity which in this case is 20TB.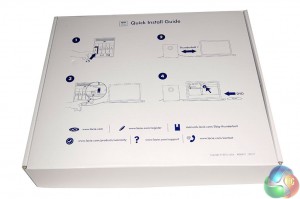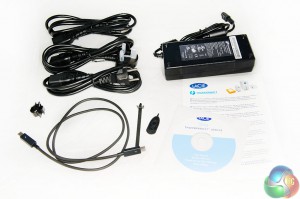 Inside is a flat box, which cleverly doubles up as a Quick Installation Guide. Inside this box, is a software disc, Thunderbolt connector, power supply and three different power connectors to target European, US and UK audiences.
The Thunderbolt cable in the box is sadly quite short (0.5 meter), so you may need to invest more cash in buying a longer one. Amazon have the official Apple two meter cable priced at £35 inc vat. They are very expensive.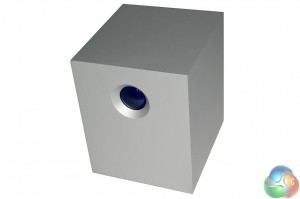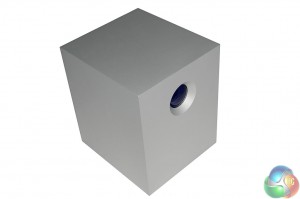 The DAS (Direct Attached Storage) itself is designed by famous designer Neil Poulton – it is crafted from high grade aluminum, which is reassuring considering the price. We do like the appearance, although it is worth pointing out that the blue light on the front is very bright and will really light up a room at night.
When the 5Big is powered and connected to a compatible computer pressing and releasing the button will spin up the internal drives. If the drives are already spinning then pressing and holding the button for five seconds will power down the drives, entering into 'passive' mode. The 5Big will then pass data to any daisy-chained Thunderbolt devices but demands less power at the socket. Pressing and releasing the button again while in passive mode will return the status back to normal operation.
It measures 173 x 220 x 196 mm (WxHxD) and weighs 7.6kg.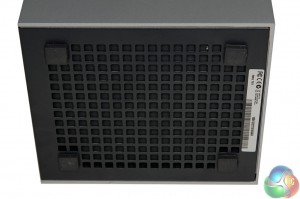 Underneath is an air intake with dust grill.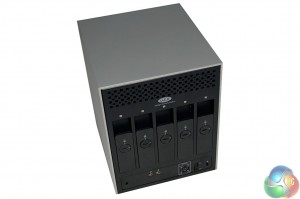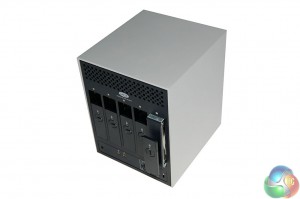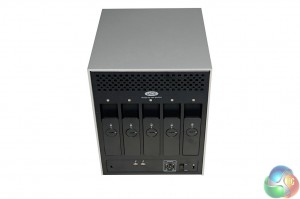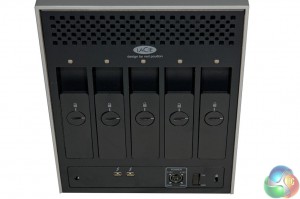 The front of the unit is spartan, with only a futuristic blue light breaking up the monotony, however the rear exposes the five 3.5 inch drive caddies, which are lockable. There are drive status indicators for each drive, a cable management clasp port, Kensington lock port, power supply connector, on/off switch and dual Thunderbolt ports.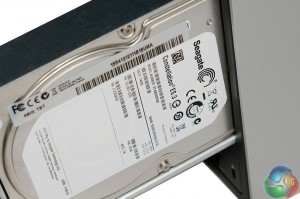 LaCie are using five 4Tb Seagate Constellation hard drives. These are enterprise class drives rated at 7,200 rpm each. Earlier versions of the LaCie DAS used Seagate Barracuda XT drives.
[yframe url='http://www.youtube.com/watch?v=qibdjtCfLTM#t=19′] While we weren't willing to crack open the £1,500 unit before returning it, LaCie include a high grade Noctua Magnetic levitation cooling fan inside. The video above shows how the cooling system operates.