While Thunderbolt is incorporated into a handful of PC motherboards, for today's review we are using the highest specification 15 inch MacBook Pro Retina laptop, priced at £2,799.00. This laptop is equipped with a 2.6ghz Intel Quad Core i7 processor, 16GB of DDR3 memory and 1TB of Flash storage. The latest Mavericks OSX operating system is installed, along with the updates to bring it to V10.9.1.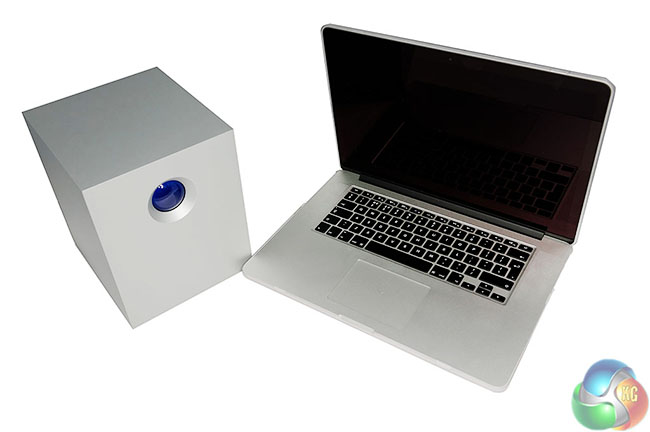 The 5Big Thunderbolt unit is initially supplied in a RAID 0 volume with each of the five drives striped together for maximum performance.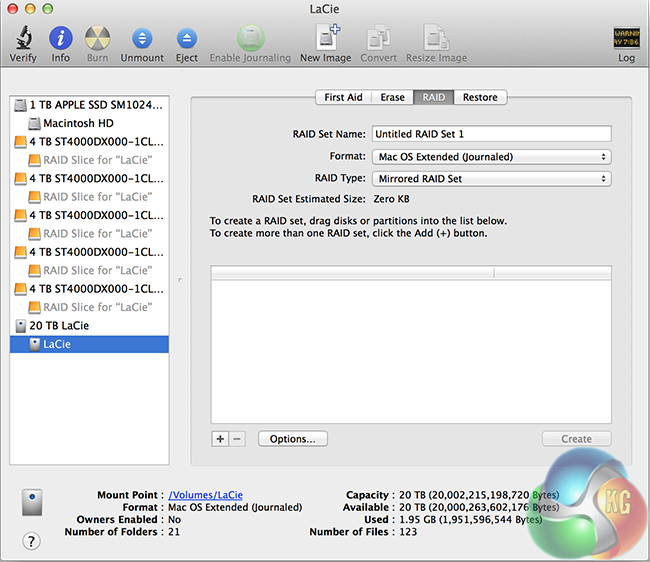 When it is activated with blank drives (installed initially) it will enter into JBOD mode and display a dedicated volume for each drive. Using OSX's Disk Utility means you can change the configuration into RAID 1 for backup redundancy. This will reduce the maximum storage capacity by half (10TB) and also reduce performance.
Unfortunately there is no Raid 5/6 support which may alienate a specific audience of potential users.
The disc supplied does ship with Intego Backup Manager Pro, although a 20TB unit seems somewhat overkill for simple backup duties – especially with a primary focus on RAID 0 performance.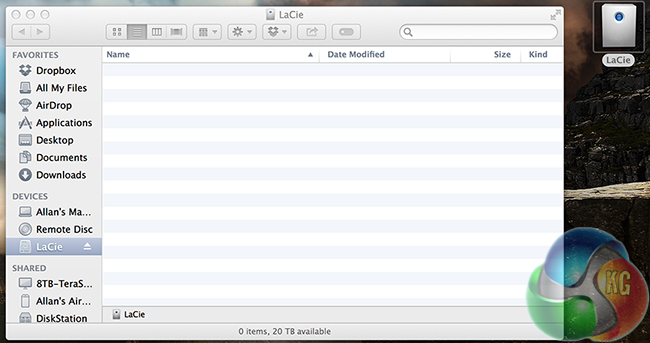 No need to format the drive on OSX Mavericks. It mounts immediately on first start up, with '20TB available'. Pressing the power button on the Apple MacBook Pro Retina switched on the LaCie 5Big 20TB Thunderbolt DAS simultaneously.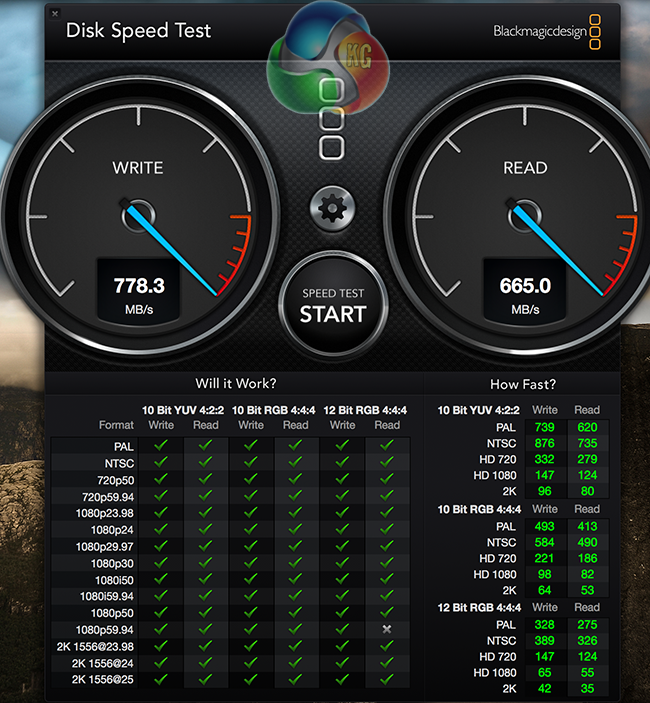 We ran the latest version of BlackMagicDesign 'Disk Speed Test' on OSX and it recorded a 778 MB/s write speed, along with a 665 MB/s read speed. Remember, there are five 4TB SeaGate Constellation Enterprise class hard drives inside in a RAID 0 configuration.
This is an excellent free benchmark, available on the Apple App Store, or on the companies website here.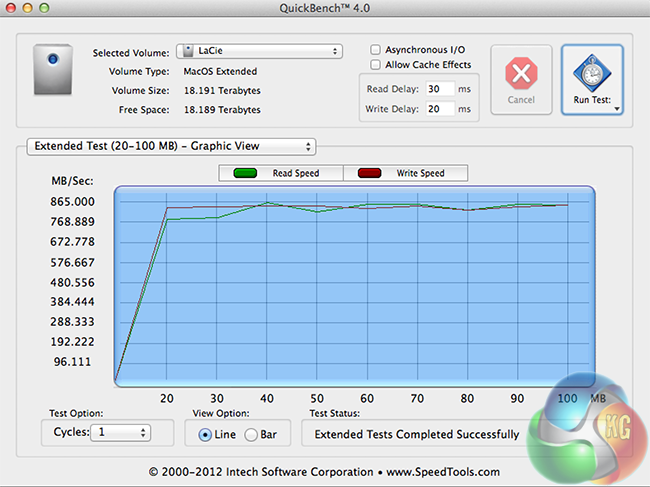 Next we ran QuickBench, part of the SpeedTools suite from Intech Software. This is one of the best drive benchmarks available, although it is not free. You can buy it for $14.95 over here.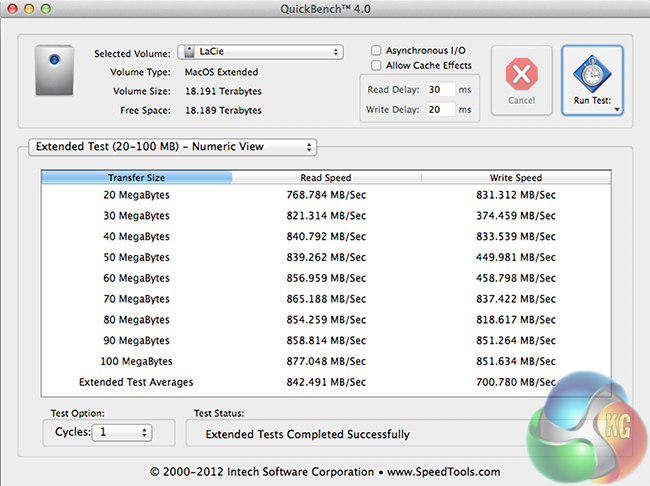 Above, the final extended test results from QuickBench V4.0. The LaCie 5Big 20TB Thunderbolt unit delivered maximum speeds of 877MB/s read and 851 MB/s write. These were repeatable multiple times and much higher than the results from BlackMagicDesign Disk Speed Test.
Real World Performance Tests.
To say the LaCie 5Big 20TB Thunderbolt DAS is quick, is an understatement. Under real world situations, we were able to copy across large video files in seconds from the internal Macbook Pro Retina 1TB SSD to the LaCie 5Big 20TB. Copying a 16GB file for instance across from the internal SSD to the LaCie 5Big 20TB took only 19 seconds. When we switched the configuration to RAID 1 speeds dropped to 161 MB/s read and 174 MB/s write. The same file copy took around 110 seconds.
Playing back 1080p MKV content straight from the drive is obviously without issue. We were able to open 10 individual streams on the Mac without so much as a hiccup. It could also handle multiple Ultra HD 4K playback streams without any stuttering.
In RAID 0 we loaded a timeline in Adobe Premier Pro with 5 different HD clips. Again no problems playing these back, as smooth as silk.
We installed DxO Optics Pro 9 and copied over 300 x 24.5MP NEF images lifted straight from our Nikon D3X camera. We noticed that loading of the large NEF (raw) images and automatic correction of them (via the downloaded camera and lens profiles) in DxO Optics Pro 9 was much quicker than by simply using a standard mechanical drive. It would certainly be an ideal high speed device for a serious photographer working with thousands of massive raw images taken from a Nikon D3X or Nikon D800 camera.
Thanks to the inclusion of an ultra quiet high performance NOCTUA Fan the LaCie 5Big is never really audible, apart from minor mechanical noises generated by the platters inside each of the drives. We initially thought it would be an intrusive unit to use, close to the laptop, but after a few minutes we actually forget it was there. Power consumption is modest, hovering between 20 watts and 40 watts under load.