Adata sent us a stack of new XPG parts to try out, including a brand new mid-tower case, fast memory, a PCIe Gen4 M.2 SSD plus a huge pile of RGB goodies. The best way to show off these parts in all their glory is to build a high-end gaming system inside this new XPG Defender Pro case, and that is exactly what we did using a Ryzen 9 5900X and a Gigabyte RTX 3080 Eagle, check out the video for an RGB explosion!
The main focus of this build video is to check out this new mid-tower case from XPG, while also showing off a bunch of other XPG parts in the process. Defender Pro is a brand new high airflow mid-tower case from XPG with a mid-tier price of $99 MSRP, the Defender Pro will be available in black and white versions and consumers should be able to pick one up in the UK early in the new year with ADATA targeting a January 2021 launch.
Defender Pro includes all the typical features of a modern mid-range PC case with a high airflow mesh front panel, support for up to E-ATX motherboards, multiple radiators and fan mounting locations as well as having an open layout that offers loads of space for the installation of high-end graphics cards, big CPU tower coolers and of course, there is some integrated RGB lighting.
XPG Defender Pro Features:
Spacious E-ATX internal dimensions.
High airflow, mesh front panel with integrated ARGB lighting and lighting controller.
Removable dust filters on the front, roof and the floor.
Supports up to 360mm AIO (front) installation and 240mm (top).
3mm tempered glass side panel.
22.8mm cable management in the right-hand side.
Supports vertical and horizontal graphics card installation.
Up to 380mm long Graphics cards, 170mm tall CPU coolers and 220mm long PSU supported.
XPG Defender Pro Technical Specifications:
Dimension (H*W*D): 492 x 220 x 441mm
Material: SPCC
Side Panels: 3mm Tempered Glass Side Panel
Form Factor: Mini-ITX, Micro-ATX, ATX, E-ATX, CEB, EEB
5″ HDD/HDD Tray: 2
5″ HDD/SSD Tray: 2+2 (Combo 3.5"/2.5")
I/O Port: x2 USB 3.0, x1 Hybrid Audio Port, x1 LED Control Button
Fan Included: 3 x XPG VENTO ARGB 120mm Fan
Fan Support: FRONT 3x120mm, 2*140mm,TOP2x120mm, 2x140mm, REAR 1x120mm
Radiator Support: FRONT 360 / 280 / 240mm, TOP 280 / 240 / 120mm, REAR 120mm
Clearance: Max CPU Cooler Height 170mm, Max Graphic Card Length 380mm, Max PSU Length220mm
Along with the Defender Pro, we also got our hands on a bunch of other XPG parts including 32GB (2 x 16GB kits, 2x 8GB modules) of XPG Spectrix D50 Xtreme RGB DDR4-4800MHz memory, a 1TB XPG Gammix S50 Lite PCIe Gen4x4 M.2 SSD as well as an XPG Levante 240 AIO CPU cooler and an XPG Core Reactor 750 80+ Gold certified power supply. To build a high-end gaming rig, we combined all these XPG parts with a new Ryzen 5000 platform and Nvidia RTX 3080 graphics.
It just wouldn't be a modern high-end gaming system without some RGB lighting, so we threw in some XPG Vento 120 ARGB fans, XPG Prime ARGB LED strips and XPG Prime ARGB VGA and 24-pin extension cables for good measure.
Full System Specification:
Chassis – XPG Defender Pro
CPU – AMD Ryzen 9 5900X
Motherboard – Gigabyte B550 Aorus Master
Memory – 32GB (4 x 8GB Modules) XPG Spectrix D50 Xtreme DDR4-4800MHz C19
Graphics Card – Gigabyte RTX 3080 Eagle 10G
Storage – 1TB XPG Gammix S50 LITE PCIe GEN4X4 M.2 SSD
Power supply – XPG Core Reactor 750w 80 Plus Gold Certified
CPU cooler – XPG Levante 240mm AIO
System fans – 5 x XPG Vento 120 ARGB 120mm
RGB LED Strips – XPG Prime ARGB LED Strip
Extension cables – XPG Prime ARGB VGA and MB (24-pin) extension cables
Operating System – Windows 10 20H2
Building the system inside the XPG Defender Pro chassis was relatively simple with only a couple of minor concerns worth noting. The open style layout of the interior made it very easy to install our high-end gaming system, even with the Gigabyte RTX 3080 Eagle measuring 320mm long, there was still space at the front of the case to spare, so squeezing a front-mounted AIO or radiator should be possible with a long graphics card installed.
For cooling, we installed a 240mm AIO in the roof of the case and there was enough space up there to run four fans on the AIO in a push-pull airflow configuration, so a total of eight 120mm fans were installed inside the case. We also added all the RGB lighting that we could, all the Vento 120 fans are equipped with addressable RGB lighting, so is the AIO pump, Memory, and the case front panel. To complement this, we added two XPG Prime LED strips and XPG Prime PCIe/24-pin extension cables.
With all this RGB lighting installed, daisy-chained together and connected to the two motherboards 3-pin 5v ARGB headers, it means there are a lot of RGB cables to manage in addition to the usual power, data and front panel cables. Overall, the cable management went well, there are plenty of cable cut-outs and eyelets to tie cables down, however, the case would benefit from a little more cable management space in the right-hand compartment, but we just managed to squeeze all the cables into the 22.8mm space available.
Thermal Performance Testing
As with every KitGuru case review or system build, thermal performance is important, therefore we shall measure this by running a series of tests to record CPU and GPU temperatures under load.
To simulate thermal performance under load, we run Aida64 stress tests, stressing CPU, FPU, Cache and GPU for 30 minutes with the case in various configurations. With this data, we can compare how each scenario affects thermal performance. We will compare the system's thermal capabilities with a liquid-cooled solution for the CPU, using an XPG Levante 240 ARGB AIO and the graphics card stock cooling solution.
During thermal performance testing, only stock case fans will be used unless otherwise specified. All fans and pumps (where applicable) will be set to their standard fan curve profile as controlled by the motherboard. All temperature measurements are presented as Deltas – the ambient temperature has been deducted from the CPU/GPU temperature giving us a Delta.
Acoustic Testing
Our case testing involves comparing the acoustic performance of the case in several configurations with an all-in-one liquid CPU cooler installed. These tests will include measuring sound levels with our sound meter at 300mm from the front of the case with the system under 100% CPU and GPU load. Sound levels will be measured in dBA, load noise levels are measured by running AIDA64 stress test, stressing the CPU, FPU, cache and GPU for 30 minutes.
CPU and case fan profiles will be set to their standard operating profile in the Gigabyte B550 Aorus Master motherboard BIOS and GPU fans set to their default fan curve. The CPU cooler used in acoustic testing will be an XPG Levante 240 ARGB AIO. System fans are the three factory pre-installed units XPG Vento 120 ARGB units with an additional Vento 120 ARGB installed at the front of the case.
The ambient noise level (noise floor) in our test room is measured at 33.1 dBA.
The following configurations will be used to test the effect they have on thermal and acoustic performance:
Default configuration;
Front panel removed;
Test System:
Chassis – XPG Defender Pro
CPU – AMD Ryzen 9 5900X
Motherboard – Gigabyte B550 Aorus Master
Memory – 32GB (4 x 8GB Modules) XPG Spectrix D50 Xtreme DDR4-4800MHz C19
Graphics Card – Gigabyte RTX 3080 Eagle 10G
Storage – 1TB XPG Gammix S50 LITE PCIe GEN4X4 M.2 SSD
Power supply – XPG Core Reactor 750w 80 Plus Gold Certified
CPU cooler – XPG Levante 240mm AIO
System fans – 5 x XPG Vento 120 ARGB 120mm
Operating System – Windows 10 20H2
Thermal Performance Overview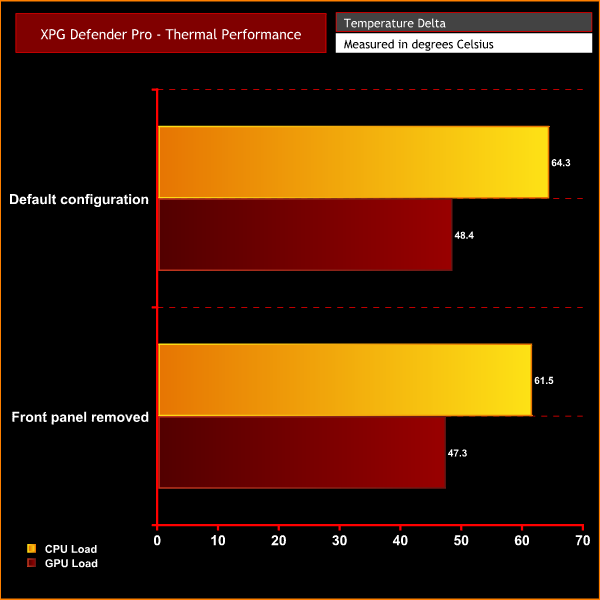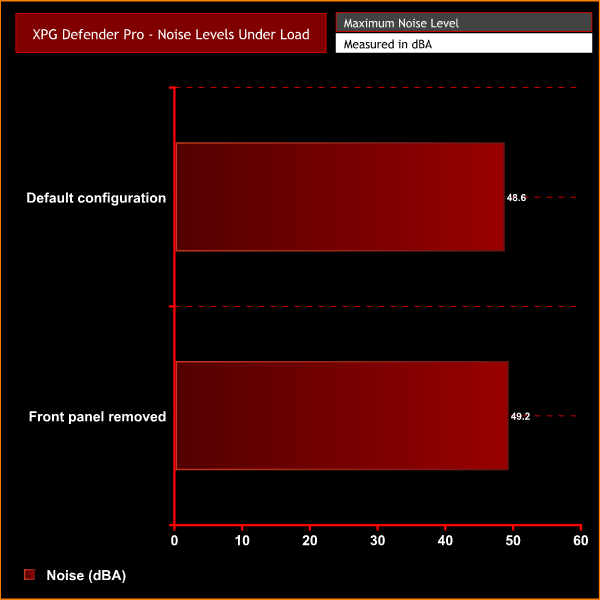 Defender Pro is a high airflow chassis with a full mesh front panel so we didn't expect a huge change in the thermal performance with the case front panel removed. However, there is a slight increase in the CPU temperature with the case in its default configuration which means that the mesh front panel does cause some airflow restriction, but it is minimal and with the front panel installed it offers some initial dust filtration.
In terms of noise levels, with the case either in its stock configuration or with the front panel removed, noise output with the system under load was relatively consistent, which is to be expected of a high airflow case with a mesh front panel and no integrated sound deadening. The recorded noise levels are in line with other airflow cases we have tested in the past.
Closing Thoughts
If you are looking to build a system in the new year and want to pack it full of RGB goodies then it may be worth checking out what XPG has to offer. The XPG Defender Pro is a decent case to build a system inside, during our build, there were no obvious issues or limitations with the case, build quality seems to be comparable to other cases in this price range, it offers support for high-end hardware and there is plenty of space inside the case due to its open layout.
The only minor issue we encountered during the build was with the space in the right-hand compartment for cable management. 22.8mm is on the tight side but we also had a huge amount of RGB cables to cram into that space, a more simple build with less RGB wouldn't have as many cables to manage, so the amount of space should be for cable management should be adequate in most scenarios.
If you are a fan of RGB, XPG has loads of parts on offer, the XPG Prime LED strips, ARGB 24-pin extension cables, Vento 120 ARGB fans and all the other XPG parts we had in the system connected up to our motherboard 3-pin 5v digital RGB headers and synchronised seamlessly using the Gigabyte RGB Fusion 2.0 software, to create an amazing display of RGB illumination (if you like that kind of thing), you can always switch to a single solid colour for a more subtle build.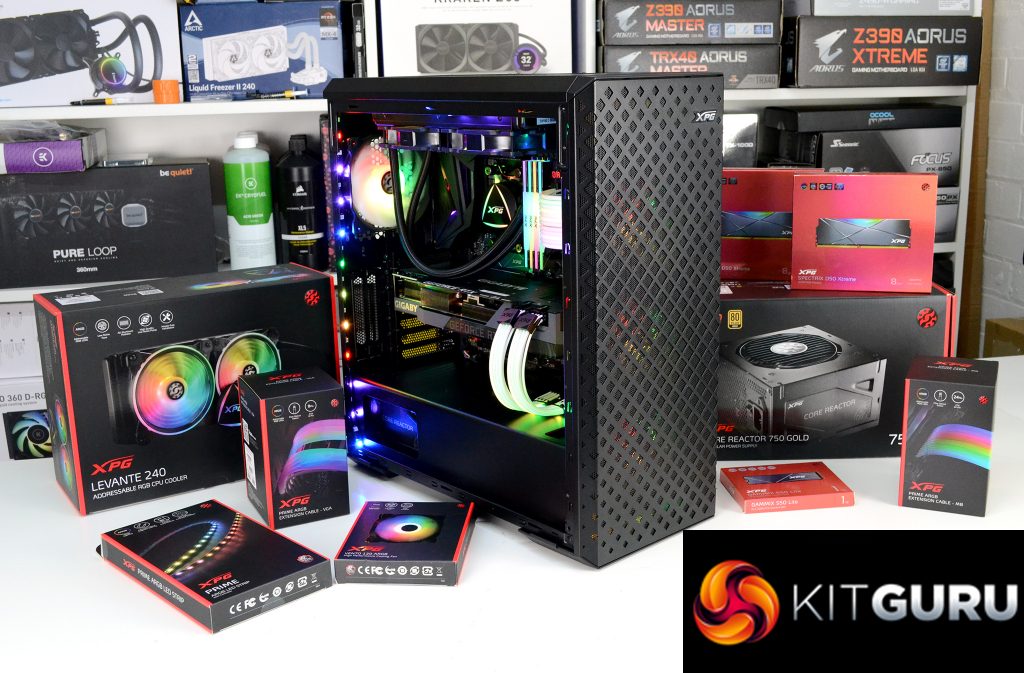 The high frequency of the XPG Spectrix D50 Xtreme memory is very impressive, with an XMP profile of 4800MHz and relatively low CL19 latency at this speed, it makes this memory kit ideal for users of high-end Intel systems. In contrast, the Gammix S50 LITE 1TB M.2 PCIe Gen4x4 SSD is ideal for users of AMD Ryzen platforms looking for high-speed storage.
Overall, the system build was a pleasing experience and the end product looks great, especially to those who love a bit of RGB bling. The system temperature is kept well under control with the Defender Pro's high airflow design even when such high-end hardware as ours is built into the case. If you like the look of the new XPG Defender Pro or any of the other XPG parts in this build then head over to the XPG website to check out what is available.
KItGuru says: I really enjoyed building this system with all these XPG parts, the Defender Pro seems like a solid mid-tower chassis with great airflow that shouldn't break the bank. As you saw in the video the case supports high-end hardware and you can fit a to of RGB inside!