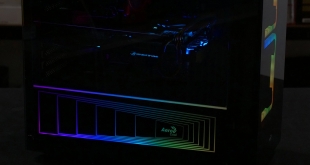 Aerocool Tor is a budget ATX case that offers a tempting combination of tempered glass panels and a pair of ARGB fans at the front that are connected to the lighting in the power supply cover. The lighting system is controlled by an RGB fan hub that can manage as many as ten fans, yet despite that you can buy this case for as little as £62.
If you fancy an even larger dose of RGB you can trade up to the Tor Pro at £89 that comes with an extra RGB fan at the front and upgrades the plain rear fan for a fourth RGB unit. Today we are focusing on the cheaper model.
Watch the video via our VIMEO Channel (Below) or over on YouTube at 2160p HERE
When you look at the layout of Tor the obvious thought is that those front fans are sealed in behind the glass, much like Corsair's Carbide 678C. How the heck can a case draw in air through a solid front panel? The answer is that it cannot and the air intake is in the roof of the case, but unlike the Corsair 678C there is no intake fan in the roof of Tor.
On the face of it this does not sound like a recipe for success, however we maintain an open mind at KitGuru and provided the working temperatures look OK we don't mind how Aerocool goes about its business.
Note: if the above images are not displaying properly, you may need to disable Ad Block as it is known to interfere with our display code.
Main features:
Full tempered glass front side and front panels to showcase the inside of your rig
Comes equipped with two 14cm Edge Addressable RGB fans in the front and one 12cm black fan in the rear of the case
Addressable RGB can be controlled using LED control button, RGB remote control, or Addressable RGB motherboard
Includes a 10-port hub with PWM control functions
Dual chamber design for improved ventilation
Supports liquid cooling in the front and rear of the case
Specification:
Motherboard support: ATX, Micro-ATX, Mini-ITX.
Expansion slots: 7.
Included fans: 2x 140mm ARGB front intake, 1x 120mm rear exhaust.
Fan mounts: 3x 120mm/2x 140mm front, 2x 120mm roof, 1x 120mm rear.
120mm radiator mounts: 120mm/240mm front, 120mm rear.
140mm radiator mounts: 140mm/280mm front.
5.25-inch optical drive bays: None.
Internal drive bays: 2x 3.5-inch/2.5-inch, 4x 2.5-inch.
Dimensions: 445mm H x 430mm D x 218mm W.
The main feature of Aerocool Tor is the pair of Edge 14 ARGB fans at the front of the case. Functionally these are 120mm fans with the addition of a ring of LEDs around the periphery which means the mounts are the familiar 120mm size while the spacing is wider. You cannot mount a radiator on these fans which means it is impractical to use a liquid cooling system inside Tor.
It is also worth pointing out the six-pin connectors on the Edge 14 fans use a proprietary pin-out that handles both RGB and PWM. This makes the connections to the fan hub both quick and easy – however it also means you cannot add other brands of fan to the hub.
We are confident that Tor will appeal to PC builders working on a tight budget who are won over by the shiny lights and simply want to construct a new PC with the minimum of fuss. It seems unlikely these people will have a shelf of Corsair or Cooler Master RGB fans so this question of compatibility is unlikely to present a problem. Similarly we imagine the customer will plump for a simple air cooler to save both money and hassle so the question of whether or not Tor supports a liquid cooler is unlikely to be a major issue.
Once you move beyond those points you face the usual issues building a PC in a budget case. The interior is fairly small and cable management cut-outs are few and far between. Behind the rear panel you will find a modest amount of space for the power supply cables, but if you decide to load up your Tor with multiple hard drives and SSDs we are quite sure you will struggle with the cables.
Having said all that, we didn't hit any problems and our Ryzen 7 build with Vega 64 graphics looked clean and tidy with plenty of RGB action to delight our audience.
Testing
To put this case through its cooling paces we will be using a test system consisting of an AMD Ryzen 7 2700X CPU and Asus ROG Strix RX Vega 64 graphics. This system allows us to produce a substantial amount of heat and effectively test the Aerocool Tor's cooling capabilities.
For stress testing we use AIDA64 to create the maximum amount of load our CPU and GPU are ever likely to see.
Test System:
Processor: AMD Ryzen 7 2700X 8-core/16-threads, 4.0GHz all cores
Motherboard: Asus ROG Crosshair VII Hero Wi-Fi
CPU cooler: Arctic Freezer 33 TR
Memory: 32GB Corsair Vengeance LP 3200MHz
Graphics card: Asus ROG Strix RX Vega 64 8GB
Power supply: Aerocool Integrator 700W RGB
Storage drive: Toshiba RC100 M.2 SSD
OS: Windows 10
Cooling Performance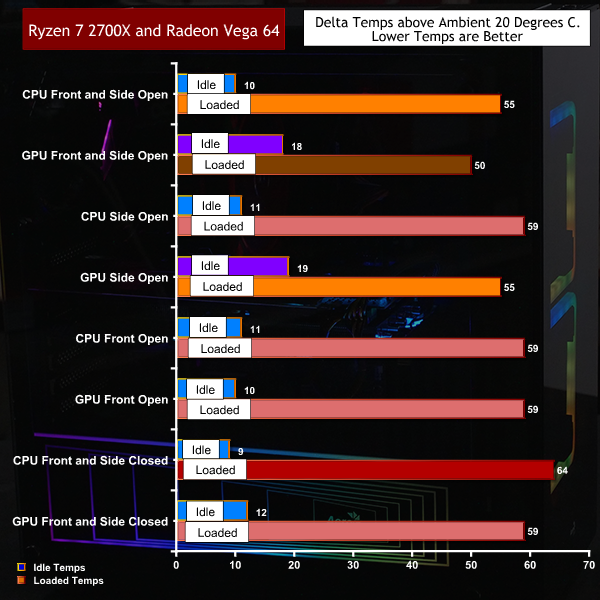 Cooling Performance Overview.
With the main glass panel in place,  Aerocool Tor runs hot, however the figures are better than we expected. Remove the main glass or the front panel and you drop temperatures by five degrees. Remove both panels and you drop ten degrees.
That is a significant change but it suggests the top of the case breathes fairly well. If you use less extreme hardware you are certain to get lower temperatures so while airflow is certainly not optimal, it would be unfair to level too much criticism.
Closing Thoughts
When looking at the Aerocool Tor, it is definitely a case of 'form' over 'function', with a particular emphasis on RGB lighting. This is made clear by the pair of Edge 14 RGB fans, which are sealed behind the front panel and barely get the chance to circulate air. We find this frustrating but can see why Aerocool has created Tor this way. If you took the same core chassis and perhaps made it a bit taller and then added two intake fans in the roof it would doubtless work considerably better. The question is, would you be able to see the RGB?
Taking a step back we can see that Aerocool has taken a relatively basic chassis and added a certain amount of RGB inside the front panel and the power supply shroud, and has topped it off with some really neat hardware controls both on the fan hub and the front panel of the case.
We were disappointed that when we connected the RGB fan hub to an ARGB connector on our Asus motherboard that the Asus Aura software failed to control the system as a unified whole. As we show in our video, Aura controlled the lighting in the motherboard and graphics card while the Aerocool hardware controlled the lighting in the case.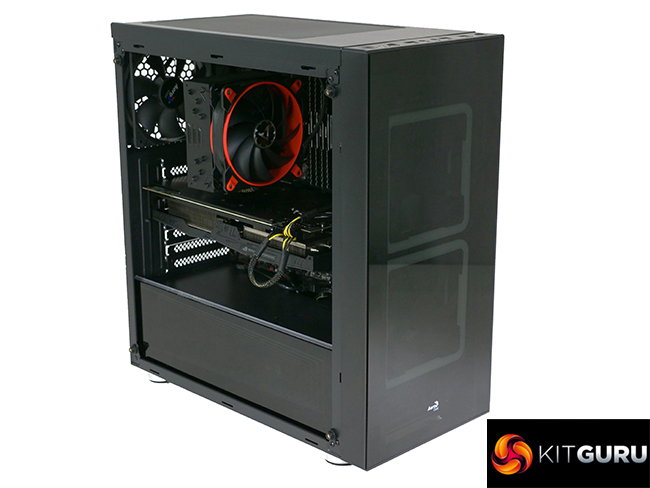 It is inevitable that there is a question mark over the cooling in a case that seems to be designed with aesthetics as its top priority. We are not fussed whether air comes in the top, front or bottom of the case – however Tor clearly has an open roof while the fans are positioned at the front. If Aerocool wants to maintain the RGB aesthetic, it makes sense to put light strips at the front and plain black fans in the roof to aid air flow.
Other aspects of Tor such as the marginal cable management and the finish of the panels are simply what you expect with a budget case. In that respect there are few surprises and, at this price point, few criticisms. It mainly comes down to your priorities – are you looking for maximum RGB or maximum air flow?
You can buy Aerocool Tor for £61.99 from Box HERE.
Pros:
Low price for a case with RGB and two glass panels.
Hardware controls for RGB lighting work well.
Decent support for hard drives and SSDs.
Our huge Vega 64 graphics card fitted easily.
Cons:
The Edge 14 fans are closed in behind a sealed front panel.
Asus Aura failed to control the Aerocool RGB hardware.
The main glass panel can fit on eight different ways – one is correct, seven are wrong.
RGB hub uses proprietary connectors.
KitGuru says: Aerocool Tor is a budget case with the emphasis on RGB rather than air flow.
Be sure to check out our sponsors store EKWB here