You can spot a motherboard that is part of the ASRock Taichi family at a considerable distance and there is no doubt the X399 Taichi fits neatly into the product range. Naturally it supports AMD Threadripper, just as the X399 model code suggests, while other models of Taichi use Intel X99, X299, Z270 and Z370 chipsets, as well as AMD X370, so there is a Taichi for each of the current CPU platforms.
Using the name of the martial art tai chi for a range of motherboards might seem peculiar but ASRock makes the point that tai chi puts an emphasis on balance and poise and that Taichi is all about the balance of cosmetics and features. The link may be a little tenuous but we assure you it makes more sense than some of the marketing puff that we hear.
As you will see in our video the ASRock X399 Taichi includes pretty much every feature you might reasonably expect while looking both understated and serious. In essence it walks the line between a desktop motherboard and something that might be aimed at the workstation market.
If we were to pick one flaw with the ASRock X399 Taichi it would be that the more expensive Fatal1ty X399 Professional Gaming board comes with 10Gbit Aquantia Ethernet, and that is a feature we would dearly like to have, albeit at an additional cost of £100.
Watch the video via our VIMEO Channel (Below) or over on YouTube at 2160p HERE
Main features
ASRock Super Alloy
Supports AMD TR4 Socket Ryzen Threadripper Series CPUs
IR Digital PWM, 11 Power Phase & Dr. MOS
Supports Quad Channel DDR4 3600MHz+(OC) & ECC Unbuffered DIMM Memory
4x PCIe 3.0 x16 slots, 1x PCIe 2.0 x1 slot
Nvidia 4-Way SLI, AMD 4-Way CrossFireX
7.1 Channel HD Audio (Realtek ALC1220 Audio Codec), Supports DTS Connect
8x SATA 3, 3x Ultra M.2 (PCIe Gen3 x4 & SATA3)
2x USB 3.1 Gen2 10Gb/s (1x Type-A + 1x Type-C)
12x USB 3.1 Gen1 (4 Front, 8 Rear)
1 U.2 Connector
Dual Intel Gigabit LAN
Intel 802.11ac WiFi
ASRock RGB LED
BIOS Flashback
Hyper BCLK Engine III
Full specification HERE
Testing
Test system:
CPU AMD Ryzen Threadripper 1920X
RAM 32GB G.Skill FlareX DDR4-3200MHz
CPU cooler Fractal Design Celsius S24
Graphics EVGA GTX 1080 Ti SC
SSD SanDisk Extreme II
Power supply 1000W Sea Sonic Prime Titanium
Once the test system was assembled we took a quick tour and found almost nothing to dislike. The layout is clean and tidy with power connections in sensible places and fan headers you can easily reach. The I/O panel has a surprising amount of space when you consider the X399 Taichi includes 802.11ac Wi-Fi and the dual antennae are on the rear I/O, rather than a separate PCI Express card.
It feels like ASRock should have squeezed in a few more USB 3.1 Gen.1 ports, just to use the space, however eight ports is realistically plenty for most people. In addition you get one each of USB 3.1 Gen.2 types A and C, which is a handy bonus. If we could nominate one change that ASRock might make it would be to replace the laid down U.2 connector next to the block of SATA 3 connectors with a USB 3.1 Gen.2 mid-board header for the front panel I/O of your case. Apart from that we were entirely happy with the hardware on this modestly price Threadripper motherboard.
It also looks good. The steel reinforcement around the four PCI Express x16 slots looks purposeful, the gunmetal heat sinks on the 11-phase VRMs blend into the grey/steel design of the motherboard and the cog heat sink on the chipset looks great. In addition the illuminated Power/Reset buttons at the foot of the board look really smart and when you start up the system the minimalist RGB lighting is a neat bonus.
If you want to see the ASRock X399 Taichi installed in the superb Fractal Design R6 case you can click this link HERE
Performance and Overclocking
As you will have seen in our video, overclocking with the ASRock X399 Taichi is a simple matter. ASRock doesn't provide any preset profiles in the UEFI for overclocking so you have to do the job manually, but that merely consists of increasing core voltage and cranking up the clock multiplier. It is a separate question whether you think the extra performance is worth the hefty increase in power draw but that is a fundamental issue when you own a Threadripper.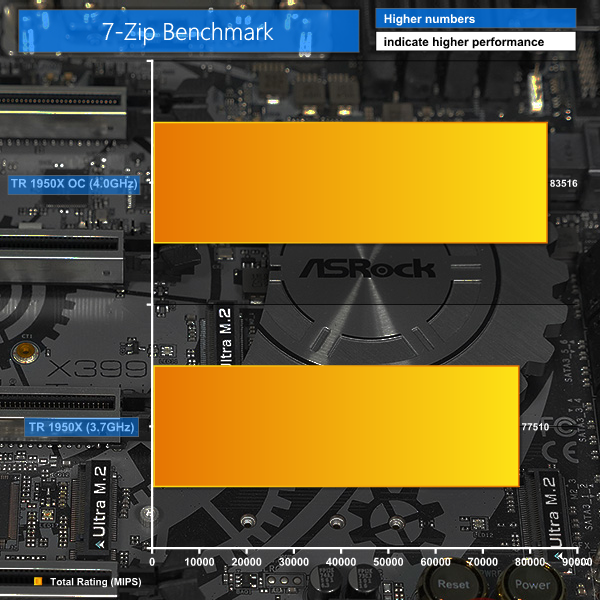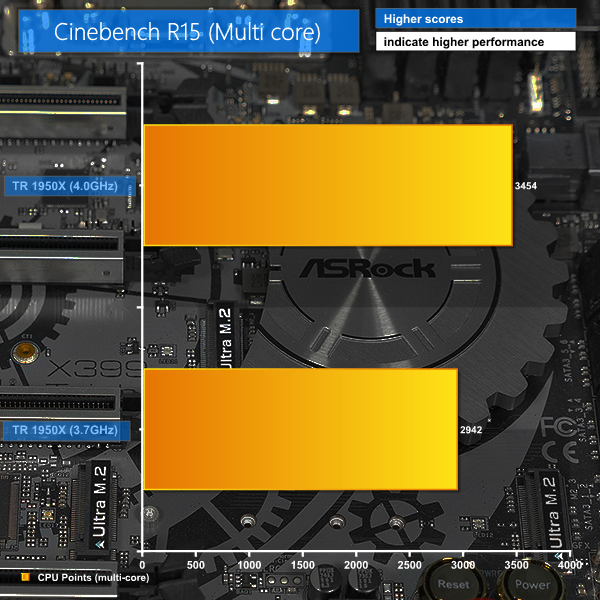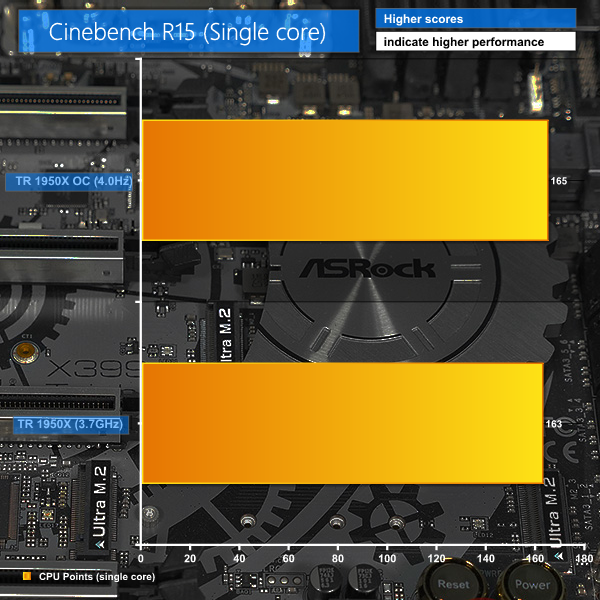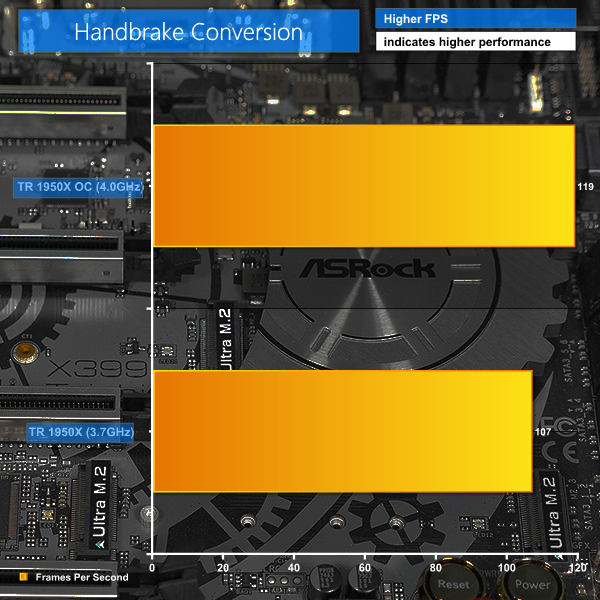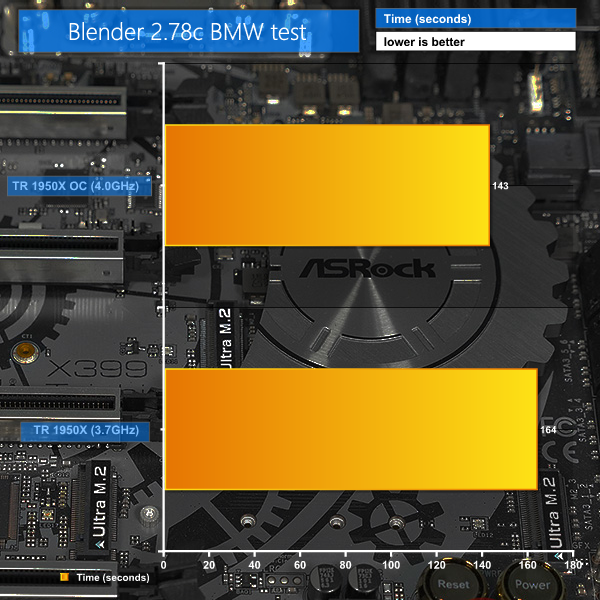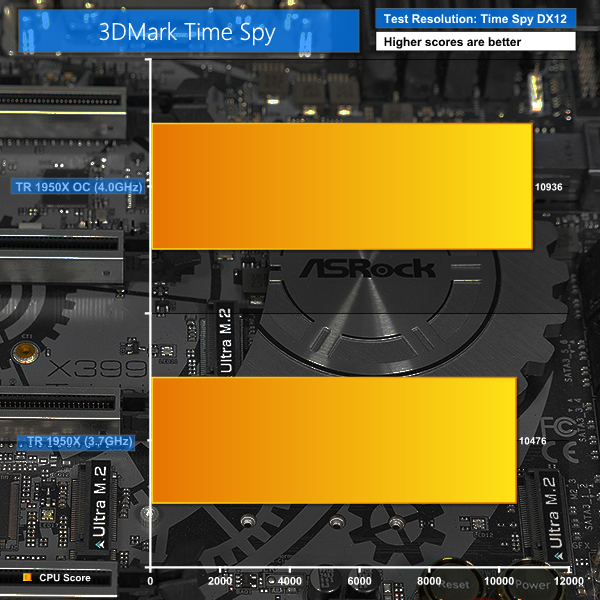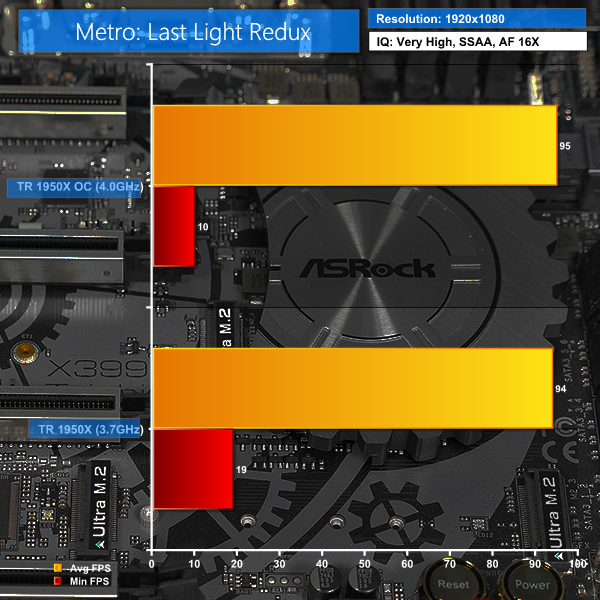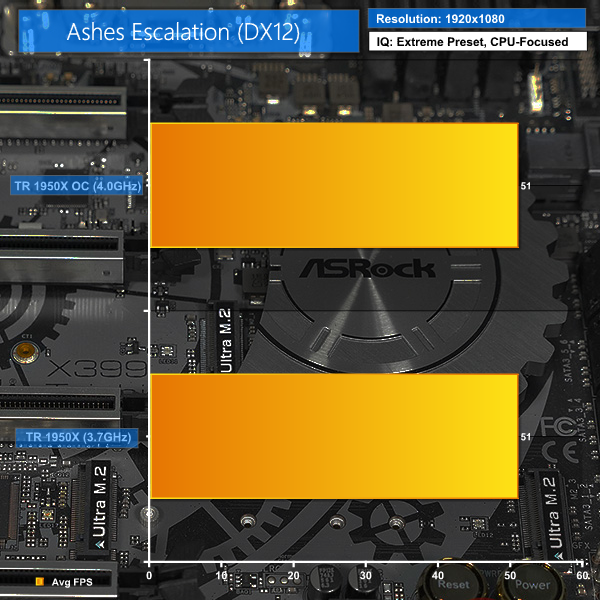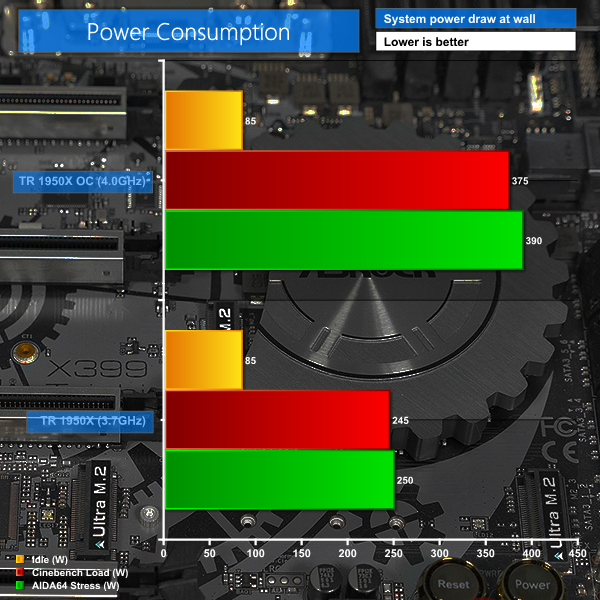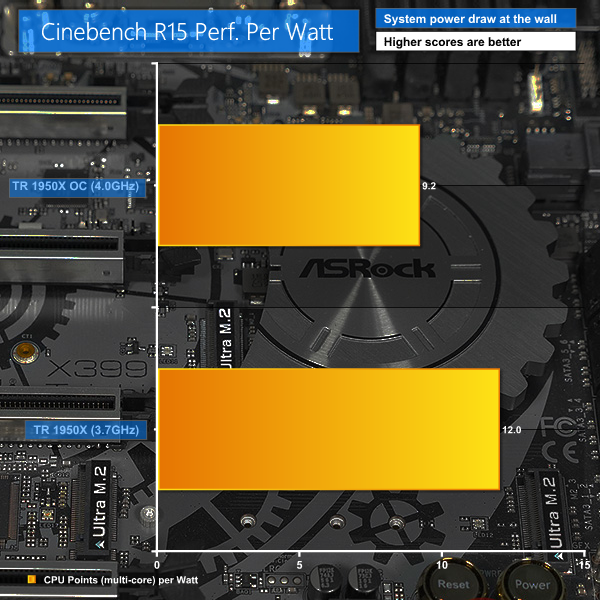 Performance with the Threadripper 1950X at stock clock speed (base clock speed 3.4GHz, all core boost 3.7GHz) and all cores overclocked to 4.0GHz is exactly what we expect to see. Most of the test results are a simple result of running the 16 cores of Threadripper 1950X at those speeds with 32GB of G.Skill RAM and a GTX 1080 Ti graphics card.
Performance at 4.0GHz was rock solid where we only saw 3.9GHz using the MSI X399 Gaming Pro Carbon AC. With the ASRock it feels reasonable to attribute the extra performance to the 11-phase VRMs and the way the EPS power connectors are arranged on either side of the CPU socket.
Cooling Performance.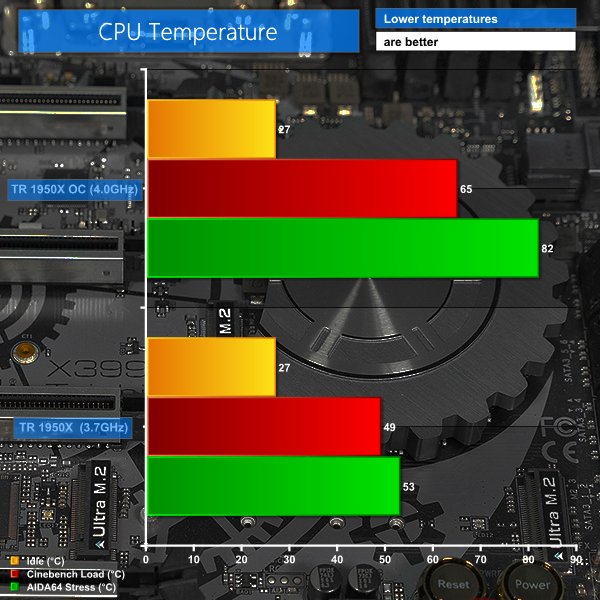 We have had great success with the 240mm Fractal Design Celsius S24 and found it worked well with the Threadripper 1950X at stock clock speeds where the maximum CPU temperature was around 50 degrees. When the Threadripper was overclocked to 4.0GHz the temperature in Cinebench increased to a reasonable 65 degrees. A prolonged run of AIDA64 raised the temperature to 82 degrees which is the maximum acceptable temperature for this CPU.
Closing Thoughts.
ASRock has done a fine job with the X399 Taichi. It looks good, feels like a quality piece of hardware and packs all the features you can expect at this price point. If you choose to overclock your Threadripper you will have to do the job manually but the process is quick and simple. Recent UEFI updates have brought the X399 Taichi up to AMD AGESA 1.0.0.4, which is bang up to date for Threadripper and should help hardware compatibility.
The motherboard isn't perfect as it comes with some kludgy software called App Shop, and while we were happy with RGB LED, A-Tuning and Fan-Tastic we could have done without Slots, Chrome and a few other bits and pieces. As we say in our video this is mildly annoying however once your new Threadripper PC is up and running you can simply ignore the software.
While we are discussing software, we initially had problems getting the integrated 802.11ac Wi-Fi to operate, however this was an Intel driver problem. Once the correct version of the software was installed the Wi-Fi was absolutely fine. If we had a free hand we would like to see a USB 3.1 Gen.2 mid-board header which surely wouldn't cost much. In a perfect world we would love to see 10Gb Ethernet but we know that comes at a very steep price so it makes perfect sense for ASRock to instead provide dual Intel Gigabit Ethernet.
That is the mark of the ASRock X399 Taichi, as it balances a good list of features with some quality engineering that allows easy overclocking. We have our issues with some of the software but that is a minor quibble with an otherwise excellent motherboard.

Buy from Overclockers UK for £329.99 inc vat HERE
Discuss on our Facebook page, over HERE.
Pros:
Good performance.
Power supply connections are neatly arranged.
Features include 3x M.2 slots.
Understated styling looks very appealing.
RGB lighting is restrained and sensible.
ATX form factor.
Cons:
Unused space on the I/O panel.
No USB 3.1 Gen.2 mid-board header.
Wi-Fi requires ASRock software before it can operate.
App Shop includes software such as Slots and Chrome.
KitGuru says: ASRock X399 Taichi is a fine Threadripper motherboard and very good value too.