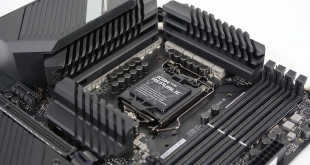 Asus ROG Maximus XII Hero (Wi-Fi) is the entry point for the Asus ROG range of Z490 motherboards that support Intel 10th Gen Comet Lake-S. The model name sounds like a minor upgrade from the Z390 Maximus XI Hero however the VRMs have been overhauled with an increase to 14 stages that are each rated at 60A… and that makes a massive difference!

Watch the video via our VIMEO Channel (Below) or over on YouTube at 2160p HERE
Full Product Details for Asus ROG Maximus XII Hero (Wi-Fi) can be found HERE.

Key features
Form factor: ATX
Chipset: Intel Z490
Socket: LGA1200 (for 10th Gen. Comet Lake-S)
RAM: 4 DIMMs up to 128GB DDR4-4700MHz(OC) in dual channel.
Graphics slots: 2× PCIe 3.0 x16 (supports 2-way SLI and 3-way AMD CrossFire).
Expansions slots: 1x PCIe 3.0 x16 (supports x4), 3× PCIe 3.0 x1
Storage: 3× M.2, 6× SATA 6Gb/sec
Rear USB:

1x USB 3.2 Gen 2 Type-C
3x USB 3.2 Gen 2 Type-A
4x USB 3.2 Gen 1 Type-A
2x USB 2.0

Front USB:

1x USB 3.2 Gen 2 Type-C ports
2x USB 3.2 Gen 1 Type-A ports
4x USB 2.0 ports

Graphics output: HDMI 1.4b
LAN: Marvell AQ111C 5Gb/sec + Intel I219V Gigabit
WiFi/Bluetooth: Intel Wi-Fi 6 AX201 + BT 5.1
There is no escaping the ROG nature of the Maximus XII Hero (Wi-Fi) with its black colour scheme and the occasional mirrored part to give some contrast. The three M.2 slots are covered by some visually appealing hardware that is vexing to remove. At the top of the board the substantial I/O shroud gives you reasonable access to the 8+4 EPS power connectors.
Arranged around three sides of the board there is a long list of headers and connectors including eight fan headers, two pairs of RGB/ARGB headers at the top and bottom of the board and decent provision for USB. In our video we commented that the Flex Key button next to the Power button can be configured as Reset, RGB, Boot into UEFI or Safe Boot however we were unable to find the correct option in the BIOS. We can now reveal it is in Tools, which seems like a reasonable location, but blimey, it led us a merry dance.
At first glance the Asus ROG Maximus XII Hero (Wi-Fi) shares a fair amount of the DNA of the Z390 Asus ROG Maximus XI Hero, however there have been some significant changes. Luke criticised the Maximus XI Hero for its use of 8x 50A power stages arranged in four phases so we are pleased to see the ROG Maximus XII Hero uses a VRM that has been significantly upgraded.
The ASP14051 VRM controller looks like a rebadged IR35201 with 14+2 power stages in 7+1 configuration using Infineon IR TDA21462 60A VRMs. In addition the Maximus XII has the VRM arranged in a C-shape with the main components above and beside the CPU socket while the power delivery hardware for the DDR4 memory is laid out between the CPU socket and the main graphics slot. This change has led Asus to extend the VRM cooler in the same C-shape and it is notable that the cooler is both large and also heavily finned to provide a decent amount of surface area.
As we show in our video, Asus has included a tiny 40mm fan that can be secured above the VRM cooler to add some active cooling. This strikes us both as unnecessary and also slightly concerning as it suggests Asus may not have complete confidence in their VRM hardware. We are happy to confirm the VRMs are superb and that the active fan can be safely left in the box.
Testing, Performance and Overclocking
To test the Asus ROG Maximus XII Hero (Wi-Fi) we used the same hardware you saw in our review of Intel Core i9-10900K with the addition of performance figures from MSI MEG Z490 Ace and Gigabyte Z490I Aorus Ultra.
Test system
CPU: Intel Core i9-10900K
CPU Cooler: Fractal Design Celsius S36 with 3x Noctua Chromax NF-F12 fans
RAM: 32GB Corsair Vengeance LPX 3600MHz 16-18-18-36
Motherboard: MSI MEG Z490 Ace
Graphics: Gigabyte RTX 2080 Super 8GB
SSD: 1TB WD Blue M.2 NVMe
Power Supply: Seasonic Prime Platinum 1300W
Cinebench R20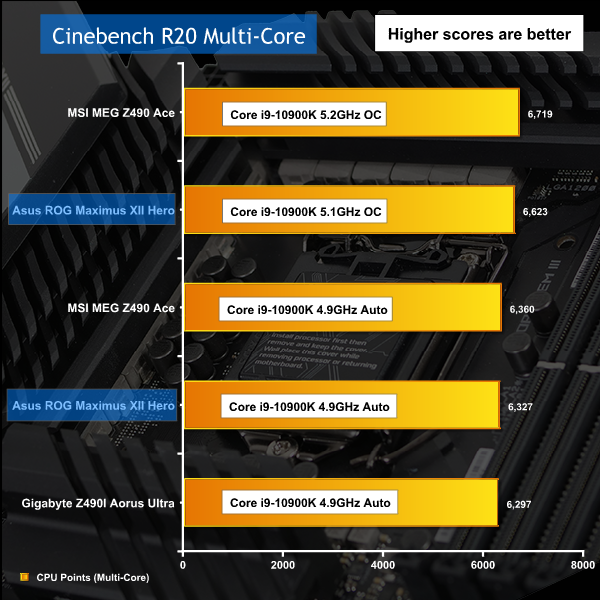 Blender Class Room
3D Mark Fire Strike
3D Mark Fire Strike Ultra
3D Mark Time Spy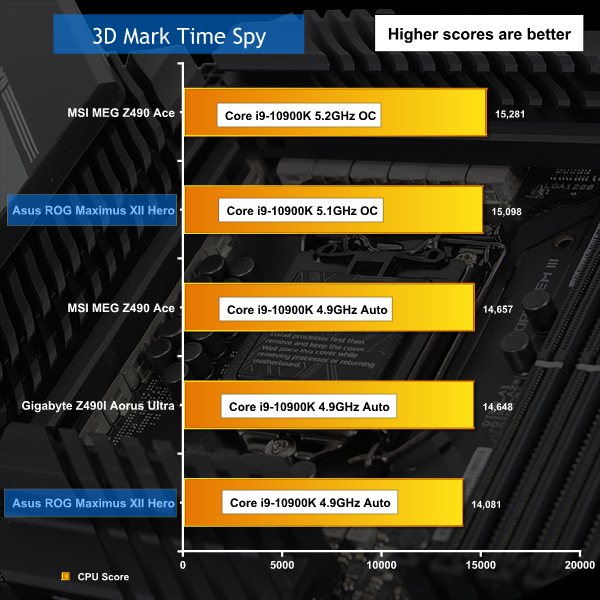 CPU Tests Overview
On Auto settings the Maximus XII Hero performs well but when we compare overclocked settings the Asus does slightly better than we expected as it pretty much matches the MSI MEG Z40 Ace, despite running 100MHz slower.
Power Draw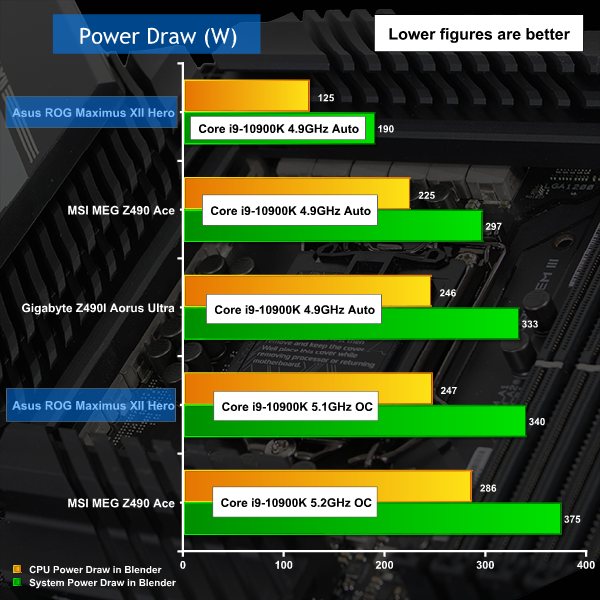 Power Draw Overview
With the ROG Maximus XII Hero restricted to 125W CPU power you won't be the least bit surprised to see the test system effectively sips power on Auto, exactly as you would expect. With the system overclocked to 5.1GHz on all cores the power draw increases substantially but remains below the level of the MSI MEG Z490 Ace that was overclocked higher to 5.2GHz. These figures are completely in line with our expectations and show everything is behaving perfectly normally.
VRM Temperatures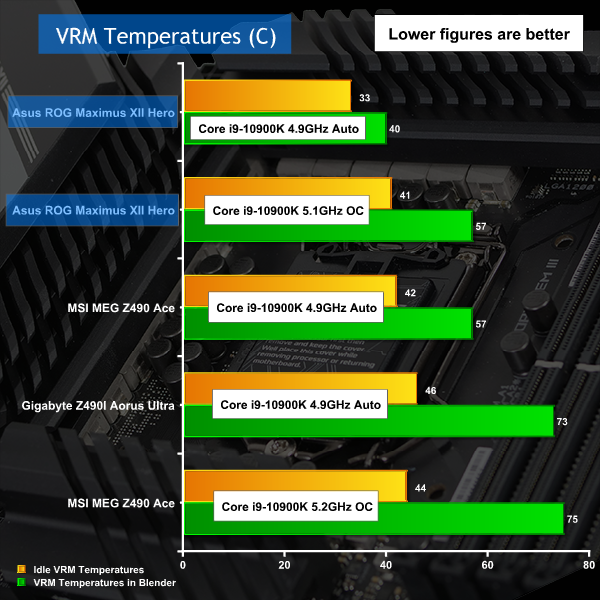 VRM Temperatures Overview
With the Core i9-10900K running on Auto we see the Asus VRMs are icy cold, which is what we hope and expect to see. The big news is that when we overclocked the CPU to 5.1GHz the VRMs remained impressively cool and matched the MSI MEG Z490 Ace running at 4.9GHz. The VRMs on the two motherboards are similar in specification so we put this down to Asus using a decent cooler compared to the MSI cooler that has less surface area.
The BIOS
Asus has their own, slightly peculiar way of writing a BIOS. For example, setting XMP is very simple in EZ Mode but once you switch to Advanced Mode you have to look within AI Overclock Tuner to find the setting for XMP. Once you are there you will likely want to adjust clock speeds ever so slightly and you may suddenly find yourself in a very confusing place. The BIOS contains so many features that you are effectively forced to change almost nothing or to dive in and make a whole host of adjustments. Our advice is to start with XMP and the control curves for your cooling fans and see how you get on with those tasks before you go any further.
The Asus ROG Maximus XII Hero (Wi-Fi) comes with fewer accessories than we might expect to see with a motherboard that costs over £400 so it is welcome news that the hardware is top quality. In particular we are impressed by the upgrade in the VRMs as the Maximus XI Z390 model was below-par while this Maximus XII hits it out of the park.
We have seen a number of enthusiast Z490 motherboards priced around the £400 mark that come with VRMs that seem almost over-engineered for Core i9-10900K and we have to wonder what will be coming with Intel's 11th Gen that will fit the same LGA1200 socket.
Of course that is some time in the future so for the time being we are looking at performance with the ten core Core i9-10900K with PCI Express Gen 3 graphics and SSD storage. This is less thrilling than AMD Ryzen 9 3950X and PCIe Gen 4 hardware but nonetheless, a high end Intel PC delivers an impressive level of performance.
Or rather it can be impressive, depending on your workload and the settings you use. If you limit CPU power and run on Auto you will have a decent gaming experience but will suffer in intensive tasks such as video editing. Unlock the CPU power to let your CPU stretch its legs and we are confident you will be mightily impressed.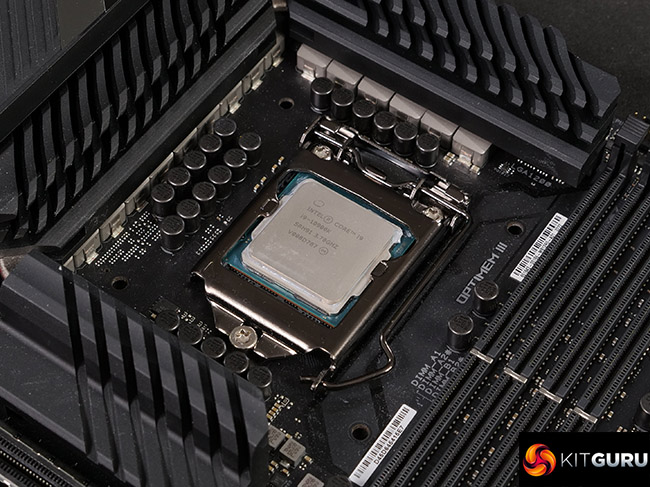 While we don't feel the need to overclock beyond 5.1GHz, the fact is the MSI MEG Z490 Ace managed 5.2GHz without difficulty so it annoys us that we couldn't get the Asus to run the same CPU at the same speed. We are confident the Asus can perform as well as the MSI (or better) but our feeling is that the complexity of the BIOS works to make life more difficult than it needs to be. You cannot simply bump up core voltage and the clock multiplier but instead have to tweak a bunch of settings, just as we showed you in our video.
This is a fairly minor complaint but anything that Asus can do to make life easier would be welcome. This is true at any time but especially true when we are dealing with a CPU platform that comes with new features such as Thermal Velocity Boost.
We are impressed by the quality of the Asus ROG Maximus XII Hero (Wi-Fi) hardware and would welcome any small tweaks to the BIOS that would help to seal the deal.

You can buy the Asus ROG Maximus XII Hero Wi-Fi from Overclockers UK for £429.95 HERE.
Discuss on our Facebook page HERE.
Pros:
The VRMs work well and run at a low temperature.
Huge list of features including Micro buttons and eight fan headers.
Impressive performance.
Stylish looks and solid engineering.
Cons:
The price is fairly steep.
Access to the M.2 slots is awkward once your motherboard is installed.
BIOS is overly complex.
KitGuru says: Asus ROG Maximus XII Hero (Wi-Fi) is an impressive motherboard that matches Core i9-10900K superbly well.