be quiet! spells its company name in an annoying way, but when it comes to their range of PC cases we are willing to forgive this minor sin as they have so far achieved a string of successes. The focus, logically, with be quiet! is on low noise which is achieved by combining materials in a clever way, using noise deadening material and the inclusion of be quiet! brand Silent Wings 3 fans, which are very good.
The first case we saw was the Silent Base 800, late in 2014, which was followed by the slightly smaller Silent Base 600 in 2015 and then in 2016 we had the epic Dark Base Pro 900 which is one of the most innovative cases we have seen. Early in 2017 be quiet! launched the Pure Base 600 as a budget version of the Silent Base 600.
Today we have the be quiet! Dark Base 700 which follows the numbering logic of the other models, so it is slightly smaller than the 900 and positioned just below it in the product stack. That means the Dark Base 700 comes with a hefty price tag of £175, but on the plus side it incorporates a number of features we have previously seen in the Dark Base Pro 900, including a reversible motherboard tray.
Watch the video via our VIMEO Channel (Below) or over on YouTube at 2160p HERE 
Specification:
Motherboard support: E-ATX, ATX, Micro-ATX, Mini-ITX.
Expansion slots: 7+2.
Included fans: 1x be quiet! SilentWings3 140mm front intake, 1x be quiet! SilentWings3 140mm rear exhaust.
Fan mounts: 3x 120/140mm front, 3x 120/140mm roof, 1x 120/140mm rear, 1x 120/140mm floor.
120mm radiator mounts: 120mm/240mm/360mm front, 120mm/240mm/360mm roof, 120mm rear.
140mm radiator mounts: 140mm/280mm front, 140mm rear.
5.25″ drive bays: None
Internal drive bays: 7x 3.5, 3+6 x2.5″.
Dimensions: 519mm H x 544mm D x 241mm W.
There are a number of different ways you can look at the be quiet! Dark Base 700, as it caters to a bunch of different PC builders. If you are looking for tempered glass and RGB lighting you will find this case suits you nicely, albeit at a high price.
It is worth pointing out that after our video was finished we received a replacement fan/light controller board that fixed the problem we suffered. As we say in the video, it was obviously disappointing the case wasn't fully functional, however we understood the root of the problem and it didn't affect our verdict on the Dark Base 700.
The second way of looking at the be quiet! Dark Base 700 is to focus on the fact you can flip the motherboard tray. The mechanism uses a clever design so you pull out the power supply cover (four sections on the top, one on the side), remove the top radiator rack, undo nine screws and give the whole thing a pull.
It's a neat trick but clearly it's only of interest to those people who want to reverse their PC layout. To allow this feature to work the case has been constructed with symmetrical components (to allow them to flip) and the downside is that cable management is poor at both the top and bottom of the motherboard tray.
There's a third way to look at the Dark Base 700 where you pay attention to the be quiet! name. There's a clip-on dust filter behind the front panel, a full length bottom filter that pulls out to the front, noise dampening material in the front, side and top panels, and you get two 140mm SilentWings 3 fans. These are desirable features however you should reasonably expect a good deal more than noise deadening material when you pay £175 for a PC case so they are unlikely to be the primary factors in your choice of your next case.
Building the system was straightforward although cable routing was less than ideal and we used a surprising number of cable ties to keep things tidy. At first glance be quiet! Dark Base 700 looks like the sort of case where you secure the cables with a couple of Velcro straps, but it simply didn't work out that that way.
It is worth stressing that the Fractal Design Celsius S24 cooler in the roof of the case may look tight for space above the CPU and RAM, however the sliding rack on which it mounts makes life very easy indeed.
Towards the end of the video we mention the custom fan grilles supplied by Dean Sharkey that are called Printed Grillz
Priced at £14 each for 120mm grilles
Testing
To put this case through its cooling paces we will be using a test system consisting of an AMD Threadripper 1920X CPU and GTX 1080 Ti graphics card. This system allows us to produce a substantial amount of heat and effectively test the be quiet! Dark Base 700's cooling capabilities.
For stress testing we use AIDA64 to create the maximum amount of load our CPU and GPU are ever likely to see.
Test System:
Processor: 3.7GHz AMD Threadripper 1920X
Motherboard: ASRock X399 Taichi
CPU cooler: Fractal Design Celsius S24 AIO
Memory: 32GB G.Skill FlareX DDR4-3200MHz
Graphics card: GeForce GTX 1080 Ti
Power supply: be quiet! Dark Power Pro 11 750W
Storage drive: SanDisk Extreme II SSD
OS: Windows 10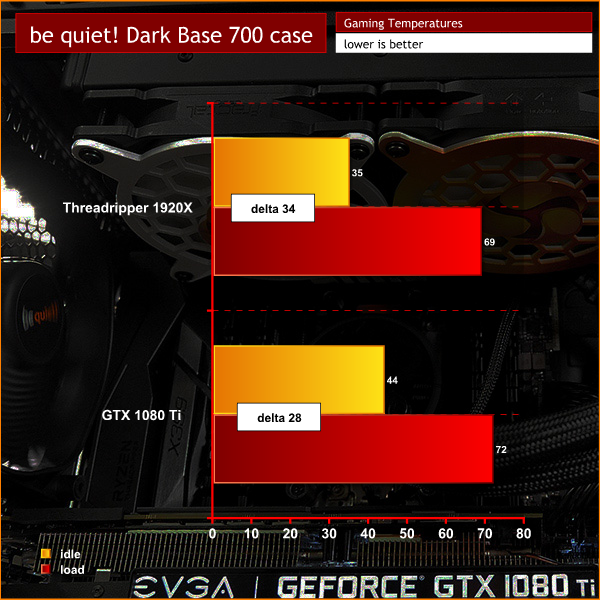 Cooling Performance.
The be quiet! Dark Base 700 did a decent job with our 12-core Threadripper running at stock clock speed however the emphasis is on quietness, rather than airflow. We would prefer to see Threadripper CPU temperatures closer to 60 degrees but can live with 69 degrees under load. If you plan on overclocking a beefy CPU inside this case you will surely require a second fan at the front of the case and may well need to increase fan speeds too. On the other hand if you use a more modest CPU such as Intel LGA115x or AM4 Ryzen you should be absolutely fine.
Acoustics performance.
The be quiet! Dark Base 700 is very quiet, provided the fans are turned down to a modest speed. The construction of the case with sound deadening material and slotted intakes at the front reduces noise levels but nonetheless if you crank up the fans they will be clearly audible.
Closing Thoughts.
The be quiet! Dark Base 700 sits in their product range below the Dark Base 900 Pro and delivers the feature where you can flip the motherboard tray to the opposite side of the case, or you can remove it and use it as a test stand. The motherboard mechanism used in the 700 is different to the 900 and looks a good deal cheaper but it must necessarily affect the price of the 700 and it certainly impacts the design in terms of cable management.
This is intriguing as it seems unlikely that many people are in the market for a case that can flip, and for which you pay a significant premium. We like the Dark Base 900 Pro a great deal, despite its size and price, and feel it offers more features and better value than the Dark Base 700. Balanced against that, if you intend to use the Dark Base 700 as a conventional case it seems like an expensive proposition, even though it includes two decent 140mm fans, a fan/RGB hub and noise deadening material.
The new 700 brings a top notch I/O panel to the party that includes a USB 3.1 Gen 2 type C port next to the fan controller (albeit in cut-outs that were clearly intended for USB Type A), along with 2x USB 3.0 and an RGB controller for the white, red, green, blue, orange and purple lights. That's good but it's more of a bonus feature than a 'must have' that will persuade you to pay such a high price for a case.
In many respects that feeling sums up the be quiet! Dark Base 700 as it has many good qualities but lacks a killer feature that allows it to stand apart from the competition at this price point. Indeed, if we take the motherboard tray out of the equation there are cases on the market such as Phanteks Pro-M Glass that offers a similar list of features at a considerably lower price.
We like the design of the quiet! Dark Base 700 and the sleek way it uses a combination of steel, glass, plastic and aluminium. The case is very quiet and flows sufficient air to keep most PC builds reasonably cool, although our Threadripper build was somewhat warmer than ideal. You get plenty of options for drive bay locations and can effectively add unlimited storage.
be quiet! supplies a number of drive caddy blanks to cover those mounting holes that are not in use. These pop in and out of place as required and you may notice in the video that for a time the blanks are (incorrectly) reversed. You get bonus marks if you spotted that.
Overall our list of complaints boil down to a short list of minor gripes such the awkward cable management above and below the motherboard or the need to use a bunch of cable ties to keep things under control. The fundamental point is that those of us who don't want to flip their motherboard simply will not pay this price for a conventional mid-tower case.
Discuss on our Facebook page, over HERE.
Pros:
Impressively quiet.
Sleek styling.
Two Silent Wings 3 fans are included
Integrated RGB lighting.
Fan controller can handle six PWM fans in two groups with a choice of four settings.
Top cannot accommodate 140mm or 280mm radiators
Cons:
Far too expensive.
Cable routing above and below the motherboard is tight.
You only get nine motherboard stand-offs.
KitGuru says: Dark Base 700 packs RGB lighting and a glass window in a quiet case but costs too much.
Be sure to check out our sponsors store EKWB here