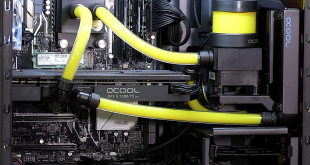 We can best describe the Corsair Carbide SPEC-04 as an ATX case that comes with a bargain basement price and a specification to match. Or, to put it another way, it's a fairly basic case. You get an acrylic window in the main panel and a couple of USB 3.0 ports, and that is pretty much your lot as there is no sound deadening material or built in lighting.
Perhaps the biggest surprise is that you cannot install a 240mm All In One liquid cooler in this case and yet the Corsair Carbide SPEC-04 has plenty of merits. If you have your doubts, just take a look at our video as we have shown you can pack a full gaming PC inside this budget case.
Watch the video via our VIMEO Channel (Below) or over on YouTube at 2160p60 HERE
Specification:
Motherboard support: ATX, Micro-ATX, Mini-ITX
Expansion slots: 7
Included fans: 1x 120mm front intake
Fan mounts: 2x 120/140mm front, 2x 120mm roof, 1x 120mm rear
120mm radiator mounts:  120mm front, 120mm rear
140mm radiator mounts:  140mm front
5.25″ drive bays: None
Internal drive bays: 3x 3.5"/2.5″, 2x 2.5"
Dimensions: 433mm H x 492mm D x 201mm W
The headline figures are that Carbide SPEC-04 can accommodate a maximum GPU length of 370mm, a maximum CPU height of 150mm and a maximum power supply length of 225mm. If you choose you can install three hard drives in the drive bays along with two SSDs in the bays at the back of the case.
Those are big numbers for a small case but balanced against that you cannot install much in the way of cooling. In particular you can only install a pair of 120mm fans in the roof of the case, a 120mm fan at the rear and a pair of 120mm/140mm fans at the front. Liquid cooling is restricted as there is no way to install a liquid cooler larger than 120mm or 140mm so the classic 240mm Corsair H100 is not an option.
Testing
As you will see in our video we went out of our way to install a high end gaming PC that pushed the limits
Test System:
Processor: AMD Ryzen 7 1700X 3.4GHz/3.8GHz
Motherboard:  Asus Prime X370-Pro
CPU cooler: Alphacool 140mm, EK DDC, EK Supremacy EVO, Alphacool GPU block.
Memory:  16GB G.Skill FlareX DDR4-3200MHz RAM
Graphics card:  GeForce GTX 1080 8GB
Power supply: Corsair AX1500i 1500W
Storage drive: Samsung 256GB SSD M.2
OS: Windows 10 Professional.
The cooling system was built around a 140mm Alphacool NexXxos radiator with a 140mm Corsair ML fan. The stock 120mm Corsair case fan was moved to the rear of the case and we installed two Noctua NF-F12 PWM fans in the roof of the case.
The rest of the cooling hardware consists of an EK DDC pump/reservoir, an EK Supremacy EVO water block on the Ryzen 7 CPU and an Alphacool water block and backplate on the GTX 1080 graphics card. Fittings are all by Alphacool and the coolant is Mayhems Pastel Yellow.
To put this case through its cooling paces we will be using a test system consisting of an AMD Ryzen 7 1700X, GeForce GTX 1080 and an SSD. This system allows us to produce a substantial amount of heat and effectively test the Corsair Carbide Spec-04's cooling capabilities.
For stress testing we use AIDA64 to create the maximum amount of load our test system is ever likely to see.
Cooling Performance.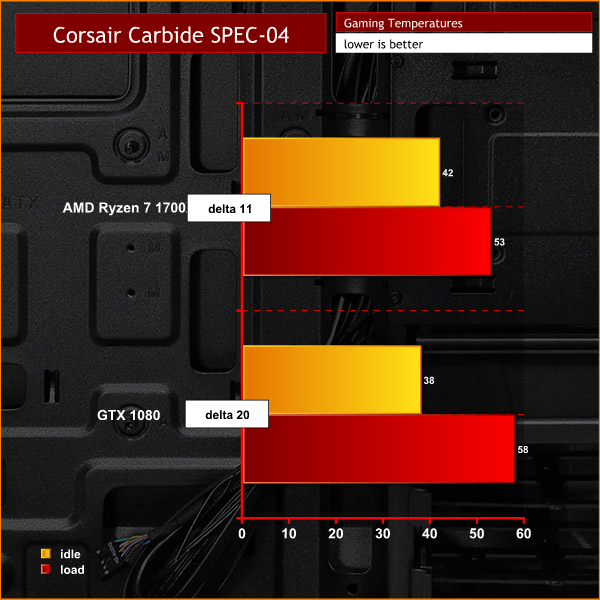 When you consider the small size of the radiator the temperatures of the processor and graphics card are pleasingly low. If you started overclocking with this set-up it is clear you would hit problems, but on stock clocks it works remarkably well.
Acoustics performance.
The Corsair Carbide SPEC-04 has no noise deadening features, apart from the slightly baffled front panel. The top is perforated and open to the elements and the side panels are made of the thinnest material you are ever likely to see.
If the fans make a noise you can be sure that noise will be radiated so you really only have three options; build a low power PC that requires little air flow, crank up the fans and endure the noise or (our preferred option) use quality hardware that is relatively quiet. You could always change the fans and buy higher quality counterparts, but that kind of defeats the purpose of spending so little on a case.
Closing Thoughts.
We expected very little from the Corsair Carbide SPEC-04 and it defied our expectations. The recommended retail price in the UK is said to be around £55 inc vat although as we publish immediately after NDA breaks, no etailer is yet listing it. We will update this review shortly when this changes.
It is cheap, fairly cheerful and lacks any meaningful air filtration while the inability to install a 240mm or 280mm liquid cooler is an obvious limitation. Balanced against that the PC we built inside this case looks good and performs well.
We do not expect the Corsair Carbide SPEC-04 will find many friends among PC enthusiasts as it offers so few features but we fully expect to see this case used by system integrators in budget PCs.
Anything that saves £5 or £10 on the bill of materials is welcome news for PC builders but of less importance to gamers who are spending £300-£500 on a CPU and £300-£700 on a graphics card.
The important point is that Corsair Carbide SPEC-04 packs includes the features you need but absolutely nothing more and the result is a price that is very low indeed. You can certainly buy a case that is even cheaper but we know a great many KitGuru readers swear by the Corsair brand and have little doubt the Carbide SPEC-04 will sell well.
Discuss on our Facebook page over HERE.
Pros:
Low price.
I/O panel is fixed to the core chassis.
Five drive bays.
Open structure makes the PC build easy.
Cons:
Largest supported liquid cooler is 140mm.
There is no noise deadening material.
The top is open and unfiltered.
Cable management is fairly minimal.
KitGuru says: The Corsair Carbide SPEC-04 is cheap, cheerful and surprisingly capable.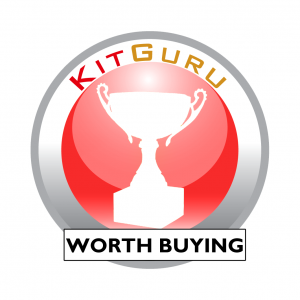 Be sure to check out our sponsors store EKWB here