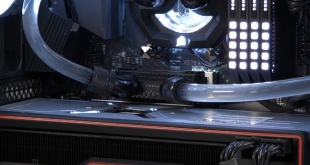 A year ago we reviewed the PCIe Gen 4 Corsair Force MP600 1TB with Phison E16 controller and more recently reviewed Sabrent Rocket 4 Plus 2TB with the new, faster Phison E18 controller. Those two reviews make ideal background reading for this review of the Corsair 2TB MP600 Pro Hydro X as it has a great deal in common with the Sabrent Rocket 4, including the Phison E18 controller and the use of 96-layer TLC NAND storage. The big difference is the Hydro X cooling block, which means this SSD is ready to be plumbed into your custom loop cooling system.
Watch the video via our VIMEO Channel (Below) or over on YouTube at 2160p HERE
Main features
Extreme Gen4 Storage Performance: A PCIe Gen4 x4 controller delivers up to 7,000MB/sec sequential read and 7,000MB/sec sequential write speeds, for read, write, and response times that leave standard M.2 SSDs in the dust.
High-speed Gen4 PCIe x4 NVMe 1.4 M.2 Interface: Using PCIe Gen4 technology for maximum bandwidth, the MP600 PRO Hydro X delivers incredible storage performance.
High-Density 3D TLC NAND: Provides the ideal mix of performance, endurance, and value to keep your drive performing at its best for years.
Hydro X Series XM2 Water Block: Easily add the MP600 PRO Hydro X to your custom cooling loop and achieve maximum performance.
Outstanding Endurance: Guaranteed for up to 3,600TB Written, the MP600 Pro Hydro X's longevity ensures that it will reliably store your data through many years of use.
Compact M.2 2280 Form Factor: Fits directly into your motherboard.
Corsair SSD Toolbox Software: Enables advanced drive controls from your desktop including secure erase and firmware updates.
Comprehensive Five-year Warranty: Long-term reliability and industry-leading customer support for peace of mind.
There are three models in the range of Corsair MP600 Pro SSDs. 1TB, 2TB and 2TB Hydro X, and clearly the focus is on the change from the Phison E16 controller used in Force MP600 to the new E18 controller.
A quick run of CrystalDiskMark 8 in NVMe mode demonstrates the E18 controller delivers 7.1GB/sec Read and 6.9GB/sec Write versus 5.0GB and 4.3GB/sec for the E16 controller. That's a hefty percentage increase in performance from the first generation of PCIe Gen. 4 controller and as the price increase is fairly minor you may well have already decided to whip out your credit card and to place an order.
The SSD hardware used in the MP600 Pro consists of the E18 controller, 1GB cache chip and four NAND chips on the top side of the PCB for a 1TB model, while this 2TB model has a second cache chip and another four NAND chips on the bottom side. Corsair tells us they are looking to move from 96-layer NAND to 120-layer however we doubt we will see an increase in capacity and imagine it is more likely they will simply reduce the number of NAND chips in each SSD.
So what about the heatsink and the cooling? The basic MP600 Pro uses a finned aluminium heatsink that looks very similar to the item used on the Force MP600. As we show in our video, the base can be unclipped and the heatsink removed so you could easily install the bare SSD on a motherboard that has heatsinks as part of the chipset cover. While we were interested to see how the MP600 Pro behaved with air cooling we were very keen to use the Hydro X cooling block and determine whether or not there was any benefit to be gained from liquid cooling.
Testing
Test System:
Processor: AMD Ryzen 9 3900X (12 cores/24 threads)
Motherboard: Gigabyte X570 Aorus Elite
Memory: 32GB Corsair Dominator Platinum RGB DDR4-3200MHz
Graphics card: Sapphire Radeon RX 6800 XT 16GB
Case: Corsair 5000D AirFlow
Power supply: Corsair AX1600i 1600W Titanium
SSD: Sabrent Rocket M.2 NVMe 4.0
OS: Windows 10
Custom Loop Cooling
Pump/Reservoir: Corsair XD5 RGB
CPU Block: Corsair XC7 RGB
Radiator: Corsair XR5 360
Fittings: Corsair XF
Soft Tube: Corsair XT
Coolant: Corsair XL5
Performance Overview
Our graphs show the temperature results we demonstrated in our video when we were running CrystalDiskMark 8 in NVMe mode. Performance was in line with the screen grabs further up the page. Our main takeaway was the temperature of the Hydro X SSD was more than 40 degrees Celsius lower than the regular MP600 Pro drive, however performance was unchanged.
Events took a turn for the interesting when we switched CrystalDiskMark 8 to Peak Performance mode and ran the test in four loops. As you will see in our video this drove temperatures up and when the MP600 Pro hit 70 degrees we could see the write speeds throttling to 5.3GB/sec and then to 4.6GB/sec. By contrast the Hydro X drive maintained a temperature in the low-50s Celsius and delivered performance that was consistent.
Closing Thoughts
In the first section of our video we demonstrate that Corsair MP600 Pro is significantly faster than the Force MP600 and that in most regular workloads you won't have to worry about operating temperatures. In fact it is easy to argue that switching to the Hydro X version of the SSD could give you a minor headache as you require a custom loop cooling system.
Furthermore, the location of the primary M.2 slot between your graphics card and CPU could make the loop tricky to plan. The pieces fall into place when you pummel your SSD mercilessly as that tends to drive the temperature up by some 20 degrees C which will cause the air cooled SSD to throttle while the liquid cooled drive will sail serenely on.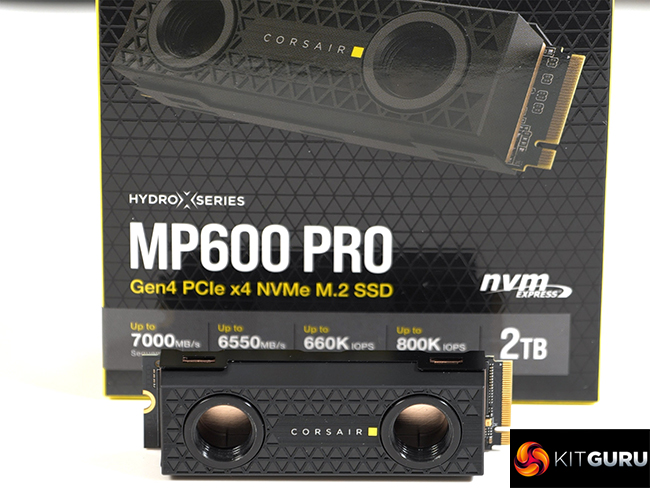 In other words, if you are suffering from high SSD temperatures the MP600 Pro Hydro X can fix your problem. Balanced against, that if your workloads are less intensive and you are not suffering high SSD temperatures you may be wondering what the fuss is all about.
Adding components to a cooling loop makes it difficult to perform upgrades and maintenance and let's face it, the block on the Hydro X is hardly a visual stunner. The black plastic, yellow accent and printed Corsair name look pleasant enough but once you add in the plumbing it all get a bit messy.
That's fine and you should feel free to stick with the regular air cooled MP600 Pro but when the chips are down and the temperatures are rising, you may well find that Hydro X is exactly the solution you require.
You can buy the Corsair 2TB MP600 Pro Hydro X for £439 from Ebuyer HERE.
Discuss on our Facebook page HERE.
Pros:
The Phison E18 controller delivers excellent performance.
With Hydro X cooling the performance is consistent.
Temperatures up to 40C lower than the passive heatsink on the regular MP600 Pro.
Cons:
MP600 Pro Hydro X requires a custom loop cooling system.
It's pricey.
Capacity tops out at a lowly 2TB.
Your choice of M.2 slot is restricted by the cooling loop.
KitGuru says: Corsair MP600 Pro Hydro X comes into its own when you batter your SSD without mercy.
Be sure to check out our sponsors store EKWB here