The first thing we did after unboxing the Corsair Obsidian 500D was to wonder when we last reviewed a Corsair Obsidian case. A quick check of the KitGuru archives told us it was the Obsidian 450D back in February 2014 which is a massive gulf of four years. As we say in our video, the 450D and 500D model codes suggest the new Obsidian may have a certain amount in common with the previous 450D however a lot of water has passed under that particular bridge. Both cases are black in colour and mid-tower ATX in size, and that is pretty much the end of the matter.
The new 500D dispenses with optical drive bays, gains a power supply cover and has a clean, open interior that promises superb air flow, while the outside is finished with a pair of tempered glass doors with aluminium panels. You would need to have a heart of stone to deny the Obsidian 500D is a smart and attractive case, and we have no doubt some Luddites will applaud the absence of RGB lighting. As we say in our headline, this case is intended for adults.
Features
Sharp, Black, and Beautiful: Iconic Obsidian series styling combines clean exterior lines and smoked tempered glass side doors.
Built Better: Aluminium front panel, top plate and door handles add a refined feel and premium look.
Superb Cooling: Direct Airflow Path design channels cool air where your PC needs it most.
Removable Fan and Radiator Trays: Installing fans and radiators is now easy with removable trays that can hold up to five 120mm fans or four 140mm fans.
Expansive Storage Space: Easy-to-use mounts for up to two 3.5in HDDs and three 2.5in SSDs.
Future-Proof Front I/O: Featuring a super-speed USB 3.1 Type-C port and additional connections for all modern peripherals.
Cable Routing Made Simple: Hide your cables behind the motherboard tray to keep your build looking tidy with the included PSU cover and rear cable cover.
Removable, Built-in Dust Filters: Keeps your build looking and running clean, inside and out.
Specification
Dimensions: 502mm (L) x 233mm (W) x 508mm (H)
Maximum GPU Length: 370mm
Maximum CPU Cooler Height: 170mm
Maximum PSU Length: 220mm
Expansion Slots: 7
5.25-inch Drive bays: None
3.5-inch Hard Drive Bays: 2
2.5-inch Drive Bays: 3
Cooling Layout: Front Fan Tray: 3x 120mm or 2x 140mm (1x 120mm included), Top Fan Tray: 2x 120/140mm, Rear: 1x 120mm (included)
Radiator Compatibility: 360mm – Front Only, 280mm – Front or Top, 240mm – Front or Top, 120mm – Front, Top or Rear
Dust Filters: On all Intakes
Front I/O Panel: USB 3.1 Gen. 2 Type-C, 2x USB 3.0 ports, Headphone and Microphone jacks, Power on and Reset buttons.
Warranty: 2 Years
Installing the main components of your PC inside the Obsidian 500D is both quick and easy. The two glass doors simply lift away, although you need to be careful the case doesn't topple after you remove the first door as they are heavy. That lays the interior bare and ready for the build. The motherboard stand-offs are already in place and you can slip the power supply under the shroud from the right hand side without difficulty. The fact the power supply cover is riveted in place does not cause any complications and there is sufficient room at the front of the cover to conceal the cables.
It takes a couple of minutes to get to grips with the fact that the front and top panels are fixed in place. You slip the magnetic dust filters out to the side and then remove the front and top cooling frames, depending on your plans for the build. We chose to move the front frame with its single SP120 fan to the top which entailed flipping the fan over to change it from intake to exhaust.
After that we installed the 280mm Corsair H115i All In One in the front of the case and were pretty much done. The details took a while longer as there is very little space below the motherboard for USB and audio cables, which is slightly annoying. It would have helped to have more cable management holes in that area, but no doubt that would detract from the clean looks of the 500D and would also add fractionally to the cost.
Connecting the two SP120 fans to our chosen ASRock X299 Taichi XE motherboard, along with the H115i, highlighted the basic nature of the 500D. It does not have a fan hub, you only get two basic SP120 fans and there is zero RGB lighting.
We have little doubt that Corsair hopes customers for the 500D will rush out to buy various Link accessories such as a Lighting Node along with a pack of RGB PWM fans, which means the asking price for the 500D is only the starting point. Your finished PC build could potentially end up costing a painful amount of cash.
Testing
To put this case through its cooling paces we will be using a test system consisting of an Intel Core i7-7820X, Sapphire Nitro+ Vega64 and an SSD.
This system allows us to produce a substantial amount of heat and effectively test the Corsair Obsidian 500D's cooling capabilities.
For stress testing we use AIDA64 to create the maximum amount of load our CPU and GPU are ever likely to see.
Test System:
Processor: 8-core 4.0GHz Intel Core i7-7820X
Motherboard: ASRock X299 Taichi XE
CPU cooler: Corsair H115i
Memory: 16GB G.Skill TridentZ RGB DDR4-3200MHz
Graphics card: Sapphire Nitro+ Vega64 8GB HBM2
Power supply: Sea Sonic Prime Titanium 600W Fanless
Storage drive: Samsung 960 Pro M.2 SSD
OS: Windows 10
Cooling Performance.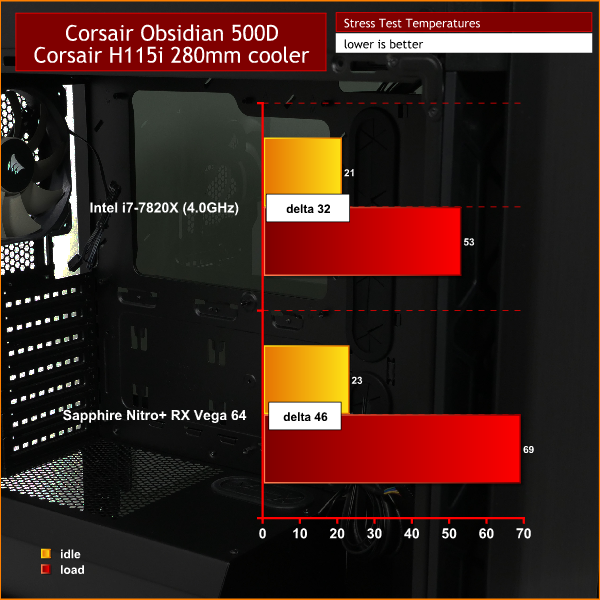 Cooling Performance summary.
Corsair Obsidian 500D has such an open interior that it effectively works as an open test platform. The case is fully filtered and the two glass doors close tightly but even so the air flow is superb and appears to be unhindered. The result is that temperatures for our 8-core Core i7-7820X and mighty Sapphire Nitro+ Vega 64 were very low.
Acoustics performance.
The lack of PWM control for the SP120 fans was a hindrance as the ASRock could not keep them as quiet as we would have liked. In addition the open nature of the 500D and the tiny amount of noise deadening material means this is a noisy case. We could hear a constant drone from the fans that became slightly annoying.
Having said that, we have little doubt that installing some proper PWM fans would help the noise levels. As things stand this is a noisy case.
Closing Thoughts.
The new Corsair Obsidian 500D looks smart and has a pair of impressive glass doors that transform the cosmetic appeal of the case. Whether you want heavily tinted glass or a glass panel on the right hand side of the case is, obviously, a different matter. The core chassis of the 500D is based on the 570X that has clear glass on the front and top, as well as both sides so in a sense the 500D is the more reserved option. Even so, we feel many potential customers will choose a more basic case with a single glass panel.
The design has some neat touches such as the use of interchangeable fans trays in the top and front of the case. Having the front and top panels fixed in place seems like it might be an inconvenience however it works well in practice and those magnetic dust filters are very clever. Just think of all the times you had had to clip a filter in place or slide it into specific slots, when all along magnets could have done the job.
Inside the main compartment the interior is clean and open, and when you head round the back you will find three SSD mounts and two HDD bays, which promises the best of both worlds, although we found the 12V CPU cable ran directly across one SSD bay. The cable cover is slightly fiddly to install but does a good job and the final result is a PC that looks very clean and tidy. Even so, the glass panel on the right side is effectively opaque so there has to be a question mark over that particular decision.
Our biggest gripe with the Corsair Obsidian 500D is the way that is seems to have been designed to keep costs low, yet the final price is rather high. Add in the likely need to purchase further Corsair parts and accessories and the 500D starts to look rather expensive.
There is no doubt in our mind the Corsair Obsidian 500D delivers good cooling, clever design and neat cosmetics but we are equally clear this is a case that will appeal to a particular slice of the market, rather than the mainstream.

Buy from Overclockers UK for £149.99 HERE.
Pros:
Excellent cooling.
Magnetic dust filters are simple to clean.
Clean, open main compartment.
Front panel includes both USB 3.0 types A and C.
The two glass and aluminium doors look good and lift off easily.
Cons:
The two 120mm Corsair SP120 fans are rather basic.
Lack of space below the motherboard hurts cable management.
High price.
The downside of good airflow is constant noise.
KitGuru says: Corsair Obsidian 500D delivers excellent cooling and zero RGB. Yay.

Be sure to check out our sponsors store EKWB here