We used the Cougar DarkBlader-S case in our recent '£2500 PC Giveaway' and today it's time for a full review of the near-identical Cougar DarkBlader-G. The only functional difference between the -S and the -G is a change to the front panel, where the -S has some intakes at the front while the -G only has intakes at the side. When we built the giveaway system in the -S we didn't dwell on the price however in this review we will focus on the fact that Cougar DarkBlader-G sells for a hefty £110, which means it is going head-to-head with a number of cases aimed at the enthusiast buyer.
Watch the video via our VIMEO Channel (Below) or over on YouTube at 2160p HERE
Specification:
Motherboard support: E-ATX, ATX, Micro-ATX, Mini-ITX.
Expansion slots: 8+2.
Included fans: 1x 120mm rear exhaust.
Fan mounts: 3x 120mm/140mm front, 3x 120/2x 140mm roof, 1x 120mm rear.
Radiator mounts: 360mm/280mm front, 240mm/280mm roof, 120mm rear.
5.25-inch optical drive bays: None.
Internal drive bays: 4x 3.5-inch/2.5-inch.
Dimensions: 523mm H x 518mm D x 232mm W.
Building our test system was simple enough, however it took a fair amount of work to make it look neat and tidy as there are glass panels on both sides so there is little scope for hiding things away. Cougar makes a feature of the aluminium cable management plate in the main compartment while you have a plastic cable cover in the rear section – but even so you have to route the cables carefully to avoid a mess.
Part of the problem is that the DarkBlader-G is fairly large and as a result the cables have a distance to cover. The other snag is that Cougar hasn't used cable management grommets, which is a feature we always like to see in premium cases. We made life easier for ourselves by removing the two-bay drive tower that sits in front of the power supply. This opened up a fair amount of space where we could hide cables but it felt like a bit of an own goal as the construction of the drive tower and caddies is so impressive that it was a bit of a shame to retire the hardware to the shelf.
Testing
To put this case through its cooling paces we will be using a test system consisting of an AMD Ryzen 9 3900X, RTX 2080 Founders Edition and an SSD. This system allows us to produce a substantial amount of heat and effectively test the Cougar DarkBlader G's cooling capabilities.
For stress testing we use AIDA64 to create the maximum amount of load our CPU and GPU are ever likely to see.
Test System:
CPU: AMD Ryzen 9 3900X 12 Cores/24 Threads
Cooler: Deepcool Castle 240RGB
Motherboard: Gigabyte X570 Aorus Elite
Memory: 32GB G.Skill FlareX DDR4-3200MHz
Graphics: Nvidia RTX 2080 8GB GDDR5
SSD: 240GB Toshiba RC100 M.2 NVMe
Power Supply: SuperFlower Leadex III ARGB 850W Gold
Cooling Performance
Cooling Performance Overview
You can learn pretty much everything you want to know about the performance of the DarkBlader-G by studying these two charts. The graphics card temperature is barely affected by the speed of the case fans, or whether you have three or five fans installed. When it comes to CPU temperature we saw a significant reduction in temperature when we cranked up the air flow but the major determinant was the workload. The peak CPU temperature in Time Spy was very low while in AIDA64 we saw the CPU running 30 degrees C hotter. Please, do not buy the DarkBlader-G if you intend to run professional work loads.
Noise Level Overview
With the fans running at 1,000rpm the PC was very quiet and we measured noise levels of 45.7dBA at one metre distance. Increasing fan speed to 1,800rpm sounded much more noisy to our ears, however the noise meter reading only increased to 47.5dBA which is fairly modest. Our only suggestion on this point is that the airflow affects the tone of the sound, and that affects our perception of the noise level. The meter reading is absolutely fine.
Closing Thoughts
Cougar DarkBlader-G looks very smart but when you dig in you rapidly discover the core chassis is an average piece of work that has been adorned with an attractive front panel and some drive bays that look like solid pieces of engineering.
The problem with that approach is that clever design saves money while bolting on extra parts generally adds to the cost. If we take a specific example of questionable design, the front panel is secured by two screws that have to be released from inside the chassis and then the front can be pulled up and off to give you access to the air filter. You have to be careful as the panel is tethered by cables on both sides and it would be easy to cause some damage.
In an ideal world every enthusiast case that costs over £100 would simply mount the front I/O on the core chassis, leaving the front panel as little more than a cover for the front dust filter. Also, it would be nice if the front I/O came with USB Type-C.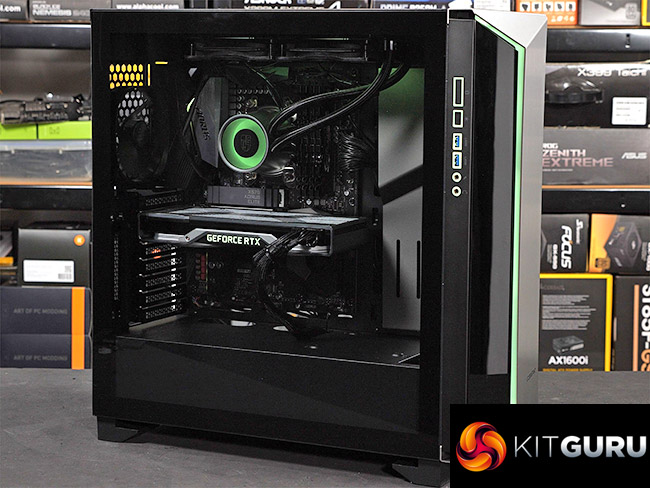 The DarkBlader design uses glass panels on both sides which is a move that rarely works well as most PC builders try to hide a mess of cables in the back of the case. It is an area that few of us want to have on show yet Cougar has chosen to make a feature of this aspect and while they include a plastic cable cover to help keep things tidy, we had very little space to spare with our test build and practically had to stretch the EPS cables to make them fit.
When the PC was built it looked perfectly decent and worked reasonably well although the cooling performance is marginal at best. The fact is that DarkBlader-G doesn't offer any new features or functions so its appeal boils down to the aesthetics. You pretty much have to decide that you like the look of the case and are prepared to pay the price, or you are not. That should make your buying decision fairly straightforward, but there is also strong competition at this price-point.
You can buy the Cougar DarkBlader-G for £109.91 HERE.
Discuss on our Facebook page HERE.
Pros:
Stylish looks.
Plenty of space inside the main compartment.
Decent number of drive bays and caddies.
ARGB hub is included.
Cons:
A single 120mm black fan is included.
Cooling air flow is restricted.
Front panel is tethered by cables.
The price is rather steep.
Front air filter is hard to reach.
No USB Type-C.
KitGuru says: Cougar DarkBlader-G looks smart but fails to deliver anything new or exciting.
Be sure to check out our sponsors store EKWB here