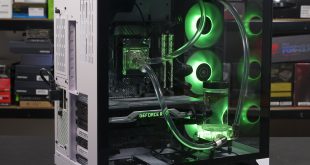 Head over to EKWB's webstore and you will see they have a dedicated section for kits of liquid cooling hardware. The EK Classic RGB S360 kit that features in today's review uses hardware from the budget Classic family and is supplied with a CPU block, a 140mm reservoir, an SPC pump and a 360mm radiator. The cherry on the cake is provided by the RGB that is a feature of the reservoir, CPU block and all three Vardar fans so you can expect high end cooling and loads of RGB at an attractive price.
Watch the video via our VIMEO Channel (Below) or over on YouTube at 2160p HERE
EK-KIT Classic RGB S360 water cooling kit includes:
Universal CPU water block: EK-Supremacy Classic RGB – Nickel + Plexi (incl. thermal paste)
Radiator: EK-CoolStream Classic SE 360
Radiator size: 393 x 120 x 27mm (L x W x H)
Radiator fan: EK-Vardar F4-120ER RGB (500-2200rpm) (3pcs)
Water pump-reservoir combo: EK-XRES 140 SPC PWM Classic RGB – Plexi (incl. pump)
Tubing: EK-DuraClear 9.5/12.7mm (3/8" – 1/2") (2 metres)
Compression fittings: EK-STC Classic 10/13 (3/8" – 1/2") – G1/4 Nickel (6 pcs)
Coolant concentrate: EK-CryoFuel Clear rev.2 (100ml; for 1L of coolant)
EK-UNI Pump Bracket: (120mm Fan mount)
Y-cable splitter: EK-Cable Y-Splitter 3-Fan PWM (10cm)
EK PWM Cable Extender 500mm
EK-Cable Pump testing adapter
ATX Bridging Plug
RGB 4-Way Splitter Cable
Allen Key 8mm
Additional parts:
Graphics block: EK-FC RTX 2080 +Ti Classic RGB Nickel + Plexi and Backplate
CryoFuel dye pack
We priced up these items at the EKWB store and found they totalled 330 Euros for the individual items, compared to 302 Euros for the kit. In other words, you save a modest ten percent by buying the Classic RGB S360 kit, so the main driver for choosing a kit is convenience when you are configuring your build.
Once we had seen the specific kit that EK sent us, we took a Lian Li O11 Dynamic case off the shelf as it supports three 360mm radiators. This ensured we had no trouble finding a suitable location for either the radiator or the pump/reservoir, and you can see the results in our video. Clearly most people work the other way around and want to buy hardware that will fit in their existing case, so you need to exercise some care and check your options for radiator and fan installation to make sure you avoid problems.
When we first started the system we used the supplied pump power cable which connects the PWM connection to a SATA plug on our Seasonic power supply. This drives the SPC pump at 100 percent speed and ensures the cooling loop fills swiftly. This is important as that the SPC pump is only rated at 6W, so if you start it on a PWM connection it is unlikely to be able to push the air out of the system.
As you can see in our video, once the cooling loop has successfully filled you can can switch to a PWM connection which slows the pump to a level where it is inaudible.
Test system
CPU: AMD Ryzen 5 3600 (6 cores/12 threads, 3.9GHz all cores)
Motherboard: Asus TUF Gaming X570-Plus
RAM: 32GB G.Skill Trident Z Royal DDR4-3200MHz
Graphics: RTX 2080 FE 8GB GDDR5
SSD: Toshiba RC100 M.2 NVMe
Power Supply: Seasonic Snow Silent 750W Platinum
OS: Windows 10
Cooling Performance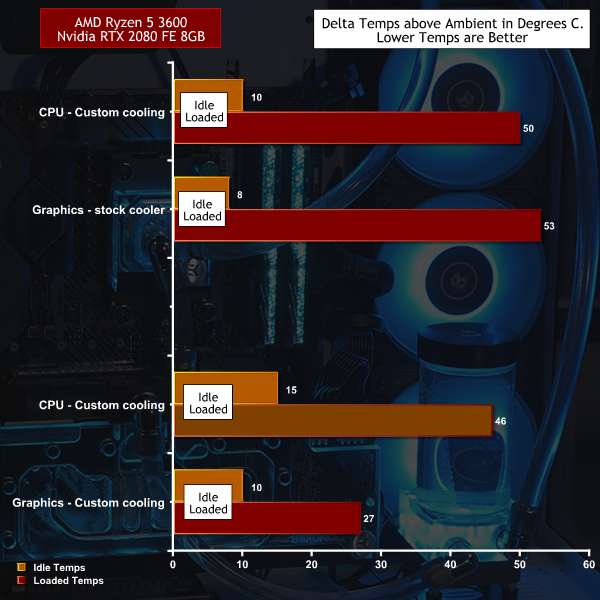 The EK Classic kit did a good job of cooling our Ryzen 5 3600 CPU and RTX 2080 graphics card. We never had any doubt the 360mm radiator and triple 120mm fans would be up to the job but the SPC pump also proved its worth, which is very good news.
Closing Thoughts
The EK Classic RGB S360 kit supplies all the hardware you are likely to need for a basic custom loop cooling system. It delivers decent value for money and gave us minimal cause for complaint. In an ideal world EK would include a cutting tool for soft tubing as that ensures cut edges that are dead straight, where scissors and knives are likely to cut unevenly. We would also like to see EK include a couple of 90-degree or 45-degree fittings as these are likely to come in handy during your build.
Both of these points are a matter of cost and we can see that EK is in a tricky position. As they add extra parts to the kit, the cost will inevitably rise and that will makes the kits less desirable.
Building a PC with the EK Classic RGB S360 kit was our first experience with an SPC pump. It was interesting to see that this 6W tiddler did a decent job, despite its obvious lack of pressure compared to a more conventional 18W DDC pump. When we extended the loop and added a graphics card block we found the SPC pump handled the task without difficulty.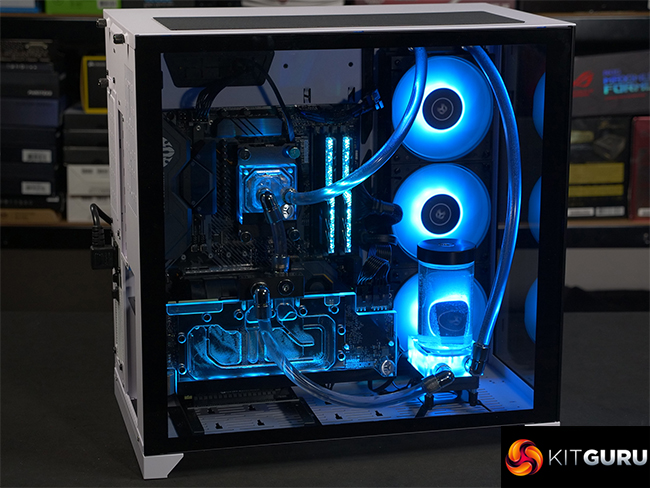 If you're feeling slightly more confident with building a custom loop, we would also suggest you visit EK's website and try out their configurator.
This will build a list of hardware to suit your needs, and if that happens to line up with one of the kits that EK has listed then you might as well go down that route and save yourself money. We think there is a good chance you will want to make a few changes here and there which will rapidly mean it makes better sense to start from scratch and choose the exact hardware you want.
That is the nature of custom loop cooling; you start with a blank sheet of paper and the intention to do as little harm as possible to your credit card. Those plans can easily spin out of control and the EK Classic RGB S360 kit looks like a very good way to remain on a more frugal path.

You can buy the EK Classic RGB S360 from Overclockers UK on sale for £259.99 (reduced from £279.95) HERE.
Discuss on our Facebook page HERE.
Pros:
Proper cooling that you can extend to your graphics card.
Buying a kit makes for an easy one-stop shop.
Good value for money.
Plenty of RGB that brings extra bling to your build.
Cons:
The Classic range is budget hardware and lacks the style of EK Quantum and Vector.
You are may need extra fittings and perhaps a pump mount.
Custom loop is all about doing your own thing. By definition a kit is more like an off-the-peg suit.
KitGuru says: Buying a kit is a one-click purchase that makes life easy for the custom cooling novice. The choice of Classic hardware also saves you money.
Be sure to check out our sponsors store EKWB here