It's been three long years since Fractal Design launched the Define R5 so it feels like we are ending 2017 on a high with the launch of the Define R6, which has the look and feel of a case that belongs solidly in the Fractal Design product range. The new Define R6 has the same clean, crisp styling as other cases from Fractal Design and shares a number of features such as the liberal use of sound deadening material.
And yet, while the Define R6 feels familiar, it manages to reject a number of the trends we have seen from other case manufacturers where there is a tendency to make new cases very large and to festoon them with RGB. The Define R6 is slightly larger than R5 (10-20mm in all dimensions), however Fractal Design has packed some significant features into that space and there is no RGB whatsoever. None.
The Black version of this case is dark inside and the Gunmetal is gloomy so we can only imagine how the Blackout version will look when it arrives. Bucking the RGB trend is a bold move but has Fractal Design gone too far?
Specification:
Motherboard support: E-ATX (up to 285mm wide), ATX, Micro-ATX, Mini-ITX.
Expansion slots: 7 + 2 vertical.
Included fans: Fractal Design Dynamic X2 GP-14 140mm
2x front intake, 1x rear exhaust.
Fan mounts: 3x 120mm/2x 140mm front, 3x 120mm/2x 140mm standard roof layout, 3x 120mm/140mm roof in Open layout, 1x 120mm/140mm rear, 2x 120mm/140mm floor.
120mm radiator mounts: 120mm/240mm/360mm front, 120mm/240mm/360mm roof, 120mm rear, 120mm/240mm floor.
140mm radiator mounts: 140mm/280mm front, 140mm/280mm/420mm roof in Open mode only, 140mm/280mm floor.
5.25″ drive bays: One.
Internal drive bays: 6x 3.5"/2.5", 2×2.5″.
Dimensions: 465mm H x 543mm D x 233mm W.
Fractal Design offers the Define R6 in four choices of colour; Black, Blackout (Matte/soft touch), Gunmetal Grey and White with a black front, and you have the choice of a glass panel or no glass. That's eight choices. In addition you will be able to choose two accessories with the Connect D1 I/O panel adding USB 3.1 Gen.2 Type C, due in Q1 of 2018 at US$29.99 and the Flex VRC-25 vertical graphics card kit available late in January at US$39.99. That means Define R6 starts at £120 and tops out around £199, which is quite a range of prices.
And yet, for us, the most significant aspect of Define R6 is the way you can move the Modular Storage Plate from Standard Layout to Open Layout to give more space for liquid cooling and to straighten up the airflow from the front of the case, right through to the rear. It affects the way you build your PC and makes a dramatic change to the looks to such an extent we built two distinct test systems in this new Fractal Design case.
As we point out in the video, if you build a PC in the Standard Layout (our Black system with Core i7-8700K) you have masses of options for storage because the front section behind the Modular Storage Plate can accommodate at least six 3.5-inch hard drives. This also means you will end up with a very conventional PC that looks slightly over-sized at 451mm high x 521mm deep x 232mm wide, however we are also sure the end result will be a very tidy PC as the cable management is excellent.
On the other hand if you move the Modular Storage Plate and convert the Define R6 to Open Layout (our Gunmetal system with Threadripper) you can add as much liquid cooling as your heart could desire and just as importantly the hardware will be on show behind that fabulous glass side panel. The only Gotcha here is that you don't get a pump mount and while Fractal Design tells us you can use the pump bracket from Define Nano S on the bottom plate below the HDD trays it is not included with the Define R6 so that's not much help. Unless you fancy banging some holes in the vertical wall of the case to mount your reservoir, the obvious move is to hang the pump/reservoir combo from the front radiator, exactly as we have done.
Perhaps the biggest oddity about the Fractal Define Define R6 is the fact it includes no lighting of any sort. You will either hate this point or will embrace it and start thinking about the RGB hardware you will add. When you consider how many RGB fans, motherboards, DDR4, coolers and lighting kits are available on the market you will realise this isn't a limitation, although it clearly implies an extra cost to the customer.
For our Threadripper build we opted for a single 2800mm Alphacool radiator at the front of the case so we could make full use of the two Fractal Design Dynamic X2 GP-14 140mm fans in that location. There is a third fan of the same model at the rear. That 280mm radiator may sound a bit feeble when the case supports a 420mm radiator in the roof, a 360mm radiator in the front and a 280mm radiator in the floor but the system worked well, looked good and made us happy.
On the rear of the motherboard tray you will find the Nexus+ Smart Hub which supports six fans and three PWM devices. It worked well during our testing and supported all the fans we wanted to use with room to spare.
Testing
To put this case through its cooling paces we built two test systems and then stressed them with AIDA64 to push the CPU and GPU to their maximum temperatures.
Test System 1 in Black Fractal Design Define R6:
Processor: 4.3GHz Intel Core i7-8700K
Motherboard: MSI Z370 PC Pro
CPU cooler: Fractal Design Celsius S24
Memory: 16GB G.Skill TridentZ RGB DDR4-3200MHz
Graphics card: EVGA GTX 1080Ti SC 11GB
Power supply: Sea Sonic Prime Titanium 600W Fanless
Storage drive: Samsung M.2 SSD
OS: Windows 10
Test System 2 in Gunmetal Fractal Design Define R6:
Processor: 3.7GHz AMD Threadripper 1920X
Motherboard: ASRock X399 Tachi
Cooling system: Custom Loop
Memory: 32GB G.Skill FlareX DDR4-3200MHz
Graphics card: EVGA GTX 980 SC 4GB
Power supply: Sea Sonic Prime Titanium 600W Fanless
Storage drive: Samsung M.2 SSD
OS: Windows 10
Custom loop hardware:
Radiator: Alphacool NexXxos ST30 280mm
G1/4 fittings: Alphacool
16/10mm tubing: Alphacool Alpha Tube
Pump: Aqua Computer D5
Pump top: Singularity Computers Protium top
Reservoir: Singularity Computers Protium 200mm
Reservoir mounts: Singularity Computers Ethereal Single
Coolant: Mayhems Aurora Red
CPU block: EK-Supremacy EVO Threadripper Edition
GPU block: EK Copper
Additional case fans: Noiseblocker BlackSilent Pro 120mm
Cooling Performance.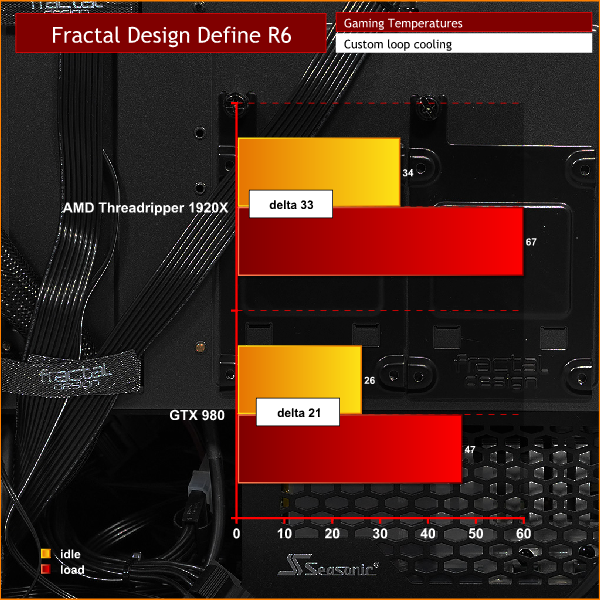 Summary of Cooling Performance.
Both system worked very well. The Define R6 has very good air flow (with the top ModuVent panel open) and we were entirely happy with the result. Probably the weakest part of the system was the CPU block on the Threadripper, Air flow was absolutely fine.
Acoustics performance.
We tested both PCs with the fans running low and slow and both systems were very quiet. Indeed, during the video with both systems running and the glass side panels removed we very much doubt you heard a noise from either PC.
Closing Thoughts.
With the Fractal Design Define R6 in Standard Mode we like the case but consider it a bit of an oddball as the focus is on a huge number of hard drives all neatly tucked out of sight. Clearly there is no harm in that approach but it doesn't float our boat.
By contrast when the Define R6 is in Open Mode it is superb. You have to decide whether or not you want to retain the 5.25-inch drive bay is it affects the interior look and also puts an obstacle in the top of the case, however the choice is yours. If you remove the optical drive you have an almost endless choice of cooling yet you can still install a decent amount of storage. It helps if you use at least one M.2 SSD but that is more of a luxury than a necessity.
We shall be interested to see the final hardware for the VRC-25 Vertical GPU Riser Kit but this is more of a fun extra than an essential. Similarly, we wish Fractal Design had included the D1 I/O panel in the specification but understand the desire to minimise the base cost, hence its appearance as an accessory.
The most controversial aspect of the Fractal Design Define R6 is the absence of any illumination or RGB. Wow. A bold move and one that doesn't trouble KitGuru but we can imagine a few people who will hate this move and see it as a backwards step.
By contrast we are hugely impressed by the Fractal Design Define R6 and consider it a very good way to end 2017.
Pros:
Excellent air flow.
Plenty of space for cooling hardware.
Huge number of options for storage drives.
Fully filtered.
Very good cable management.
Cons:
The screws securing the top of the Modular Storage Plate are fiddly.
The absence of RGB will upset some people.
KitGuru says: A fabulous new case from Fractal Design ends 2017 on a high note.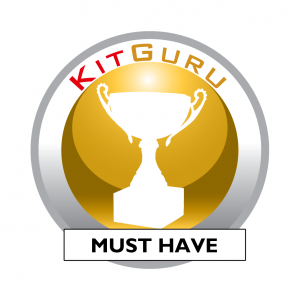 Be sure to check out our sponsors store EKWB here