Intel's launch of 10th Gen Comet Lake-S has Core i9-10900K at the top of the heap, packing a mighty ten cores and 20 threads with a maximum clock speed of 5.3GHz thanks to a new technology called Thermal Velocity Boost. By contrast Core i5-10600K makes a modest pitch for your hard-earned cash as it sports six cores with Hyper Threading and a maximum clock speed of 'Up to 4.8GHz', while being rated at 125W TDP. Should you buy this CPU?
Watch the video via our VIMEO Channel (Below) or over on YouTube at 2160p HERE
The big news with Intel's product stack for 10th Gen Comet Lake-S is that most parts, including Core i5, come with Hyper Threading. That was a sad oversight with 9th Gen and we are pleased to see it fixed with 10th Gen.

The snag is that if we forget about the model name of Core i5-10600K and instead look at the specification it quickly becomes clear this CPU is very similar to the aged Core i7-8700K.
The other snag is that this refreshed CPU uses the same LGA1200 socket as the other members of the 10th Gen family so you will need to buy a brand new Z490 motherboard before you can use your new CPU. You might consider that Core i5-10600K gives you a cheap entry point to Intel's new platform however we consider this to be a weak argument as we do not expect LGA1200 to last beyond Intel's 11th Gen CPUs so options for upgrades are likely to be limited.
Testing hardware
To test Core i9-10900K we lined up a variety of test platforms that used the following common hardware:
CPU Cooler Fractal Design Celsius S36 with 3x Noctua Chromax NF-F12 fans
RAM 32GB Corsair Vengeance LPX 3600MHz 16-18-18-36
Graphics Card Gigabyte RTX 2080 Super 8GB
Power Supply Seasonic Prime Platinum1300W
and these specific parts for the four platforms:
Intel 10th Gen Desktop
Intel Core i9-10900K
Intel Core i5-10600K
1TB WD Blue
MSI MEG Z490 Ace
Intel 9th Gen Desktop
Intel Core i9-9900KF
1TB Intel 760P
Asus ROG Maximus XI Formula
AMD AM4 Desktop
AMD Ryzen 9 3950X
AMD Ryzen 9 3900X
AMD Ryzen 7 3700X
240GB Toshiba RC100
Gigabyte X570 Aorus Elite
Intel High End Desktop
Intel Core i9-9900X
32GB G.Skill FlareX 3200MHz 14-14-14-34 quad channel
1TB WD Blue
ASRock X299 Taichi
CPU Tests – Cinebench R20, Cinebench R15 and Blender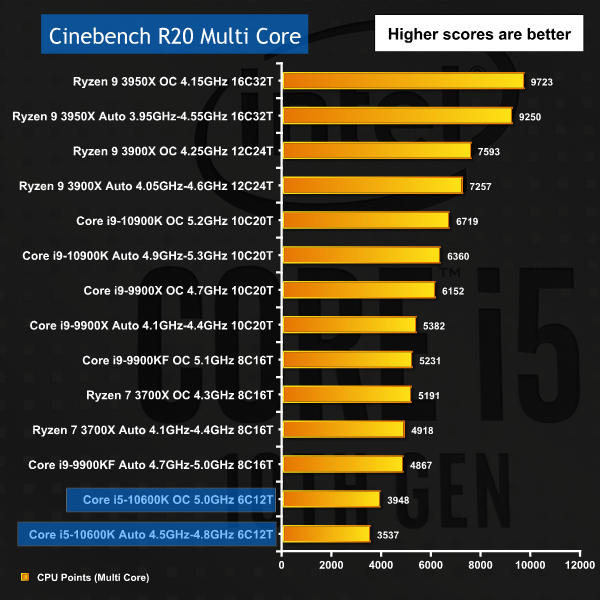 CPU Tests – Overview
Core i5-10600K only has six cores and its modest 4.5GHz all-core clock speed cannot make up for that deficiency. It comes last in every test.
System Tests – 7-Zip, HandBrake and Sandra Memory Bandwidth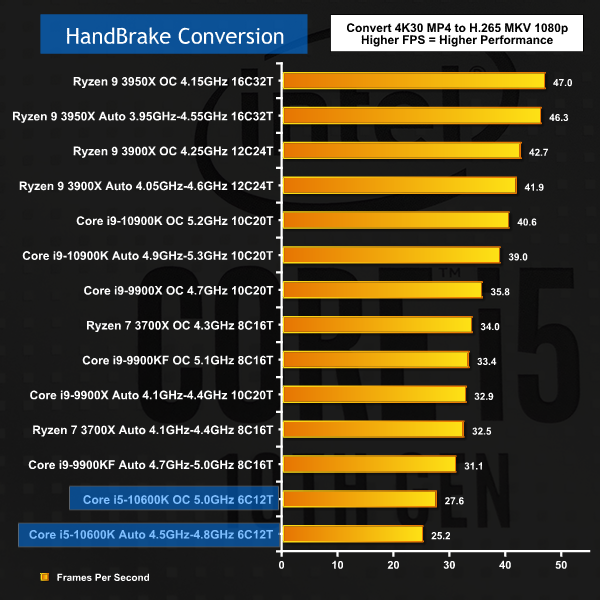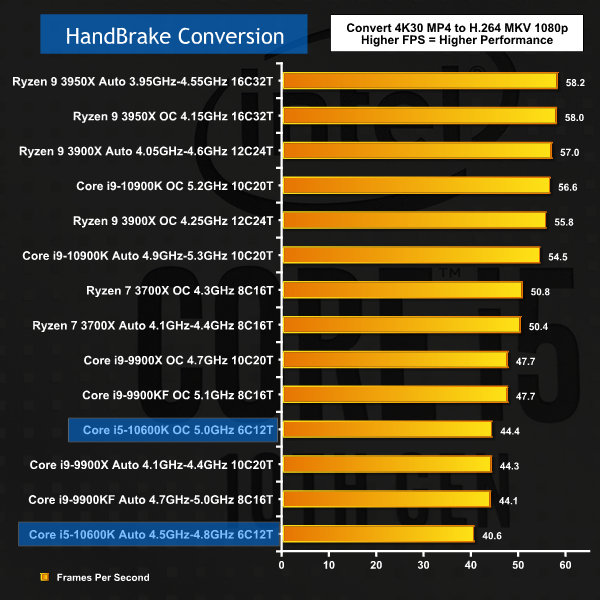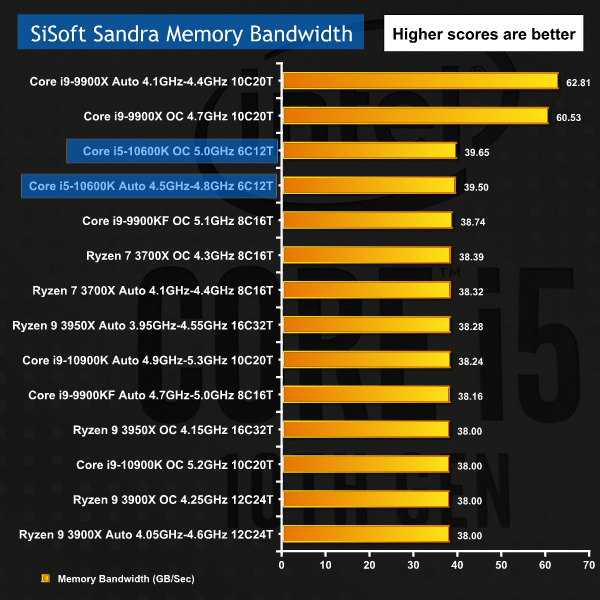 System Tests Overview
Once again Core i5-10600K suffers badly in these tests. Memory bandwidth is OK however the performance of the cores is nothing special.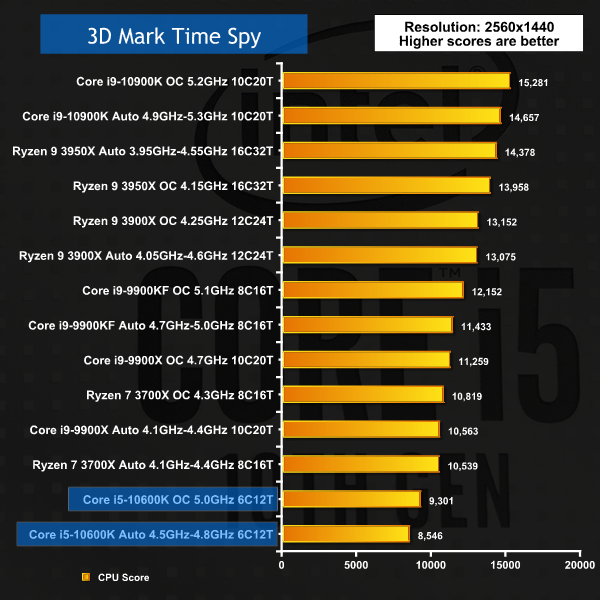 Gaming Tests – 3D Mark Overview
In the Physics and CPU elements of 3D Mark the Core i5-10600K is mercilessly crushed, which is, at least, consistent with the tests we have run so far. Time for some games!
Gaming Tests – Deus Ex: Mankind Divided, Far Cry 5 New Dawn and Red Dead Redemption 2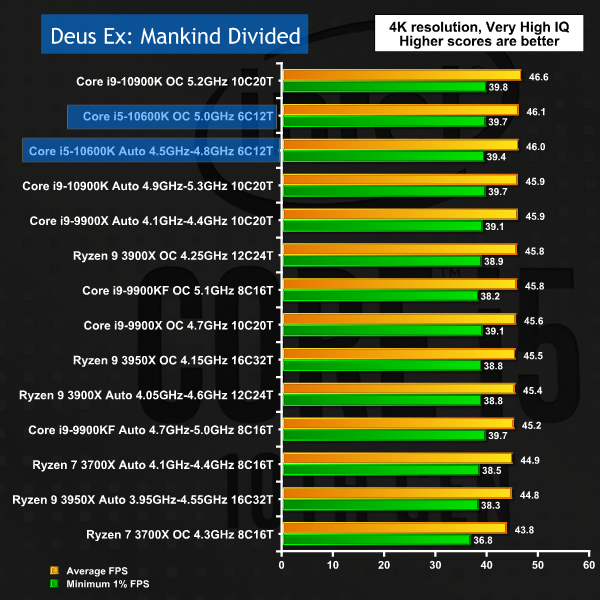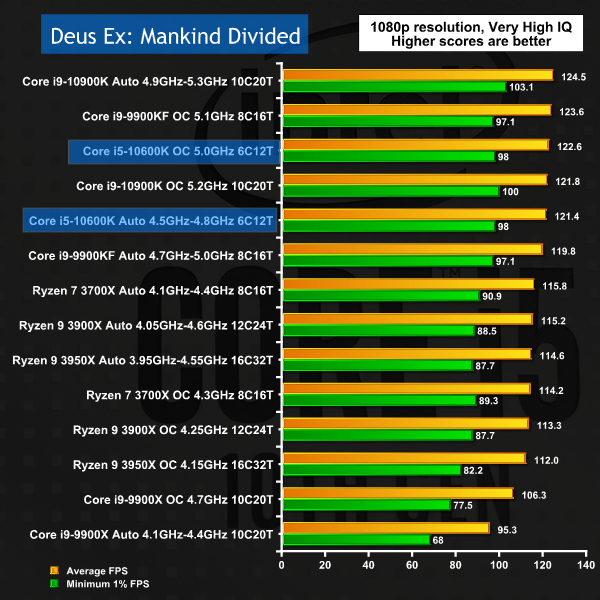 Gaming Tests – Deus Ex: Mankind Divided, Far Cry 5 New Dawn and Red Dead Redemption 2 Overview
Well that's more like it. When you throw some actual games at Core i5-10600K it performs perfectly well both at 4K and 1080p, and in some games it seems to perform far better than you might expect.
Gaming Tests – Middle-earth: Shadow of War and Shadow of the Tomb Raider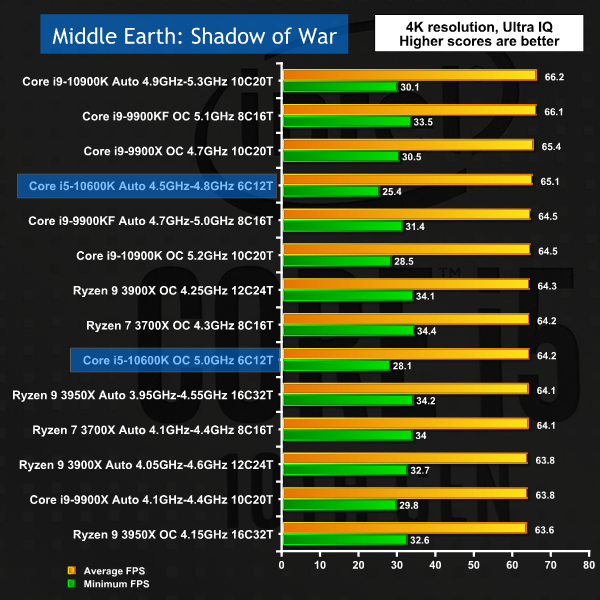 Gaming Tests – Middle-earth: Shadow of War and Shadow of the Tomb Raider Overview
Well this is more like it, Core i5-10600K has found its niche. It's a gaming chip and it's doing a fine job!
Technical Tests – Power and Temperature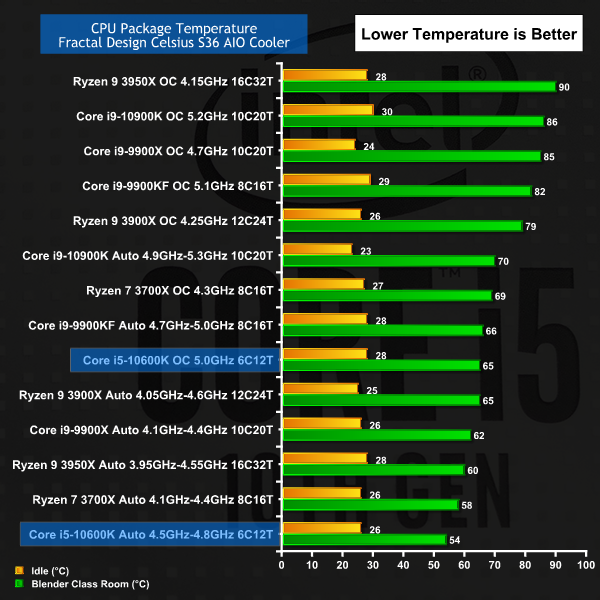 Technical Tests – Power and Temperature Overview
There is no particular mystery here; Core i5-10600K is not particularly efficient however its low core count and modest clock speed means that it does not require much power, and as a result it runs nice and cool. Well perhaps there is a mystery as we have no idea why Intel rated this CPU at 125W TDP as it remains safely inside that limit.
Intel Core i5-10600K is a classic example of a product that is too little, too late. If Intel had delivered Hyper Threading with its 9th Gen parts, then this CPU would have made a perfectly decent showing as Core i5-9600K.
More importantly it would have been ahead of the curve as quad cores CPUs were overpowered by modern games and we moved on to six core processors. Right now the move is underway to eight core CPUs for gaming so at this precise moment the Core i5-10600K does a decent job, but we predict it will have a very short time in the sun.
AMD gets this and has priced the six core Ryzen 5 3600X below £200 while Intel is aiming for closer to £300 with the Core i5-10600K, and  for us that is painful. You spend more on your CPU and also spend more on your new Z490 motherboard, and in return you get a competent PC that performs tolerably well. Alternatively you can spend less money on the 8-core Ryzen 7 3700X along with a value motherboard, and you get a better all-round package. No doubt system builders will sell Core i5-10600K in reasonable numbers but we expect that enthusiasts will give it a miss.

You can buy the Core i5-10600K from Overclockers UK  for £275 HERE.
Pros:
Decent gaming performance.
Low system power draw.
Low temperatures.
Cons:
CPU performance is low.
Eight cores is a better bet than six.
Limited ability to overclock.
Price is too high.
KitGuru Says: Core i5-10600K is a competent gaming CPU, however the clock speeds are low and the price is too high.