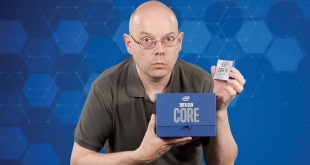 Intel's 10th Gen Comet Lake-S family of CPUs is headlined by the Core i9-10900K which sports 10 cores and 20 threads along with a clock speed 'Up to 5.3GHz', using a new feature called Thermal Velocity Boost. When you consider this CPU continues to use the trusty 14nm++ fabrication process and Skylake architecture, we were curious to see whether the Core i9-10900K would catch fire or would simply melt. Spoiler alert: no CPUs were harmed in the making of our video.
Watch the video via our VIMEO Channel (Below) or over on YouTube at 2160p HERE
We recently previewed the Core i9-10900K and now the embargo has lifted and we can lay out the facts and figures for Intel's new desktop champion. Intel certainly makes some bold claims for the Core i9-10900K, but as you may have gathered from our preview we found it difficult to believe these claims could be accurate.
Our specific concern is that Intel 10th Gen Comet Lake-S continues to use their 14nm++ fabrication process and Skylake architecture which were both employed in the impressive but toasty Core i9-9900K.The idea they have added two extra cores in an LGA1200 socket that is physically very similar to LGA115x and have then cranked up the clock speed, well that looks like a recipe for thermal disaster. It is clear from the die shots of 6th Gen Skylake, 7th Gen Kaby Lake and 8th and 9th Gen Coffee Lake that Intel has stretched this architecture far beyond its original design.
Be sure to check out our sponsors store EKWB here