We fully expected Core i9-10900K would deliver storming performance, and it does.
We fully expected that ten cores would yield some benefit over eight cores, and they do.
We had little doubt that Intel would deliver the claimed All Core Turbo Frequency and Turbo Boost 2.0, however we had our doubts about Turbo Boost 3.0 and Thermal Velocity Boost as these seemed to be ambitious and to push the limits of physics and thermodynamics… however, Intel has delivered and we were wrong. if you watch our video where we show the difference in behaviour after an update in MSI BIOS from v1.12 to v1.13 we think you will agree the Thermal Velocity Boost figure of 5.3GHz is pretty much irrelevant, but it is there on the screen for you to see.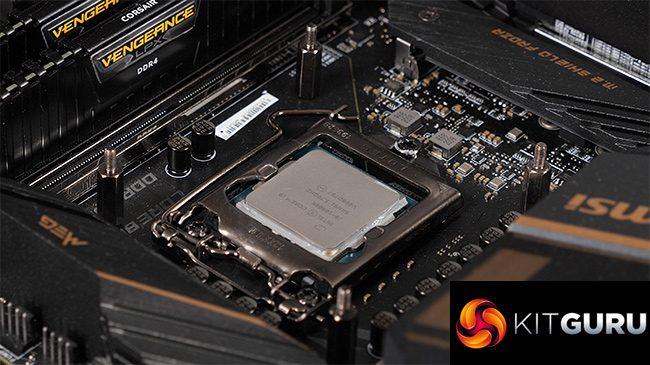 Out of the box Intel Core i9-10900K is impressive but the fact you can also overclock by a reasonable margin and with modest voltage is doubly impressive. By this stage the CPU power draw has climbed from 225W to 275W, which makes a complete nonsense of the claimed 125W TDP. The fact the CPU package can handle these levels of power and can shed heat to the cooler is, yes, impressive.
So what do we recommend; should you buy into Intel Z490 and the 10th Gen Core i9-10900K? Yes, very possibly. Clearly it makes no sense to upgrade from 9th Gen to 10th Gen but if you are considering AMD AM4 with Ryzen 9 3900X or 3950X for a gaming PC that does other work on the side then yes, absolutely. The decision may come back to hurt you when Nvidia releases PCI Express Gen 4 graphics or AMD finally launches Big Navi, but right now Intel has earned itself a place in the buying decision. With Skylake. In 2020. Wow.

You can buy the Intel Core i9-10900K from Overclockers UK for £530 HERE.
Discuss on our Facebook page HERE.
Pros:
Stellar gaming results.
Mighty Turbo Boost performance of 4.9GHz on ten cores.
Impressively low CPU temperatures.
Good potential for overclocking.
CPU is priced quite reasonably.
Cons:
New platform, new chipset, new CPU socket.
Z490 and 10th Gen are stuck on PCI Express Gen 3.
Those ten cores require loads of power.
LGA1200 is expected to have a very short life.
Z490 motherboards are expensive.
KitGuru Says: Against all expectations Core i9-10900K has impressed us. If Intel had delivered this part with 9th Gen it would have coloured our view of AMD Zen 2, but as things stand Core i9-10900K just about keeps Intel in the fight.
Be sure to check out our sponsors store EKWB here