The Lian Li O11 Dynamic EVO is the successor to the original O11 Dynamic case that launched in April 2018, and that was pretty darned good. Sadly we haven't reviewed the O11D, however we used it in a custom loop Gigabyte WaterForce build HERE and were deeply impressed. The good news is that EVO is even better. We update our original review today with a second video featuring the MSI MPG X570S Carbon EK X with custom loop cooling
Timestamps:
00:00 Start
00:15 Recap
01:07 Custom loop goodness with AMD
01:50 The cooling hardware detailed
02:48 MSI MPG X570S Carbon EK X closeup
06:30 Getting the motherboard ready / install
08:33 More hardware installed
08:58 Installing the graphics card (vertical GPU mount)
10:17 The final touches and boot up
11:09 PC up and running
11:55 Leo gets some EK christmas gifts!
12:10 Test details / Leo explains results
16:02 Leos thoughts after two system builds
Timestamps:
0:00 Start
00:15 Introduction
01:12 A tour of the original
03:23 What have they done with the EVO?
03:57 The panels and front I/O 04:55 Inside / changes
05:32 Other features and details 08:28 Accessory box / extras supplied
09:29 Supplied plate for drives 10:02 Front mesh kit accessory
10:34 Side bracket can be reversed 11:00 Top I/O kit accessory
11:39 moving the bottom I/O assembly 12:47 Additional I/O Kit
13:20 Flipping the chassis 14:08 Fitting a motherboard/GPU in flip mode
16:36 Conventional mode fitting and upright GPU kit fitting
18:50 Vertical GPU in place, brackets & Leo's thoughts
21:02 Leo talks with Lian Li
21:52 Mesh Front with many expensive Corsair/Noctua fans
24:20 Corsair H115i and Seasonic Focus 850W PSU
24:50 Leo talks about the setup – noise tests
27:04 Temperature results and discussion
28:40 Leo's closing thoughts
On paper the Lian Li O11 Dynamic EVO appears to have changed very little from the original O11D. You can now install a 280mm radiator in the side location and there are mounts for nine storage drives, rather than six. As you will see in our video, the devil very much lies in the detail as you can flip the case from right hand to left hand and can also install a range of accessories that include two different GPU mounts.
Specification:
Motherboard support: E-ATX (up to 280mm width), ATX, Micro-ATX, Mini-ITX
Power supply support: ATX up to 220mm length
Expansion slots: 8
Included fans: None
Fan mounts: 3x 120mm/2x 140mm side, 3x 120mm/2x 140mm roof, 3x 120mm/2x 140mm bottom, 1x 120mm rear
Radiator mounts: 360mm/280mm side, 360mm/280mm roof, 360mm bottom.
5.25-inch optical drive bays: None.
Internal drive bays:

2x 3.5-inch or 4x 2.5-inch side
2x 3.5-inch or 4x 2.5-inch bottom
2x 3.5-inch + 1x 2.5-inch or 3x 2.5-inch drive cage
2x 2.5-inch cable management bar

Front I/O ports: 2x USB 3.0 Type-A, 1x USB 3.1 Type-C, 1x HD Audio/Mic.
Dimensions: 459mm H x 465mm D x 285mm W.
We ran through a number of hardware permutations, trying the RX6800 XT graphics card horizontally, vertically and also in the upright position and while those may sound the same, as you will see in the video they are actually completely different. We also showed you eight Corsair iCUE QL140 RGB fans in operation and then changed over to ten Noctua NF-A12x25 PWM chromax.black.swap fans. It took some time but we felt it was worth the effort and while we tested the case with the black Noctuas we were impressed how well the EVO displays RGB hardware.
Performance and Testing
To put this case through its cooling paces we will be using a test system consisting of an Intel Core i9-12900K CPU, Sapphire RX6800 XT graphics and an SSD. This system allows us to produce a substantial amount of heat and effectively test the Lian Li O11 Dynamic EVO's cooling capabilities.
Test System:
Processor: Intel Core i9-12900K (8P+8E cores/24 threads)
CPU Cooler: Corsair Hydro H115i
Case fans: Noctua NF-A12x25 PWM chromax.black.swap
Motherboard: Gigabyte Z690 Aorus Master
Memory: 32GB Corsair Vengeance DDR5-5200
Graphics card: Sapphire RX6800 XT 16GB
Power supply: Seasonic Focus PX-850 850W Platinum
SSD: 500GB Sabrent Rocket 4.0 M.2 NVMe
OS: Windows 10
Thermal Performance
Thermal Performance Overview
We loaded the Lian Li O11 Dynamic EVO with 620W of gaming hardware and it performed superbly. While we expected the Mesh front panel would help performance it actually made very little difference. When you consider we had fans in the floor, side, roof and rear of the case, perhaps it shouldn't have come as much of a surprise that the front panel did not act as a restriction. Thermally the EVO is a masterclass in how to do things right.
Closing Thoughts
Lian Li has been teasing us about the O11 Dynamic EVO for most of 2021 so when our sample case arrived it wasn't exactly new to us but neither was it entirely familiar.
The vertical GPU mount is something we understand but what about the upright GPU mount, and how might those pieces of hardware work when the case is flipped and effectively upside down. Also, why the heck is the front I/O under the case and who the heck might want to add a second I/O panel?
These are questions we have never addressed before and it took a fair amount of work to figure out what each of the features in the EVO means.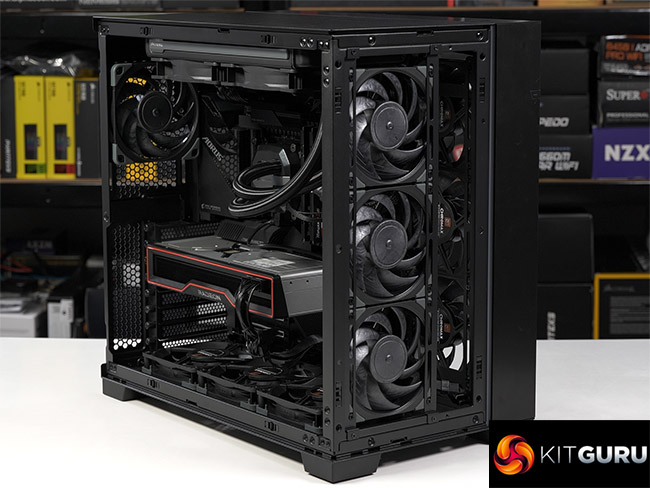 The good news is that the core chassis is very good indeed and allows you to build a high end PC that is fairly conventional and which functions well. The case is not especially large and has excellent thermals along with very good cable management.
The EVO part of the equation kicks in when you move the hardware around internally or add one of the accessories we show in the video. At this point the EVO takes off and becomes something extraordinary. It is familiar and yet simultaneously different and while we doubt you could build a bad PC in this case, Lian Li makes it very easy to build a really good Grade A system.
There is no doubt in our minds the Lian Li O11 Dynamic EVO is God Tier hardware.
You can order the Lian Li O11 Dynamic EVO from Overclockers UK for £124.99 HERE.
Discuss on our Facebook page HERE.
Pros:
Very clever design.
Superb air flow.
Masses of permutation for cooling and storage.
Cable management is straightforward.
Cons:
The bottom I/O location is a bit weird.
Shame they didn't include the top I/O and Mesh accessories in the package.
Fans are not included so factor in that cost.
KitGuru Says: The Lian Li O11 Dynamic EVO is superb and may well be the best case of 2022 (and it's still 2021).