NZXT has updated its HUE lighting controller and while the HUE+ name may sound familiar the system has undergone a radical overhaul. Previously you had a control unit that sits in an optical drive bay with three rotary controls that adjust the behaviour of the LEDs. By contrast the HUE+ is a tiny controller that looks similar to an solid state drive and which connects to the NZXT CAM software with a USB cable. The result is is a series of LEDs that can be controlled in software to an astonishing degree.
Writing about the behaviour of lights is a bit peculiar so perhaps the best thing is to take a look at our photos and watch the video to see what HUE+ looks like in action.
Watch via our VIMEO Channel (below) or over on YouTube at 1080p50 HERE.
Features:
Dual Channel illumination with support for up to 40 LEDs each, allows separate lighting schemes to be used on each channel.
Comes out the box with numerous lighting modes to allow for a myriad of illumination customizations including; Static, Breathing. Fading, Pulsating, and many more.
Directional LED strips and daisy chained design allows you to add up to four LED strips per channel and use the included extension to place them where you want it.
Neodymium magnets positioned onto the LED strip lets you quickly lay the LED strip onto any steel enclosure. Optionally, use the attached 3M tape to adhere the LED strips to nonmagnetic surfaces.
With Smart mode and CAM's built-in Overlay functionality, HUE+ LED can react to the changing FPS performance of your system.
Smart mode can be configured to react to changes in CPU or GPU temperatures giving you fast indication of thermal performance.
Whether it's that latest sound track you are listening to or want to get a bigger kick out of that game you are playing, HUE+ gives you instant visual gratification with Audio mode.
Customise system lighting further with HUe+ advanced API.
Control it all digitally via CAM software.
Installing the control unit in a drive bay is simple and it only takes a few minutes to connect the cables and any extension cables you may feel are necessary, however we feel that is only likely if you have a very tall case.
The controller has two channels and each channel can control up to four strips of LED's so you have the option of configuring the system to do two different tasks simultaneously.
An expansion kit of two strips of LEDs will be available for £18 inc VAT.
There are two minor annoyances about the cables for HUE+ as you need a four pin Molex to power the unit. The bigger concern is that the USB cable connects to a USB 2.0 header. In the instance of the H440 case we were using that means we needed one USB 2.0 header for the front panel ports, one for the Kraken X61 liquid cooler and a third for the HUE+.
Our Gigabyte Z170 motherboard has two USB 2.0 headers so you might find yourself connecting a cable to a USB port on the I/O panel and then feeding it inside the case.
Once you're connected and turn the system on you can expect the CAM utility to update the firmware in the controller. After that you are set to play to your heart's content and the fact is that HUE+ is fun.
The standard control modes (Static, Fading, Breathing, Marquee, Covering Marquee, Alternating, Spectrum Wave, Pulse) effectively turn HUE+ into a glorified set of Christmas tree lights and look really good. The control over the colour of the RGB lighting and the speed of transition from one moment to the next are impressive.
NZXT has recently added a Candlelight mode, presumably as a Christmas gimmick, however this is only the overture before the main events.
NZXT has also conjured up a Beta Audio mode which works fairly well and makes the lights respond to any music you play on your PC. In our video you'll see a snippet of HUE+ dancing along with Led Zep's 'Kashmir'.
The really clever part of HUE+ is the Smart Lighting mode where you can set the lights to respond to CPU Temperature, GPU Temperature or FPS. INnour video we set the system to monitor graphics temperature and then stress our GTX 980. As you will see the lights change from dark blue to violet, indicating a temperature around 55 degrees C and then cools back down when the test finishes.
Closing Thoughts
Up to this point every lighting system we have seen offers you a way of illuminating your PC case to show off the innards, but doesn't go much further than that. The NZXT HUE+ allows you to illuminate your case in a number of modes and gives you a huge amount of control, thanks to the way HUE+ integrates with the CAM software.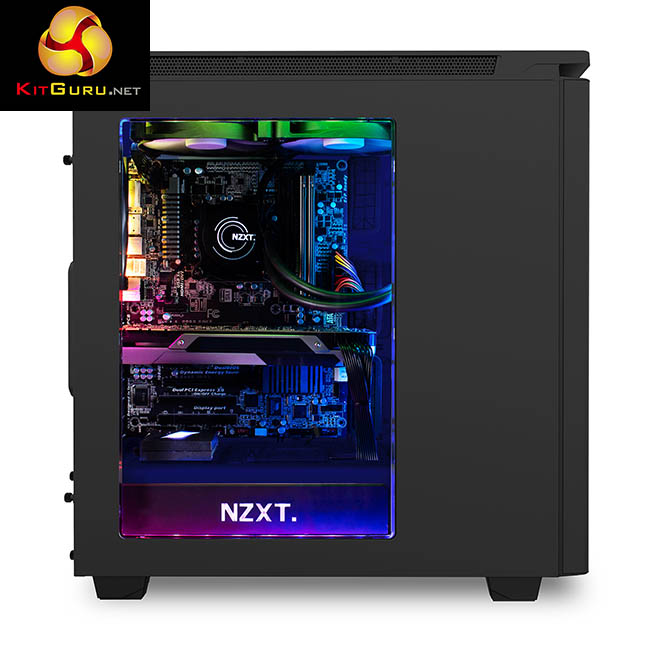 We like the Audio mode and were really impressed by the Smart Lighting function. Seeing the lights change colour as your gaming PC starts to work hard is an entirely novel experience and one that impressed us hugely.
Buy the NZXT Hue+ from Overclockers UK for £47.99 inc vat HERE.
Pros:
RGB LEDs is controlled by the CAM utility and works superbly well.
Controller unit has two channels so the lights can perform two different functions.
Four strips of LEDs supplied with the kit.
LED strips can be daisy chained together.
Option to expand the system with extra strips of LEDs.
Extension cables supplied in the kit to suit all sizes of PC case.
When NZXT dreams up new functions they can simply update the CAM software.
Cons:
Finding a spare USB 2.0 header might be a problem on some motherboards.
You need a four-pin Molex power connector to power the system.
Fairly expensive.
NZXT wants you to sign up to an on-line account so you can save custom profiles.
KitGuru says: NZXT HUE+ is hugely imaginative and massively impressive. This is a must for the PC enthusiast.