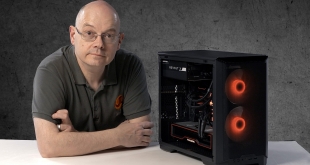 The new Mini-ITX Phanteks Eclipse P200A chassis comes in two versions. The basic 'Performance' model costs £45, while this more luxurious 'D-RGB' version adds tempered glass, USB-C and Digital RGB and only costs £65. There is no denying those are both low prices, so the question is how well the Eclipse P200A lives up to its Phanteks heritage.
Main features
Full metal front panel with Ultra-fine Performance Mesh that combines high airflow performance and excellent dust filtration thanks to its ultra-fine
perforations of only 1mm.
Compact chassis size with support for 3-slots 355mm long GPUs and standard ATX power supplies.
Extensive cooling options with front (up to 240/280) and side (up to 240) radiator locations.
Direct bottom intake with optimized airflow for GPU.
Support for large CPU coolers up to 165mm tall.
Modular GPU mount for horizontal and vertical installation. Vertical installation requires optional Riser Cable (PH-CBRS_FL15).
Easily accessible front I/O featuring USB-C GEN 2 (10Gbps)*, 2x USB 3.0, Microphone/Headphone, Power button, and D-RGB Colour* and Mode* buttons.
Storage support with 4x SSD locations and optional 4x 3.5" HDD locations (replacing two SSD locations).
Multiple cable management features to guide all cables.
Integrated D-RGB lighting control that is software-free and easy to use*.
Expand and synchronize with D-RGB lighting compatible motherboards and more D-RGB lighting products*.
Available in 2 models: P200A Performance and P200A D-RGB
P200A Performance is equipped with 2x SK 120mm PWM Black Fans and a metal Ultra-fine Mesh left side panel.
P200A D-RGB is equipped with 2x SK 120mm PWM D-RGB Fans, D-RGB Controller, Tempered glass left side panel and a USB-C Gen 2 port.
Specification:
Motherboard support: Mini-ITX/Mini-DTX.
Expansion slots: 3.
Included fans: 2x 120mm D-RGB PWM front intake.
Fan mounts: 2x 120mm/140mm front, 2x 120mm side, 1x 120mm rear, 2x 120mm floor.
Radiator mounts: 240mm/280mm front, 240mm side, 120mm rear.
5.25-inch optical drive bays: None.
Internal drive bays: 4x 3.5-inch (brackets sold separately), 4x 2.5-inch.
Front panel I/O: 1x USB-C, 2x USB 3.0, headset jack, RGB controls.
Dimensions: 365mm H x 400mm D x 205mm W.
The £65 price of the Phanteks Eclipse P200A D-RGB deserves some attention as it includes a pair of Phanteks SK 120mm PWM D-RGB fans that retail for £14 each. We often moan and complain when case manufacturers cheap out on the fans by offering 3-pin models, and here we have Phanteks going the whole hog with PWM and D-RGB in a budget case.
That gets us off to a good start, however we immediately run into a bit of a conundrum. When you have a Mini-ITX chassis with a volume of 30 litres it is certainly compact but it comes nowhere near our expectations for Mini-ITX. As a passing thought, the front I/O connections are down at the bottom  of the chassis so we are confident your completed PC is likely to live on your desk, rather than down on the floor, so the size is certainly something to consider.
As you can see in our video, building a PC inside the Phanteks Eclipse P200A D-RGB is fairly straightforward, with just a little of the expected Mini-ITX fiddle. The ATX power supply lives in the roof and has unusual cable routing, however that presents no major problems. Your Mini-ITX/Mini-DTX motherboard sits in a recessed motherboard tray that is a very close fit. Our chosen Gigabyte Z590I Aorus Ultra motherboard uses adapters for the fans headers and USB 2.0 that required some careful routing to be sure we had plenty of room in the side location for the Phanteks 240mm AIO.
Cooling Performance
Test System:
Processor: Intel Core i7-11700K (8 cores/16 threads)
Motherboard: Gigabyte Z590I Aorus Ultra
CPU cooler: Phanteks Glacier One 240 MP
Memory: 16GB G.Skill TridentZ Neo DDR4-3600MHz
Graphics card: Sapphire Radeon RX 6800 XT
Power supply: Phanteks RevoltX 1000W
SSD: Sabrent Rocket 4.0 M.2 NVMe
OS: Windows 10
Cooling Performance Overview
We tested the Phanteks Eclipse P200A D-RGB by running a loop of 3DMark's Time Spy Stress Test for 20 minutes. As we explain in our video, the Core i7-11700K draws 195W and CPU temperature changes significantly as we ramped the fan speed up and down. Clearly this is an extreme test in a relatively small chassis but it demonstrates that the Phanteks Eclipse P200A is capable of flowing air, but requires a sensible number of fans running at an appropriate speed.
This was particularly true for our graphics card which was running 5 or perhaps 10 degrees hotter than we like to see. It feels to us that it might be helpful to squeeze some slender 120mm fans in the tight space between our mighty RX 6800 XT and the floor of the case.
Closing Thoughts
In general we like Phanteks Eclipse cases and they tend to score well in reviews as they combine clever design with solid construction at a low price.
We confidently predict that once you have seen the Eclipse perforated steel front panel in action you will never settle again for a case with a choked front panel. The Phanteks Eclipse P200A D-RGB came close to spoiling our warm feelings as it has a number of familiar features, however it is a large 30 litre chassis that uses a Mini-ITX motherboard, and that takes us into unknown territory. In addition the layout of the case is unconventional with a completely open interior and the power supply at the top, rather than the bottom.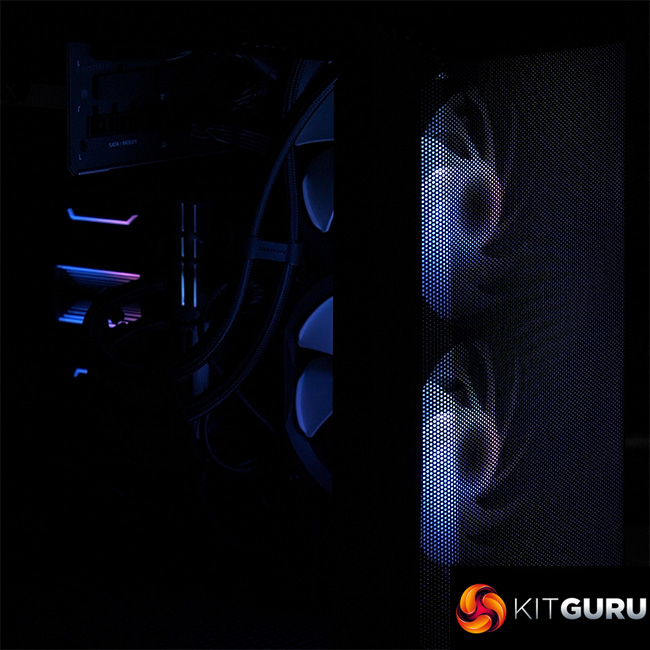 There doesn't seem to be an obvious reason for moving the power supply within the case and we get the impression it is different for the sake of being different. Clearly it means the power supplies cables are routed in an unusual way and in particular where we usually curse the EPS cable for being so short, here we had plenty of cable to tuck away.
And yet Phanteks has saved the day by pricing the basic Eclipse P200A Performance at a mere £45 and this D-RGB version at £65, which is a similar level to the Eclipse P300A and P360A. In other words, Phanteks has a significant array of Eclipse models that each offer thoughtful design and pleasant aesthetics along with killer value for money.
Adding an ITX chassis to this product range means you can approach pretty much any build asking 'Which Phanteks Eclipse should I buy?' rather than 'Should I use a Phanteks Eclipse?' and that subtle change makes a world of difference.
The Phanteks Eclipse P200A D-RGB will not prove suitable for everyone but it absolutely has its place and deserves due consideration.

You can buy the Phanteks Eclipse P200A D-RGB from Overclockers UK for £64.99 HERE.
Discuss on our Facebook page HERE.
Pros:
Very low price.
We love the Eclipse perforated steel front panel.
Phanteks ARGB system works superbly well.
Quirky looks with the open interior and PSU in the roof.
Cons:
Relatively large for an ITX chassis at 30 litres.
Graphics temperature is rather high.
The P200A could use a rear fan.
Cable routing for graphics power is awkward.
KitGuru says: You know you have to make compromises with Mini-ITX so we won't pretend the Phanteks P200A is perfect, but it is pretty darned good.
Be sure to check out our sponsors store EKWB here