Phanteks Eclipse P360A is a budget ATX case that would have been on show at Computex 2020… however, you know, that thing. The UK price is £63.95 and includes a tempered glass window, two RGB fans with PWM control and a slinky metal mesh front panel that looks gorgeous. We had no doubt the Eclipse 360A could easily handle a budget PC build but we wondered, how would it fare with an RTX 3080 graphics card?

Main features
Full metal front panel with Ultra-fine Performance Mesh that combines high airflow performance and excellent dust filtration thanks to its ultra-fine perforations of only 1mm.
Integrated D-RGB lighting control that is software-free and easy to use.
Perfect chassis size for high-end gaming systems with support for (E)-ATX (up to 280mm) motherboards, front 240/280mm and top 240mm radiator, full-length GPUs
Vertical GPU ready with the optional 3-slot Vertical GPU Bracket (PH-VGPUKT_02)
Expand and synchronize with D-RGB lighting compatible motherboards and more D-RGB lighting products.
Storage support with 3x dedicated SSD locations (2x brackets included) and 2x tool-less HDD brackets.
2x 120mm D-RGB PWM fans included.
PSU shroud with integrated D-RGB LED strip.
Specification:
Motherboard support: E-ATX (up to 280mm), ATX, Micro-ATX, Mini-ITX.
Expansion slots: 7+3.
Included fans: 2x 120mm front intake RGB fans.
Fan mounts: 2x 120mm/140mm front, 2x 120mm/140mm roof, 1x 120mm rear.
Radiator mounts: 240mm/280mm front, 240mm roof, 120mm rear.
5.25-inch optical drive bays: None.
Internal drive bays: 2x 3.5-inch/2.5-inch, 3x 2.5-inch (2 included).
Dimensions: 455mm H x 465mm D x 200mm W.
Our video shows the features of the Phanteks Eclipse P360A, but one point we really should have spelled out is that the case has no obvious errors. It is certainly true that Phanteks has not included cable grommets and has omitted sound deadening material inside the panels but these are clearly choices that have been made to keep the cost to a minimum. This puts us in a bind as we might like to complain about the fact the front I/O panel lacks support for USB Type C but this is clearly a trade-off between cost and benefit, and the £64 price tag removes that ground from beneath our feet.
One area that caused us problems was the self-inflicted choice to install a Phanteks Vertical GPU kit so we could show off our Palit RTX 3080 with Alphacool Eisblock Aurora Plexi to full effect.
Unfortunately the PCI Express Gen 3 cable caused problems in our Gen 4 system. We contacted Phanteks and were not surprised to find they are still on a learning curve with Gen 4 and especially with Nvidia Ampere. In that sprit we are posting Phanteks' comments as they may be useful for you.
"From experience so far the BIOS needs to be set from "Auto" to forced Gen 3 settings. This might not always be possible when the GPU is connected via the a Gen3 riser cable from the start.
A workaround would be:
1. Connect the Gen 4 GPU directly to the motherboard (horizontally) first.
2. Change the BIOS settings to Gen 3.
3. Change GPU to vertical using the Gen 3 riser cable"
Testing
To put this case through its cooling paces we will be using a test system consisting of an AMD Ryzen 9 3900X, Palit RTX 3080 and an SSD. This system allows us to produce a substantial amount of heat and effectively test the Phanteks Eclipse P360A's cooling capabilities.
For thermal testing we use Time Spy Stress Test AIDA64 to create a significant load on our CPU and GPU.
Test System:
Processor: AMD Ryzen 9 3900X
Motherboard: Gigabyte X570 Aorus Elite
Memory: 32GB Corsair Vengeance LPX DDR4-3600MHz
Graphics card: Palit RTX 3080 Gaming Pro 10GB
Power supply: Seasonic Prime TX-850
SSD: 240GB Toshiba RC100 M.2 NVMe
OS: Windows 10
Custom Loop Cooling:
Pump: EK DDC 3.2 PWM
Reservoir: 120mm EK Quantum Volume FLT
CPU Block: EK Quantum Magnitude Full Nickel
GPU Block: Alphacool Eisblock Aurora Plexi GPX-N
Radiator: EK CoolStream SE 240mm
Fans: 2x Phanteks PH-F120MP
Fittings: EK 13/10mm
Tubing: Corsair XT
Coolant: EK CryoFuel Mystic Fog
Cooling Performance
Cooling Performance Overview
The Phanteks Eclipse P360A exceeded our expectations as we had a single 240mm radiator dealing with a combination of an RTX 3080 graphics card and Ryzen 9 3900X CPU, with a combined power draw of 475W at the wall socket. We would be perfectly happy using this case for a high end gaming PC with the front panel installed and the fans running at 50 percent.
This gives noise levels below 46dBA at a distance of 0.5 metres which is completely acceptable. At the other extreme removing the front  panel and increasing fan speed to 100 percent has a dramatic effect on cooling but increases noise levels to 50dBA. Our conclusion is that Phanteks Eclipse P360A flows air very nicely and does a fine job.
Closing Thoughts
We wanted to do something different with our review of the Phanteks Eclipse P360A so we pushed aside all thoughts of a 240mm AIO cooler and went for full custom loop cooling on both our Ryzen 9 3900X CPU and RTX 3080 graphics card. The hardware was easy to install with plenty of clearance in all the right places, including access to the 8-pin EPS connector at the top of the motherboard that can sometimes be problematic. The 360A is a compact case that has plenty of room inside. Part of the explanation here is that the mesh front panel does not require a separate dust filter and that helps the 360A to minimise its overall length.
The interior of the case is formed from a single piece of steel that gives the case a very tidy look and also helps it to be incredibly rigid. No doubt this approach also helps Phanteks to reduce costs and from our point of view this is a win-win for the customer as good design and proper tooling work together to improve the finished product.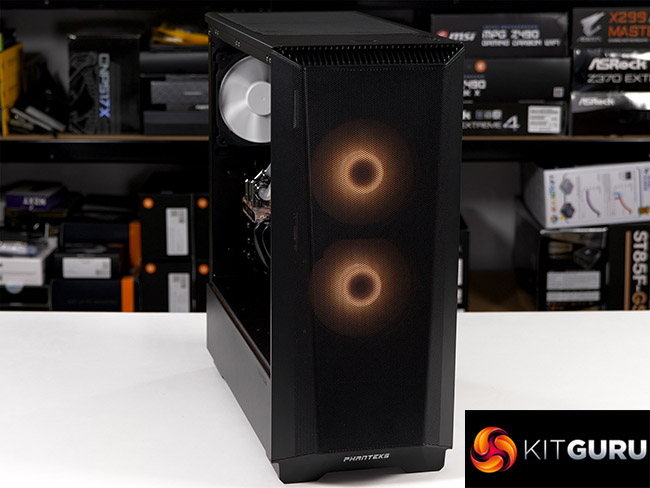 Our list of complaints about the Phanteks Eclipse P360A is pretty much non-existent. For example, we would prefer to have a removable cover at the rear of the case that eases the installation of the power supply when you build your PC. If you do the job right you will enjoy that feature a handful of times in the life of the case. Balanced against that, Phanteks would have to cut a larger hole in the chassis, add another component along with four fasteners and also have to install the cover at their factory. Phanteks has kept the selling price to an impressively low level and that point counters our various gripes.
One area that deserves mention is that Phanteks includes two RGB fans that are PWM, rather than 3-pin voltage control. This is a point that arises regularly in reviews and we sometimes wonder whether we are being unreasonable when we demand PWM. Phanteks proves our point that it is perfectly possible to include PWM fans at pretty much every price point, and the sooner other manufacturers take note, the better.

You can buy the Phanteks Eclipse P360A for £63.95 from Overclockers UK HERE. There's also a white model available HERE.
Discuss on our Facebook page HERE.
Pros:
Very low price.
The two RGB fans have PWM control.
Excellent air flow.
Fully filtered on the front, top and bottom.
Excellent integrated RGB.
Solid construction.
Front panel combines Mesh for air flow and also acts as a dust filter.
Cons:
No noise deadening material.
There are no cable management grommets.
KitGuru says: Phanteks Eclipse P360 shows the way forward for budget cases.
Be sure to check out our sponsors store EKWB here