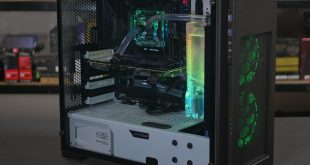 Describing the Phanteks Pro-M Special Edition is both quick and easy. Take the Pro-M Glass from 2016 (which was an update to the the original acrylic Pro-M from 2015), paint the interior white and add two Halos fan frames to the included 140mm fans at the front of the case to deliver a hefty dose of Digital RGB. Naturally the price increases slightly to account for the extra hardware but the SE premium is actually quite modest. As we say in our video, Phanteks Pro-M is the case that refuses to die.
Watch the video via our VIMEO Channel (Below) or over on YouTube at 2160p HERE
Main features:
Premium design with tinted tempered glass side-panels & premium materials
Luxurious interior in striking white
Compatible with motherboards up to E-ATX form factor (max. 26,4 cm wide)
Three dust filters & two 140 mm fans pre-installed
Two Phanteks Halos RGB fan frames for impressive lighting
Side-mounted I/O panel with RGB controls. two USB 3.0 ports and HD Audio ports
Space for two 3.5″ and three 2.5″ storage devices (2x 2.5″ instead of 3.5″, expandable)
Graphics cards up to 42cm, CPU cooler up to 19.4 cm and power supplies up to 31.8 cm
Specification:
Motherboard support: E-ATX up to 264mm wide, ATX, Micro-ATX, Mini-ITX.
Expansion slots: 7.
Included fans: 2x 140mm front intakes.
Fan mounts: 3x 120mm/2x 140mm front, 2x 120/140mm roof (3x 120mm with ODD cage removed), 1x 120mm/140mm rear.
Radiator mounts: 360mm/280mm front, 360mm/280mm roof, 120mm/140mm rear.
5.25-inch optical drive bays: One.
Internal drive bays: 2x 3.5-inch/2.5-inch, 3×2.5-inch.
I/O Panel: 2x USB 2.0, Audio, RGB control.
Dimensions: 480mm H x 500mm D x 235mm W.
For this video we asked a number of fellow tech reviewers and YouTubers to give their input on RGB lighting as whole, so be sure to watch the video to hear their thoughts. We spoke to:
Testing
To put this case through its cooling paces we will be using a test system consisting of an Intel Core i9-9900K, RTX 2080 Founders Edition and an SSD. This system allows us to produce a substantial amount of heat and effectively test the Phanteks Pro-M SE's cooling capabilities. For stress testing we use AIDA64 to create the maximum amount of load our CPU and GPU are ever likely to see.
Test System:
Processor: Intel Core i9-9900K (8C/16T, 4.7GHz all cores)
Motherboard: Asus ROG Maximus XI Formula
Memory: 16GB Corsair Vengeance LPX DDR4-3200MHz
Graphics card: Nvidia RTX 2080 Founders Edition 8GB
Power supply: Seasonic Snow Silent Platinum 650W
SSD: 1TB Intel 760P M.2 NVMe
OS: Windows 10
Custom Loop Cooling:
Pump/Reservoir: Phanteks Glacier R220C
CPU Block: Phanteks Glacier C360i
GPU Block: Phanteks Glacier G2080 Ti and back plate
Radiator: Alphacool NexXxos ST30 280mm
Fittings: Phanteks 16mm
Coolant: Corsair XL5
Cooling Performance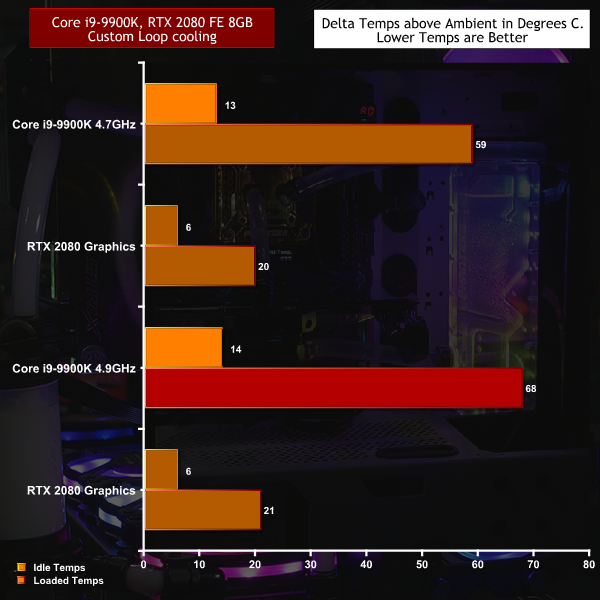 Cooling Performance Overview.
Our liquid cooled test PC worked really well in the Phanteks Pro-M SE. Admittedly our aged Core i9-9900K seems to be suffering but the RTX 2080 graphics were as cool as ice, which is what we like to see.
If you choose to use an air tower on your CPU you might want to move one of the 140mm fans to the rear of the case or to add an extra exhaust fan but in our test build the stock configuration worked perfectly well.
Closing Thoughts
Phanteks hasn't made any significant changes to the Pro-M chassis since 2016 and we noted a few areas where the hardware is starting to look a bit stale. For example the case does not include a fan hub and of course you don't get USB Type-C. If we are scratching around for areas of complaint we might add also mention that the user guide is fairly basic.
Part of the problem here is that the original Pro-M only cost £60 when it launched which was crazy cheap. Since then Phanteks has gained a solid reputation and UK prices in general have crept upwards while the Pound Sterling has gone down. These changes mean the Pro-M now costs £94.99 and the SE version costs £109.99 which is perfectly reasonable but clearly nothing like that £60 bargain.
Balanced against that Phanteks has constantly moved the goalposts for case design and has essentially helped to beat itself, in particular with the Eclipse range of products. You can buy the Eclipse P300 for £55, Eclipse P350X DRGB for £65 and the Phanteks Eclipse P400 Air for £65, or £85 with DRGB.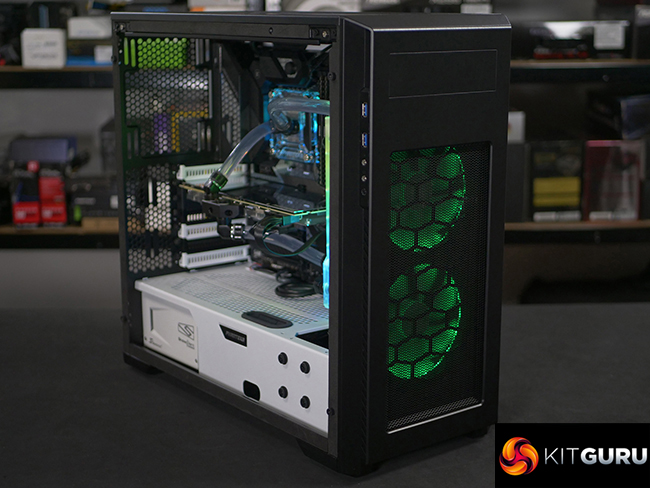 That doesn't leave much room for the Pro-M unless you have a specific need for an optical drive bay or like some other feature of the Pro-M such as the voluminous interior. Pro-M was ahead of the game when it launched in 2015 and it still looks good when compared to a number of competitors in the mid-tower market. While it may be showing signs of its age, there is no doubt this case still works well. You can easily install your hardware and the chassis allows cooling air to flow.
When it comes to the Special Edition features we cannot argue with the white interior as it gives the Pro-M some extra pop and the Halos fan frames are tried and true. We have used Phanteks RGB hardware on a number of occasions and consider it to be among the best that money can buy.

You can buy the Phanteks Pro-M SE for £109.99 from Overclockers UK HERE.
Discuss on our Facebook page HERE.
Pros:
Decent air flow and cooling.
Two 140mm fans are included.
Traditionalist will appreciate the ODD bay,
Phanteks Halos give a superb DRGB lighting effect.
Decent range of options for liquid cooling.
Good support for multiple drive bays.
Cons:
The price makes Phanteks Eclipse very tempting.
The elderly I/O panel means no Type-C.
Crank up the fan speeds and the Pro-M gets noisy.
KitGuru says: Phanteks Pro-M continues to make a good showing four years after its launch.
Be sure to check out our sponsors store EKWB here