SilverStone Milo 10 is a tiny PC case that supports a Mini-ITX motherboard – and when we say 'tiny' what we really mean is 'less than four litres in capacity.' You won't be shocked to learn that Milo 10 does not support a graphics card and requires the use of an external power brick, but despite that you have a number of options and it is surprisingly versatile.
Watch the video via our VIMEO Channel (Below) or over on YouTube at 2160p HERE
Main features
Super small at only 2.7 litres or 3.6 litres depending on configuration
Includes interchangeable top covers for altering case size to accommodate various components
Includes VESA mounting plate for integration with monitors
Supports standard sized Mini-ITX motherboard
Supports slim optical drive with interchangeable bezel
Specification:
Motherboard support: Mini-ITX.
CPU cooler support: Between 29mm and 63mm depending on configuration of storage and top cover.
Expansion slots: None.
Included fans: None
Fan mounts: 1x 120mm/140mm in top cover.
Radiator mounts: None.
Optical drive bay: Slimline laptop ODD.
Internal drive bays: 1x 3.5-inch/2x 2.5-inch.
Front I/O: 2x USB 3.0 ports
Dimensions: 453mm H x 227mm D x 196mm W x 63mm H with standard top cover or 84mm H with Elevated cover.
We faced a dilemma during our build as we have a reasonable selection of Mini-ITX motherboards and a huge pile of CPUs, but finding an APU that is sub-65W nearly defeated us. In essence you can take AMD off the table and are forced to turn to Intel.
When you are working with relatively small items such as the SilverStone Milo 10  the regular form is use a banana for scale, however Leo was determined to get his hands in the picture to better illustrate the tiny size of this case.
Test System:
Processor: Intel Core i3-10300 (4 cores/8 threads)
CPU Cooler: SilverStone NT07-115X
Motherboard: Gigabyte Z590I Aorus Ultra
Memory: 32GB Corsair Vengeance LPX DDR4-3600MHz
Graphics card: Intel UHD Graphics 630
Power supply: SilverStone AD120-DC
SSD: 500GB Sabrent Rocket 4.0 M.2 NVMe
OS: Windows 10
This is probably the first (and last) time we will skip thermal testing during a case review as your choice of APU and cooler will make a huge difference to the results, along with the types of workload you perform. If you install an Intel Core i3-10300 and merely update spreadsheets or watch videos on YouTube, you will barely stress the CPU. We felt bad running 3D Mark Fire Strike for the video and simply did not have the heart to run Blender.
Closing Thoughts
Building a PC inside the SilverStone Milo 10 can be a fiddly process, although it gets easier with repetition, and you will find the situation improves if you choose your components wisely.
You will have noted our single biggest gripe with the SilverStone Milo 10 is its reliance on an APU with a relatively low power draw as that is a complete change in direction for us folk at KitGuru. The obvious choices for us would be an AMD Ryzen 5 5600G or Ryzen 7 5700G, however they are not on sale to the public and are exclusively in the hands of system integrators.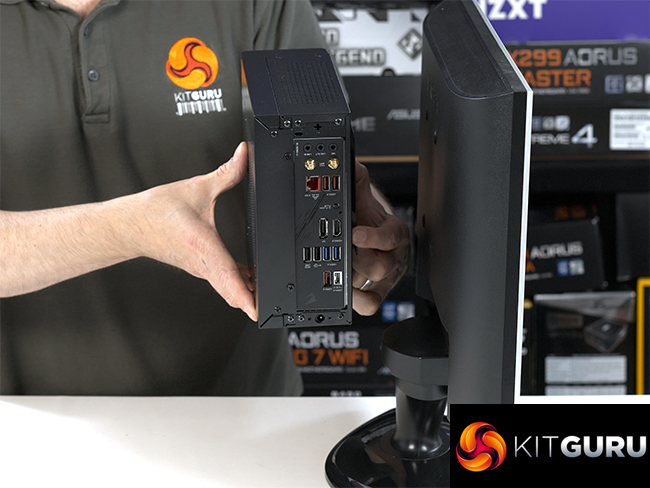 For that reason we doubt many home enthusiasts will line up to buy the Milo 10 case and its matching SilverStone AD120-DC DC board and external AC adapter combo kit, unless they have amazingly specific requirements that centre around the tiny form factor of this case.
On the other hand we can easily imagine system integrators using the SilverStone Milo 10 to deliver low powered PCs to offices, hotels and shops where space is at a premium.
While we are all in favour of small form factor PCs, they typically weigh in at 10-20 litres in volume and allow you a fair degree of latitude with your choice of hardware. By contrast the sub-4 litre Milo 10 is a more challenging proposition that is best suited to a customer who is simply unable to compromise in their pursuit of a tiny PC.
You can buy the SilverStone Milo 10 for £44.99 HERE.
Discuss on our Facebook page HERE.
Pros:
Pricing for the case is cheap, but you also have to factor in the DC power converter.
Supports a range of storage up to 3.5-inch HDD.
Supports a 120mm/140mm fan in the top cover.
Cons:
Requires an APU to provide graphics.
Limited to 65W TDP.
Requires an ITX motherboard which is limiting and probably expensive too.
KitGuru says: SilverStone Milo 10 requires the careful selection of an APU, motherboard, cooler and storage.
Be sure to check out our sponsors store EKWB here