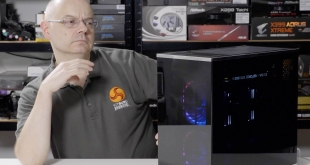 The SST-LD01B case is part of SilverStone's Lucid range and is unusual for two distinct reasons. For one thing, it supports the Micro-ATX form factor and for another the motherboard tray is inverted. You don't get the option of flipping the tray one way or the other so the SilverStone is clearly intended to sit on the left side of your desk, rather than the right.
There is another unusual aspect to the SST-LD01B as it is supplied without any fans. On the one hand this gives you the option to choose between 120mm and 140mm units of cooling for the front, top and rear of the case. On the other hand you will have to buy the fans, and that is a concern as this SilverStone case is fairly expensive in the first place.
Watch the video via our VIMEO Channel (Below) or over on YouTube at 2160p HERE
Note: if the above images are not displaying properly, you may need to disable Ad Block as it is known to interfere with our display code
Key Features
Three-sided tempered glass and stainless steel design
Graphics card holder included prevents card bending
Supports up to two 240mm/280mm radiators
Includes front mounted USB 3.1 Gen1 Type-C port
Easily accessible removable filters for dust reduction
Super clean internal look with PSU and drive bay cover
Flexible hard drive bracket can be repositioned to fit radiator or big power supply
Specification:
Motherboard support: Micro-ATX, Mini-DTX, Mini-ITX.
Expansion slots: 5.
Front I/O panel: 2x USB 3.0 Type A, 1x USB 3.1 Gen1 Type C, audio, mic.
Included fans: None.
Fan mounts: 2x 120mm/140mm front, 2x 120/140mm roof, 1x 120mm/140mm rear.
120mm radiator mounts: 120mm/240mm front, 120mm/240mm roof, 120mm rear.
140mm radiator mounts: 140mm/280mm front, 140mm/280mm roof, 140mm rear.
5.25-inch optical drive bays: None.
Internal drive bays: 3x 3.5-inch/2.5-inch, 3x 2.5-inch.
Dimensions: 390mm H x 431mm D x 218mm W.
SilverStone clearly thought we needed some RGB to brighten up the SST-LD01B and included some packages inside the case, as you will have seen in our video. We received two AP142 ARGB fans that cost £30 each along with an LSB02 RGB controller that costs £38. Add up those numbers and you will see the controller and two fans cost about the same price as the bare case, taking the total towards £200.
With the case stripped down it was time to think about the build and the inverted design drove us to follow an unusual path. We installed the two SilverStone fans at the front which pretty much took up the available space. You might be able to install a liquid cooler there if you work hard but it doesn't seem the best idea. Similarly, the idea of installing a cooler in the roof of the case directly above the graphics card did not appeal to us. Instead we chose to install a Corsair H60 AIO in the rear of the case, along with its 120mm fan.
Testing
To put this case through its cooling paces we will be using a test system consisting of an Intel Core i9-7920X, EVGA GTX 1080Ti SC 11GB and an SSD. This system allows us to produce a substantial amount of heat and effectively test the SilverStone SST-LD01B Lucid's cooling capabilities. For stress testing we use AIDA64 to create the maximum amount of load our CPU and GPU are ever likely to see.
Test System:
Processor: Intel Core i9-7920X 12 cores/24 threads 2.9GHz
Motherboard: ASRock X299M Extreme4
CPU Cooler: Corsair H60 120mm AIO
Case fans: 2x SilverStone 140mm AP142-ARGB
Memory: 32GB Corsair Dominator Platinum SE DDR4-3466MHz
Graphics card: EVGA GTX 1080Ti SC 11GB
Power supply: Seasonic Focus+ Platinum 850PX
Storage drive: Samsung 960 Pro 500GB M.2 SSD
OS: Windows 10
Cooling Performance.
Cooling Performance Overview.
We were pushing the limits of this compact chassis with a combination of a 12-core Core i9 CPU and GTX 1080 Ti graphics card. This was surely the stiffest test this Micro-ATX case is likely to face and it did a decent job. Air flow is perfectly OK and we have every confidence that a more mainstream PC would work very satisfactorily in this chassis.
Acoustics Performance Overview.
With the cooling under extreme load the Corsair AIO was working hard and the fan was chucking hot air out of the rear of the case. It was clearly audible but not offensively loud and as stated, this was the worst case scenario as we had a tiddly 120mm AIO cooling a mighty Core i9-7920X.
Closing Thoughts
The SilverStone SST-LD01B is an attractive case that uses tempered glass and stainless steel in an appealing way. If you want to show the case to best effect you will need to add some lighting, and as it is supplied without any fans you might as well go shopping for RGB fans and kill two birds with one stone.
Once you remove the panels and lay the core chassis bare you realise it is a fairly conventional design. All of the parts are familiar and there is nothing radical going on beneath the surface. The two headline features of Micro-ATX support and an inverted motherboard tray don't appear to be expensive choices for SilverStone, however we assume the market for this case is quite limited so the cost of any tooling would be spread across a small number of units.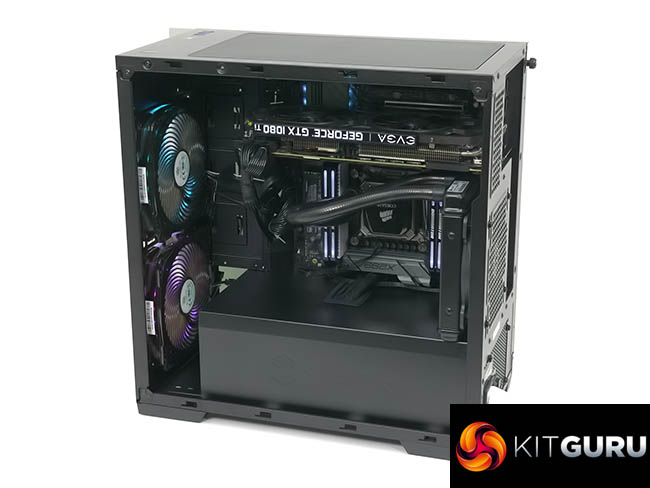 Some aspects of the SST-LD01B are welcome such as the inclusion of dust filters at the top, front and bottom of the case, or the way the drive caddies and SSD mounts have been hidden below the power supply cover and behind the motherboards tray. We could easily confuse some of the detail photos of this case with something from Fractal Design.
The thing that causes us some trouble is the inverted motherboard tray as that clearly affects the rest of the chassis, however we cannot see any allowances have been made. For example your inverted graphics card is likely to be very close to any cooling that you install in the roof of the case and the front of the case doesn't have enough room to easily install a liquid cooler. We are not convinced about the virtues of an inverted case design but if you must go down this route we feel an extra 20mm or 30mm of vertical clearance would yield benefits.
You can buy the case from Amazon for £92.90 HERE.
Pros:
Left handers will appreciate the inverted design.
Stainless steel and glass looks good.
Dust filters top, front and bottom.
Cons:
Price is steep.
Micro-ATX form factor limits the appeal of this case.
Supplied without any fans.
KitGuru says: This Micro-ATX chassis works well but is expensive.
Be sure to check out our sponsors store EKWB here