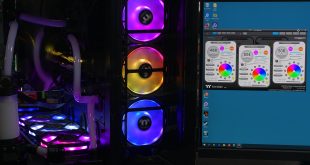 When you first look at the new Thermaltake Level 20 HT it would be understandable if you had a flashback to the Level 20 XT that we covered in a four case round-up HERE. The Level 20 XT and HT are both huge, cost around £200 and have glass on every visible surface so it would be perfectly reasonable to wonder why Thermaltake developed the Level 20 HT, and happily we have a simple answer. Despite the family resemblance, the Level 20 HT uses a completely different design with air intakes at the bottom and a rotated motherboard tray that puts the rear I/O in the roof of the case.
Watch the video via our VIMEO Channel (Below) or over on YouTube at 2160p HERE
Note: if the above images are not displaying properly, you may need to disable Ad Block as it is known to interfere with our display code
Main features
Distinctive Design DNA
Embedded with the appearance of Level 20 chassis, the pillars of Level 20 HT carry the same structural aesthetics and architectural design but with a vertical tower body.
Components in the Level 20 HT are installed in chambers, allowing maximum ventilation and space management optimization.
Tempered Glass Window With Ultimate Viewing Angles
The Level 20 HT comes with four tempered glass panels at the front, top and both sides which make it easy to display the internal components. For the front and top tempered glass panels, users can easily unlock by pressing down the locking mechanism located on the top part of the glass, allowing quick and easy access. The left and right hinged doors are also equipped with a smart lock security system allowing you to easily secure the inner components of your case.
Dust Reduction
Well-designed quick removal magnetic fan filters on the back and at the base provide excellent dust protection and dirt reduction, ensuring a dust-free environment.
Superior Hardware Expansion
The Level 20 HT contains outstanding expandability options, allowing you to build the most high-end system you can dream of. It can support motherboards up to a standard E-ATX, a CPU cooler with a maximum height of 260mm, multi-GPU configurations can be vertically mounted up to 400mm in length (without a HDD rack), a power supply with a length of up to 200mm, and four 2.5"/3.5" (with HDD cage) and one 2.5" (with HDD bracket) storage devices.
Exceptional Cooling Possibilities
The Level 20 HT is optimized with outstanding cooling capabilities, delivering fantastic cooling efficiency. Besides two pre-installed standard 140mm exhaust fans on top, this case can accommodate up to three 120mm fans at the bottom and side and two 120mm/140mm fans on top, at the side, or the rear depending on your preference. The Level 20 HT can fit up to 360mm DIY liquid cooling radiators at the bottom and the side.
Airflow In and Out
Thanks to the dedicated design of the Level 20 HT, the airflow within the case moves smoothly, ensuring the interior temperature stays low at all time.
Speedy Transmission (USB Type-C & USB 3.0)
The top-right I/O port panel features two USB 3.0 and two USB 2.0 data transfer ports, along with one USB 3.1 Type-C port.
DMD: Dismantlable Modular Design
Strip your case down to the bones and install elements when and as you need them with our modular design. The Level 20 HT features modular panels, racks, brackets, and pre-design mounting arrays. No more unreachable screw corners or gaps, installation can be a breeze with our Dismantlable Modular Design.
Specification:
Motherboard support: E-ATX, ATX, Micro-ATX, Mini-ITX.
Expansion slots: 8.
Included fans: 2x 140mm 1,000rpm top exhaust.
Fan mounts: 3x 120mm/2x 140mm left, 3x 120mm/2x 140mm right, 2x 120/140mm top, 2x 120/140mm rear, 3x 120mm bottom.
Radiator mounts: 280mm/360mm side, 360mm bottom.
5.25-inch optical drive bays: None.
Internal drive bays: 4x 3.5-inch/2.5-inch, 1x 2.5-inch.
I/O Panel: 1x USB Type-C, 2x USB 3.0, 2x USB 2.0, Audio.
Dimensions: 613mm H x 503mm D x 468mm W.
Getting inside the Level 20 HT is quick and easy, once you fathom that the front glass is retained by a release button, while the top is removed by simply pressing and clicking two catches. Off with the two side panels, unscrew the rear panel and you basically have an open frame. If you're really keen you can strip the chassis down further by removing the motherboard tray and the mid-plate.
We found this to be unnecessary as there is plenty of space inside the case to build your new PC, although there are a few points to watch for. For one thing the air flows upwards so your fans may appear to be upside down. Another point is that the motherboard is rotated 90 degrees such that the logo on your CPU cooler may end up on its side. The third thing is that cables and drives inside the rear compartment are partially on show through the glass panels on the side so you still need to work to keep things tidy.
During our build we found the cable management cut-outs and grommets worked well, despite the size of the case, and had no need to use cable extensions. The single biggest practical problem we faced is that any cables connected to the rear I/O panel on top of the case have to feed out from under the glass panel. That is awkward, messy and also gives you the opportunity to stick your fingers in the exhaust fans in error.
Testing
To put this case through its cooling paces we will be using a test system consisting of an Intel Core i9-9900K CPU, Vega 64 graphics and an SSD. This system allows us to produce a substantial amount of heat and effectively test the Thermaltake Level 20 HT's cooling capabilities.
For stress testing we use AIDA64 to create the maximum amount of load our CPU and GPU are ever likely to see.
Test System:
Processor: Intel Core i9-9900K (8C16T)
Motherboard: Asus ROG Maximus XI Formula
Memory: 16GB G.Skill TridentZ Royal DDR4-3200MHz
Graphics card: Asus ROG Strix Gaming Vega 64 OC 8GB
Power supply: Thermaltake ToughPower GF1 ARGB 850W
SSD: 1TB Intel 760p M.2 NVMe
OS: Windows 10
Custom Loop Cooling:
Pump/Reservoir: Thermaltake PR15-D5
CPU Block: Thermaltake Pacific W4 RGB
GPU Block: EK-FC Radeon Vega Strix RGB
Radiators: 2x Thermaltake CL360 Plus
Fans: 6x Thermaltake Riing Duo 12
Fittings and tubing: Alphacool 10/16mm
Coolant: Thermaltake P1000 White
Cooling Performance.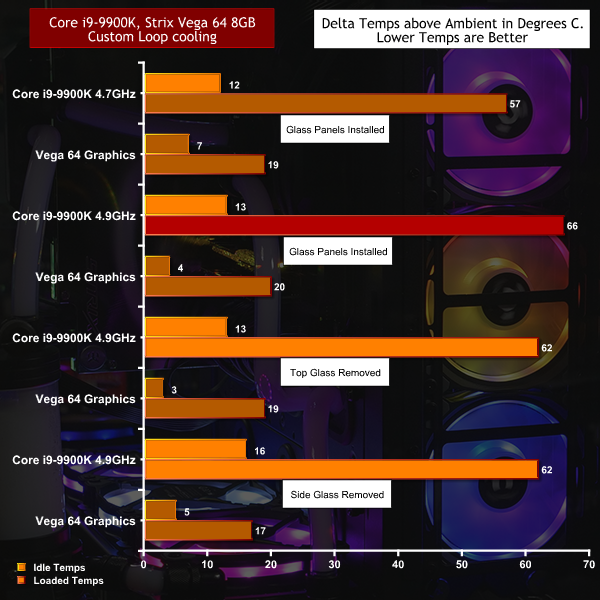 Cooling Performance Overview.
We tested cooling with our Core i9-9900K running at stock 4.7GHz and then overclocked to 4.9GHz. Our main interest was to see whether the glass panels restricted air flow as they appear to block the fans entirely and we all know that air cannot flow through glass. To our very pleasant surprise, removing the top and side glass made very little difference to thermals.
While the temperatures dropped slightly with the case opened up we came away from our testing satisfied the Level 20 HT has been designed with decent air flow.
Closing Thoughts.
Thermaltake Level 20 HT is big, impressive and very unusual. The buying decision around this case will have little to do with rational thought or reasoned conversation but will instead boil down to whether you want an enormous case and have somewhere that you can place the finished results.
In essence you can install pretty much any hardware you choose as the clearance for CPU cooler, graphics cards and radiators is pretty much unlimited. Some people will be disappointed that you cannot install a 420mm or 480mm radiator but that is really a question of aesthetics. If your PC requires more cooling than you get with two Thermaltake CL360 Plus radiators then we want to hear about your plans as you clearly have some awesome hardware.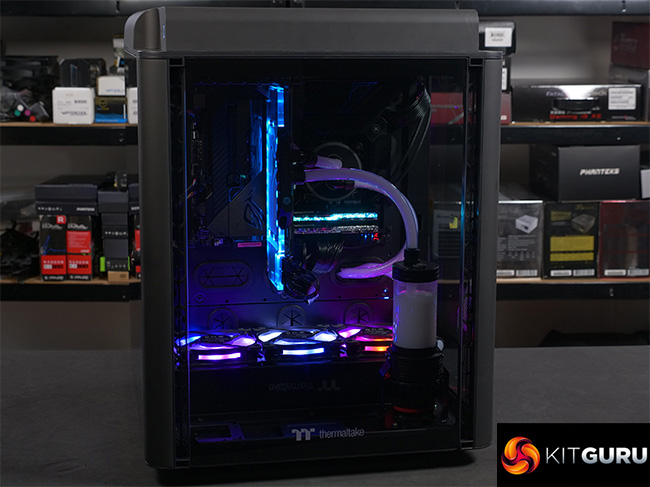 There are annoyances such as the way the cables come out of the top or the fact that when the fans ramp up to operating speed the Level 20 HT gets noisy. It is also a fact that the case is fairly expensive at £190-£200, however that is a drop in the ocean compared to the rest of the hardware we used during this review. We very much doubt the price of the Level 20 HT will be a factor for the interested customer.
We are very pleased to report the thermals inside Level 20 HT are very good, and that is despite our scepticism and the apparent impossibility of getting air to flow through glass. The explanation is that Level 20 HT is absolutely huge and holds over 100 litres of air that is able to flow through discrete filtered vents and panels.
If you decide you want to buy the Thermaltake Level 20 HT we strongly suggest you also invest in a sturdy table and remember, when you lift, bend your knees and not your back.

You can buy the Thermaltake Level 20 HT for £194.99 HERE
Pros:
Plenty of room for a large water cooled build
Rear compartment hides the power supply and cable clutter
Thermals are surprisingly decent
Makes an impressive visual statement
Cons:
Level 20 HT requires a large amount of desk space
Rear I/O panel is behind glass
No noise deadening material
Included fans are basic black models
Price is rather high
KitGuru says: Thermaltake Level 20 HT is huge, impressive and total overkill for most PC builders.
Be sure to check out our sponsors store EKWB here