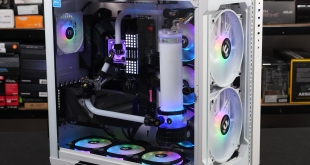 When we unboxed the Thermaltake View 51 TG Snow ARGB we were taken aback by the size of the case. The point here is that the View 51 is ATX, rather than E-ATX so there is no getting round the fact it is BIG! The front, top and main side panel are made from 4mm glass so it truly lives up to the View name as you do indeed get a great view of your PC build.
Watch via our Vimeo channel (below) or over on YouTube at 2160p HERE
Note: if the above images are not displaying properly, you may need to disable Ad Block as it is known to interfere with our display code
Thermaltake product page for View 51 HERE
Main features
Tempered Glass Window with three 4mm tempered glass panels.
Smart Space Design for PSU placement and cable management.
Vertical GPU Mount and Patented Rotational PCIe 8 Slot.
Opportunities for High-End Expansion.
Handy I/O Ports – two USB 3.0, two USB 2.0 and one Type-C port.
DMD: Dismantable Modular Design.
Specification:
Motherboard support: CEB 305mmx 267mm, ATX, Micro-ATX, Mini-ITX.
Expansion slots: 8.
Included fans: 2x 200mm ARGB front intake, 1x 120mm ARGB rear exhaust.
Fan mounts: 2x 200mm, 3x 120mm/140mm front, 2x 200mm, 3x 120mm/140mm roof, 2x 140mm, 3x 120mm side, 1x 120mm rear, 3x 120mm floor.
Radiator mounts: 280mm/360mm front, 280mm/360mm roof, 280mm/360mm side, 360mm floor.
5.25-inch optical drive bays: None.
Internal drive bays: 2x 3.5-inch/2.5-inch with HDD cage, 2x 2.5-inch with HDD bracket.
Front I/O panel: 2x USB 3.0, 2x USB 2.0, 1x Type-C.
Dimensions: 550mm H x 525mm D x 315mm W.
The two 200mm fans at the front of the View 51 are rated at 600rpm and the rear 120mm fan is rated at 1,000rpm which seemed a bit feeble to our mind so we decided to go for broke and install cooling on every surface of the case. As you will see in our video the panels pull off very easily and we got inside the View 51 within a matter of moments.
The single biggest surprise during the build came when we realised the View 51 does not support E-ATX but instead stops at CEB which is only slightly wider than ATX. 'Hey ho' we thought and reached for the Asus Maximus XI Formula with Intel Core i9-9900KF CPU. Installation of the main hardware was quick and easy as there is a massive amount of space to work with.
We used a single 360mm radiator from Thermaltake in the side position and chose a monster Pacific CL360 that measures 60mm in thickness to guarantee we had sufficient cooling. When we installed the Gigabyte RTX 2080 Super Gaming OC WaterForce WB 8GB graphics card we took full advantage of the rear panel which rotates in the case to give you the choice of all eight slots for vertical graphics cards.
As we were building a full custom loop system we chose to move the graphics card as close to the glass as possible, but if you were building with an air cooled card you would likely move it further inside the PC.
After more hours of work than we care to admit the PC was built, the custom loop was complete and the RGB was connected and configured. We had four RGB utilities on the go; Thermaltake RGB Plus, Gigabyte RGB Fusion 2.0 for the graphics card, Asus Aura Connect for the motherboard and connected EKWB parts and finally Corsair iCUE for the DDR4 RAM. We also had a huge pile of cabling to tuck away inside the back panel which is thankfully steel, rather than glass
Testing:
To put this case through its cooling paces we will be using a test system consisting of an Intel Core i9-9900KF, Gigabyte RTX 2080 and an Intel SSD. This system allows us to produce a substantial amount of heat and effectively test the Thermaltake View 51 TG Snow ARGB's cooling capabilities.
For stress testing we use AIDA64 to create the maximum amount of load our CPU and GPU are ever likely to see.
Test system
Processor: Intel Core i9-9900KF (8 cores/16 threads)
Motherboard: Asus ROG Maximus XI Formula
Memory: 32GB Corsair Dominator Platinum RGB DDR4-3200MHz
Graphics card: Gigabyte RTX 2080 Super Gaming OC WaterForce WB 8GB
Power supply: Thermaltake ToughPower PF1 ARGB 850W
SSD: 1TB Intel 760 M.2 NVMe
OS: Windows 10
Custom Loop Cooling
Pump/Reservoir: EK Quantum Kinetic
CPU Block: EK Quantum Velocity
Radiator: Thermaltake Pacific CL360 Plus
Case fans:
2x Thermaltake Riing Plus 20
6x Thermaltake Riing Duo 12
Fittings: Thermaltake 16mm Pacific C-Pro
Tubing: Thermaltake V-Tubler PETG 16mm
Coolant: Thermaltake C1000 White Opaque
Cooling Performance Overview.
We are aware that having the intakes at the front and top with exhausts at the back and bottom might be controversial because, you know, hot air rises. We took this approach with our eyes open as the View 51 TG has plenty of space below the case and were confident the case would cool our hardware correctly. In fact the View 51 TG has so many vents it is almost an open structure and it makes very little difference whether the main glass door is open or closed.  You can see the results in our graph as the Thermaltake View 51 TG did a fine job cooling 500W of combined load for CPU and GPU.
Flipping over the fans in the floor and roof so we had intakes at the front and floor with exhausts in the side, rear and roof reduced temperatures by 2 degrees C (however the RGB did not look as good in that configuration).
This case is huge but it flows plenty of air, and that makes us very happy.
Closing Thoughts.
The fans that Thermaltake has included with View 51 TG are bound to be part of your build as they use proprietary connectors and are wedded to the included hub. This dictates the look of your PC and pushes you to install extra fans in the roof and perhaps also in the floor and side. Admittedly we took this approach to the limits with our test PC but the full-on RGB experience works really well in the View 51 TG.
Despite the huge size of the case we pulled out any unnecessary drive bays and mounts to create the maximum amount of space and this was a real help when we installed the hardware and then packed away the huge amount of cabling.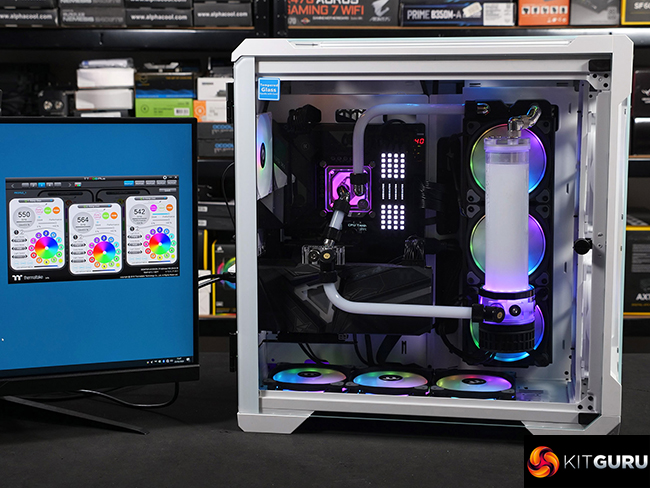 We are confident that enthusiasts and modders will enjoy using the View 51 TG however mainstream PC enthusiasts are likely to be shocked by its size and weight as the case is very large and the finished PC is bound to be hefty.
Our criticisms of the View 51 TG are fairly limited and come down to specifics such as the limited nature of the fan hub as we would like to see many more connections. Our single biggest surprise came when we saw this huge case does not support E-ATX. Overall, our impressions of View 51 TG were favourable and performance was good.
You can buy the Thermaltake View 51 TG Snow ARGB for £199.99 HERE
Pros:
Pleasingly good air flow.
Imposing looks with loads of glass and plenty of scope for RGB.
Case is easy to dismantle and customise.
Rear panel rotates to support multiple vertical GPUs.
Cons:
No support for E-ATX motherboards.
RGB hub only supports four fans.
Radiator support limited to 360mm.
View 51 TG is big and heavy.
KitGuru says: It's big, it's got glass and it is made for RGB!
Be sure to check out our sponsors store EKWB here