Earlier this month, G.Skill hosted the annual OC World Record stage at Computex. We have already covered the new memory speed world record but it turns out, ten other overclocking world records were also broken during the event, all using G.Skill Trident Z memory, X299 motherboards and a new Intel Core-X CPU. In addition, 37 Global First Place positions were achieved.
If you want to take a closer look at the action that took place at the OC stage this year, then you can check out G.Skill's promo video below:
In all, 11 world records and 37 global first place positions were achieved during the event. Benchmarks took place on various versions of 3DMark, Aquamark, SuperPi, Cinebench and more. Below you can check out the full list of Global First Place and World Records achieved: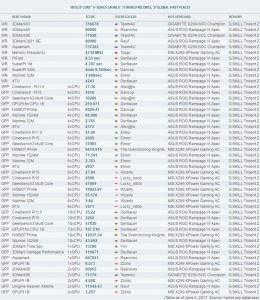 Click image to enlarge.
Speaking about the event's success, G.Skill Corporate VP, Teuila Huang said: "For many years, Computex has been the central focus of the overclocking community and many high-end hardware releases. It's the biggest venue where the top overclockers from around the world gather together and push the performance of new generation hardware to the limits. We are excited to be involved in the OC community and to provide our high performance memory for the extreme overclockers to unleash the maximum power of the latest platform and hardware."
KitGuru Says: The OC World Record stage at Computex this year was very impressive. We'll be looking forward to checking it out again in 2018.