It was a matter of time before off-the-shelf DDR4 memory managed to hit 4000MHz milestone. At present, only G.Skill offers 4GHz memory modules commercially, but other makers are gearing up to release their kits with unprecedented clock-rate. Corsair is showcasing such modules at the Intel Developer Forum.
At the IDF, Corsair is demonstrating systems based on Intel Core i7-6700K "Skylake" processors and Intel Z170 core-logic that run its Vengeance LPX DDR4 memory modules at 4000MHz. The company does not reveal too many details about the showcase, but considering overclocking potential of Intel's "Skylake" processors as well as modern DDR4 memory solutions, it is highly likely that the company demos 4GHz memory in dual-channel mode and without extreme cooling methods.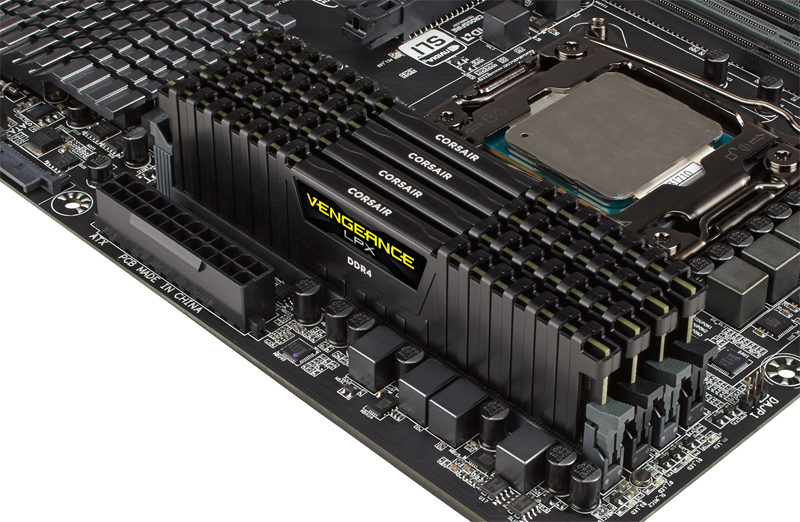 Corsair did not reveal when exactly it plans to offer its own 4GHz memory modules commercially, but since it already sells quad-channel 16GB Dominator Platinum DDR4 memory kits rated to run at 3466MHz, it is more than likely that the company will release its 4GHz products in the coming months, or even weeks. Officially, the 4GHz DDR4 products are due this fall.
"We will be bring [4GHz DDR4 memory modules] to market in the fall," said Rick Allen, director of public relations at Corsair.
The latest DDR4 memory chips from leading manufacturers seem to be good overclockers. Therefore, it is possible that select makers of modules can roll-out their products that will be rated to operate at frequencies beyond 4.0GHz already this year.
Discuss on our Facebook page, HERE.
KitGuru Says: 4000MHz barrier is not a problem for modern DDR4 modules and Intel "Skylake" processors. But who will be the first to crack 5GHz for memory?