Intel Corp. on Tuesday demonstrated Optane, the world's first solid-state drive based on its 3D XPoint memory jointly developed by Intel and Micron. The company said once again that the new type of memory will enable considerably higher performance than existing NAND flash. Intel Optane SSDs featuring breakthrough performance will hit the market already in 2016.
Intel did not reveal exact specifications or performance numbers of the 3D XPoint-powered solid-state drive it demonstrated at the opening of its Intel Developer Forum. However, the SSD looked like another high-end SSD in a PCI Express card form-factor. According to the company, the drive features around five to seven times higher IOPS [input/output operations per second] compared to NAND flash-based Intel DC P3700-series solid-state drive.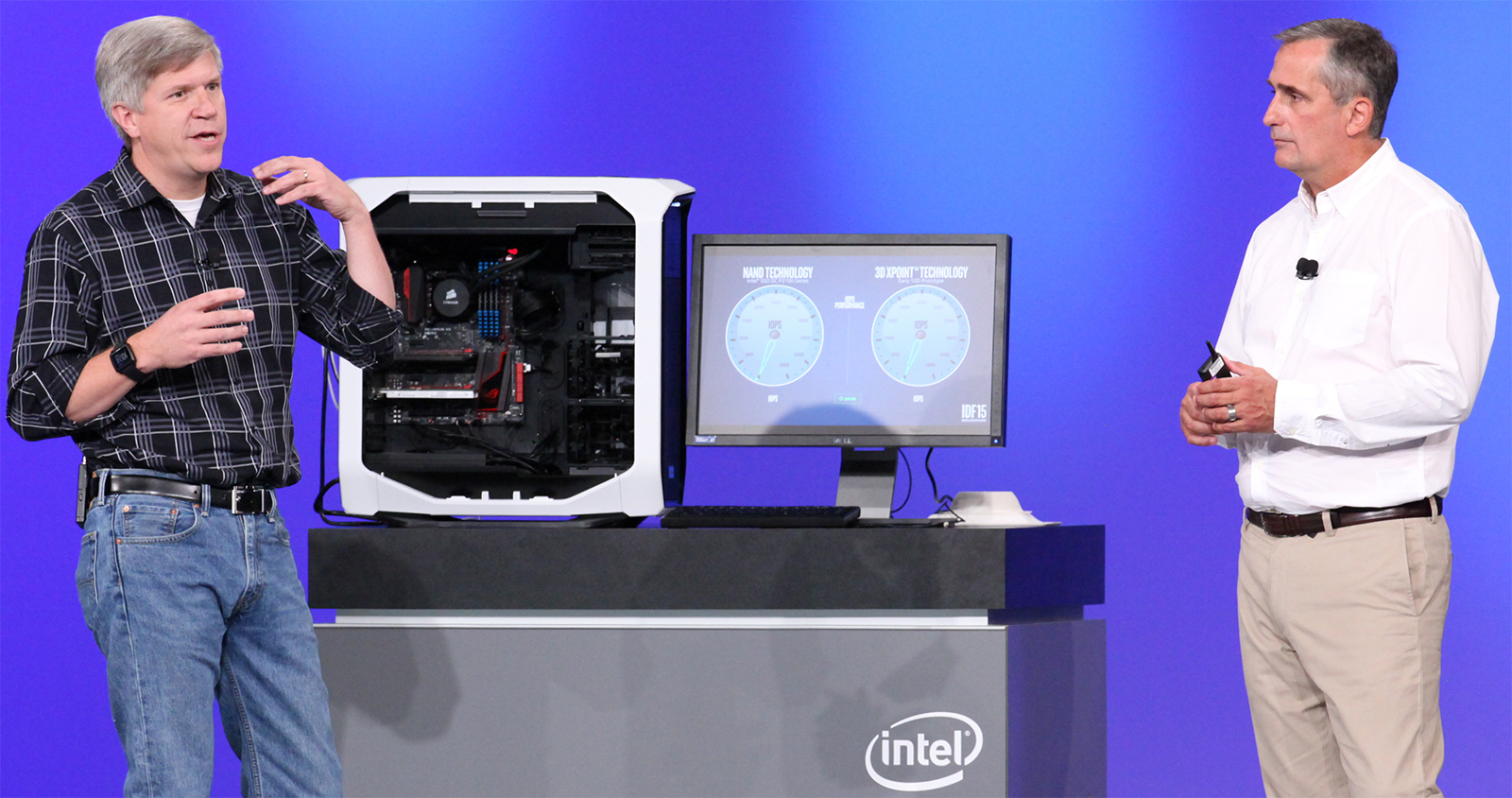 Intel explained that its Optane solid-state drive based on the 3D XPoint non-volatile memory media also features its own advanced system memory controller, interface hardware and software IP.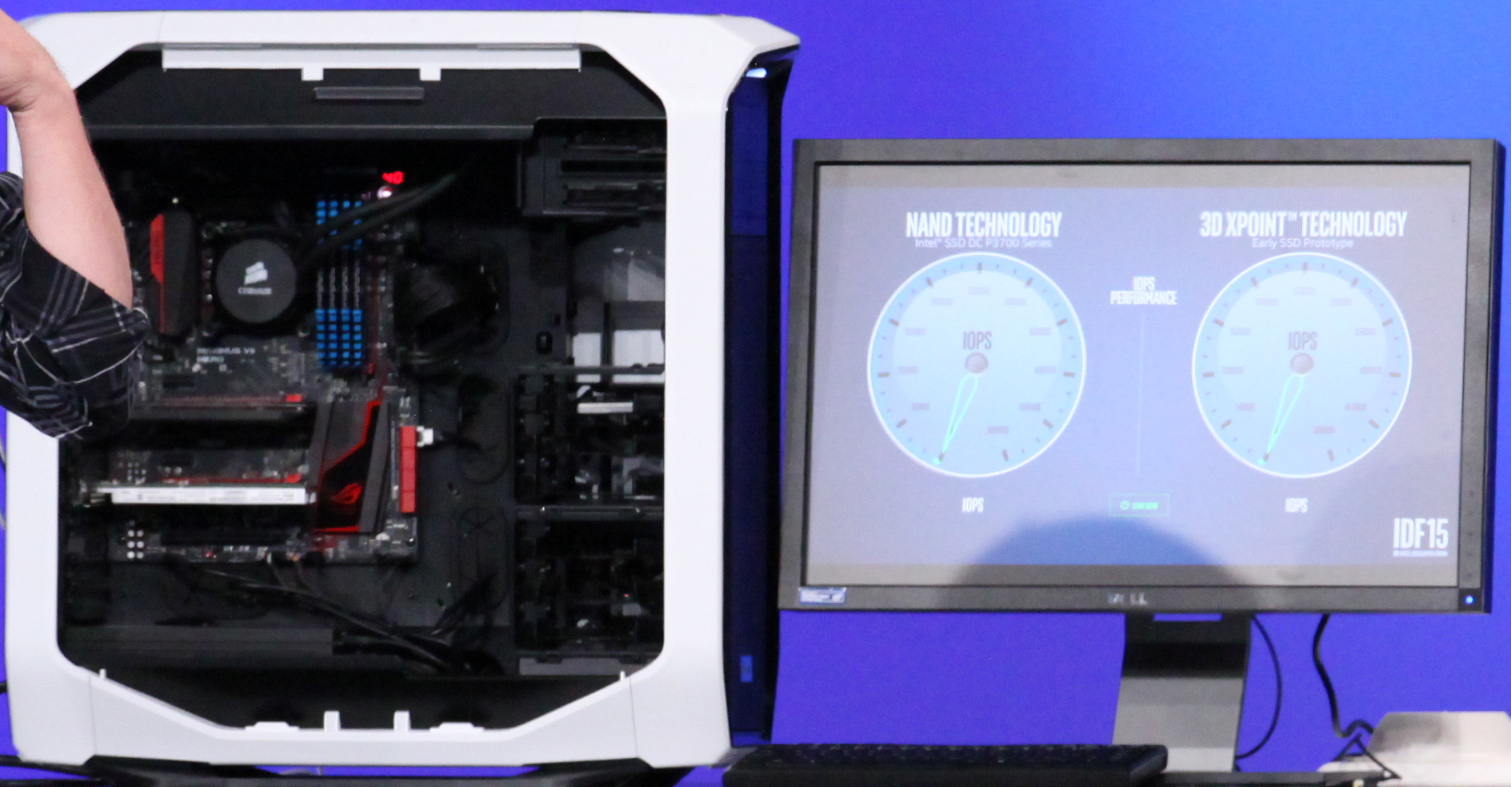 Exact performance of Optane SSDs will be limited by modern interfaces, but 3D XPoint memory has a huge potential. The new type of memory has 8 – 10 greater density than DRAM, but its performance is tens or even hundreds of times faster than that of NAND flash, according to Intel. While performance of 3D XPoint is an order of magnitude below that of DRAM, it is still exceptionally high by modern storage standard.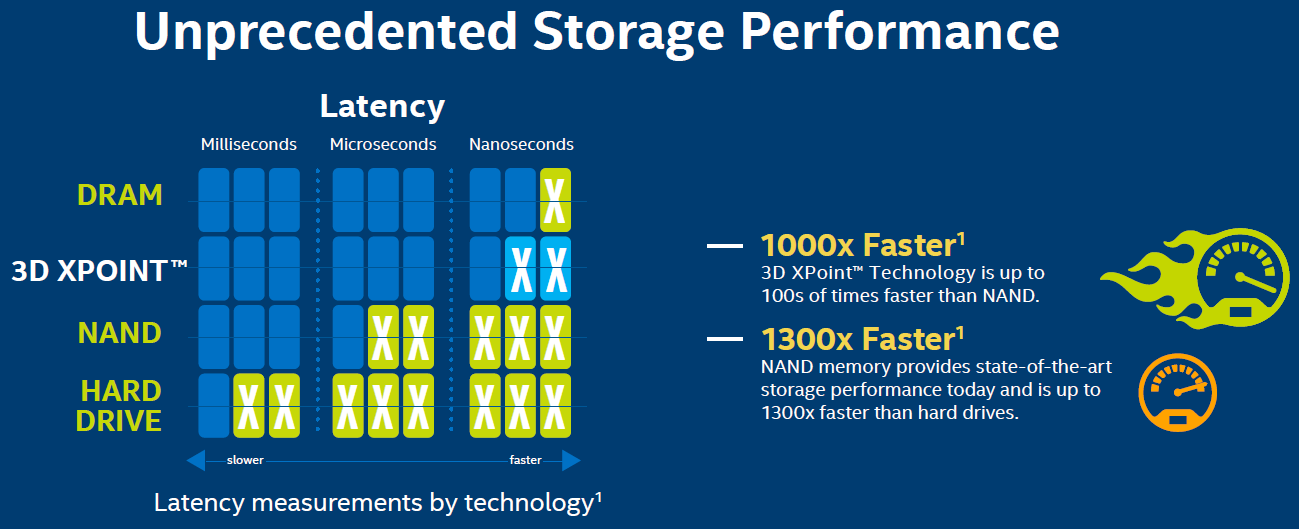 Intel Optane family of high-endurance, high-performance SSDs will hit the market beginning in 2016. The 3D XPoint media will also power a new line of Intel DIMMs designed for Intel's next-generation data center platforms, the company revealed.
Discuss on our Facebook page, HERE.
KitGuru Says: Looks like Intel's and Micron's 3D XPoint memory already works and can demonstrate impressive performance. Therefore, it is possible that next year the world's top maker of CPUs will actually roll-out SSDs that will be dramatically faster than today's solid-state drives. What will be interesting to see is what kind of interface will they use. PCI Express is good enough, but modern NAND flash-absed PCIe SSDs are already exceptionally fast and next year their performance will likely be limited even by PCIe 3.0 x16.