Intel Corp. and Micron Technology on Tuesday introduced a brand new type of memory called 3DXPoint. The new memory technology combines advantages of DRAM and NAND flash and is expected to enable storage solutions with performance that is orders or magnitude higher than today. 3D XPoint will be exclusively manufactured by Intel and Micron, which may slowdown its adoption by the market.
The 3D XPoint developed by Intel and Micron is the first all-new memory technology since the introduction of NAND flash in the eighties. The new type of memory is non-volatile, it has 8 – 10 greater density than DRAM, but its performance is tens or even hundreds of times faster than that of NAND flash. Even though 3D XPoint memory combines advantages of both DRAM and NAND, it was not designed to replace either: it storage capacities are below those of 3D NAND and its performance is an order of magnitude below that of DRAM. Intel and Micron have been developing the new memory technology since 2012 and they expect 3D XPoint to be very useful going forward.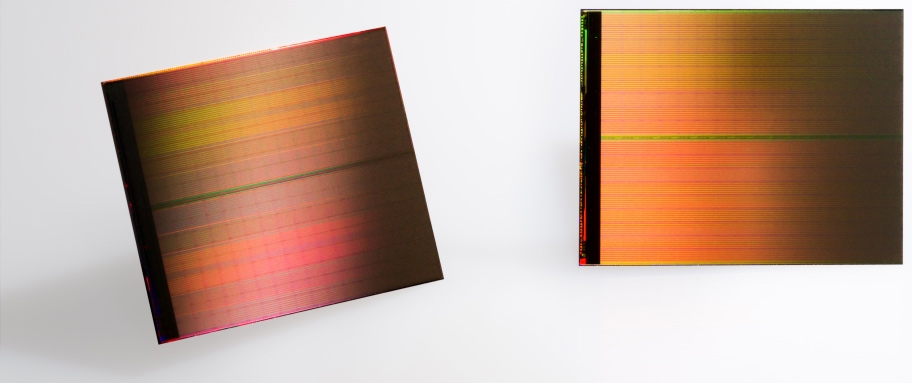 The architecture of 3D XPoint memory is called cross point array and it differs from both DRAM and NAND. Perpendicular conductors connect 128 billion densely packed memory cells (in case of the first 128Gb 3D XPoint chip). Each memory cell stores a single bit of data. Memory cells are accessed and written or read by varying the amount of voltage sent to each selector. This eliminates the need for transistors, increasing capacity while reducing cost. With a small cell size, fast switching selector, low-latency cross point array, and fast write algorithm, the cell is able to switch states faster than any existing non-volatile memory technologies today. Moreover, thanks to usage of innovative materials, the new 3D XPoint memory is dramatically more durable than NAND flash.
The architecture can be scaled both horizontally and vertically: the initial chip stores 128Gb per die across two memory layers, but the amount of layers as well as the amount of cells can be increased by adding stacks and shrinking process technology.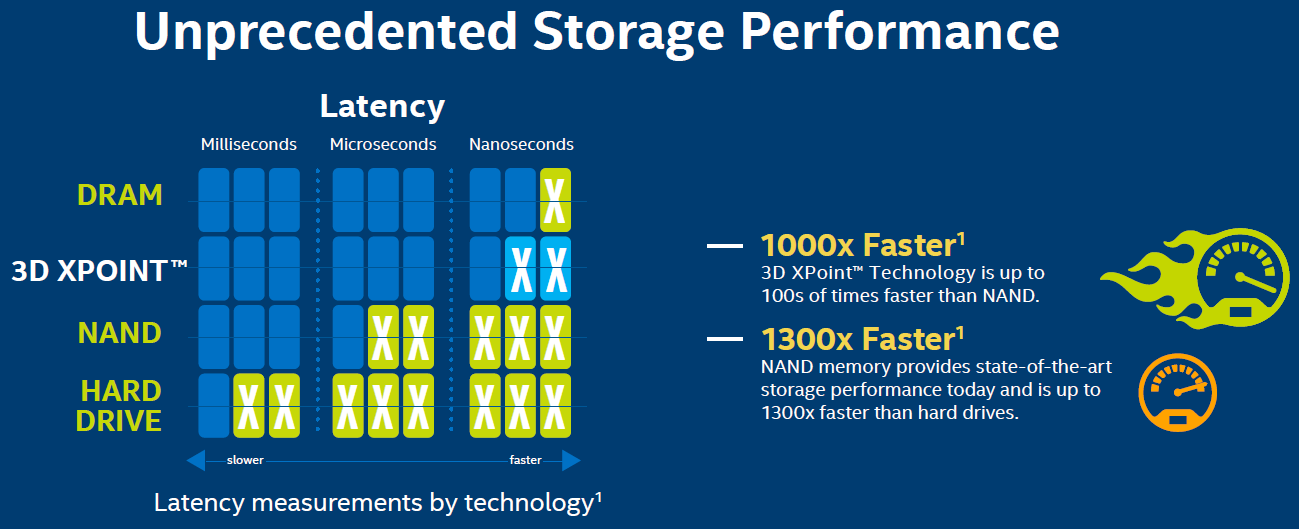 Intel and Micron hope that dramatically higher performance of 3D XPoint compared to NAND flash will speed up many applications, including consumer, enterprise and even supercomputers. For example, retailers may use 3D XPoint technology to more quickly identify fraud detection patterns in financial transactions; healthcare researchers could process and analyze larger data sets in real time, accelerating complex tasks such as genetic analysis and disease tracking. While theoretically 3D XPoint can work 100 – 1000 times faster than NAND, modern interfaces will limit performance of the new storage media. Intel estimates that solid-state drives based on 3D XPoint will be around 10 times faster than contemporary drives with PCIe NVMe interface.
The manufacturers will provide samples of 3D XPoint technology to interested parties later this year and expect to introduce the first actual products featuring the new type of memory in 2016.
Intel and Micron will produce 3D XPoint memory at IM Flash Technologies' fab in Lehi, Utah. The fab can start up to 20 thousand 300mm wafers per week, but it is also used to make NAND and 3D NAND memory, which means that initial supply of 3D XPoint memory will be relatively limited.
The developers of the new memory type do not disclose manufacturing costs or estimated prices of actual devices based on 3D XPoint devices. Officially, Intel and Micron say that the costs of 3D XPoint devices are somewhere between costs of NAND flash and DRAM. Keeping in mind that one 128Gb MLC NAND chip costs $7.5, whereas one 4Gb DDR3 DRAM chip costs $2.3 (which means that DRAM is 10 times more expensive in terms of per gigabit cost), it turns out that 3D XPoint will be significantly more expensive than modern NAND flash.
It is noteworthy that 3D XPoint is a proprietary type of memory developed by Intel and Micron, which will be produced exclusively by the two companies. The manufacturers have no plans to license their memory, which means that availability of 3D XPoint will not be really broad.
Discuss on our Facebook page, HERE.
KitGuru Says: If SSDs based on 3D XPoint are 10 times faster than contemporary solid-state storage devices, then their higher price will not be seen as a drawback. However, to fully realize potential of 3D XPoint, PCI Express 4.0 interface will have to be used, new controllers will need to be developed and new programs written. PCIe 4.0 will not be around for a couple of years and Intel's next-gen Xeon "Purley" server platform will not even support it. As a result, it looks like it will take years before 3D XPoint shows all of its benefits. Until then, it will simply be an exotic overpriced technology with huge potential.