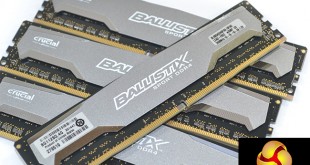 With DDR4 prices being driven down in preparation for the launch of a mainstream chipset supporting the memory type, now can be considered a good time to bag a high density quad-channel kit.
Combining a quartet of 8GB DIMMs in a quad-channel configuration with an operating frequency of 2400MHz and CL16 timings, how will Crucial's Ballistix Sport set of memory perform in our testing?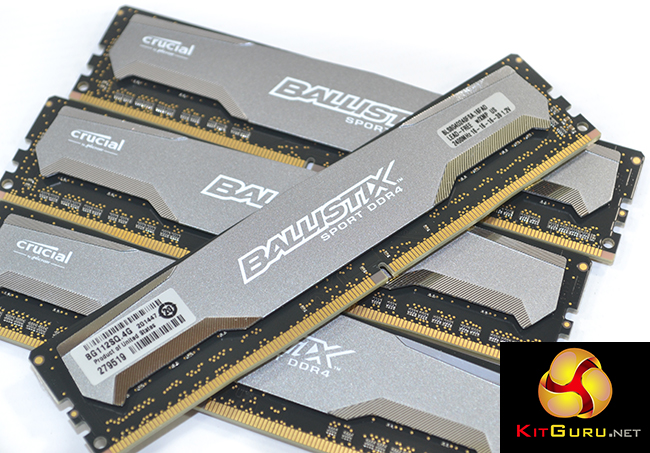 Sporting (excuse the pun) a metallic silver heatsink stuck onto black PCBs, Crucial's Ballistix Sport modules are clearly targeting enthusiasts and power users with a caring for aesthetics. Operating voltage for the dual-sided memory chips is 1.20V, so the heatsink is primarily designed for form over function.
A 32GB kit of DDR4 memory is still an expensive investment to gamers and enthusiasts. But to those content creators, 3D modellers, and virtual machine operators who can rapidly gobble up memory resources, a 4x8GB set can make sense over the logical 16GB alternative.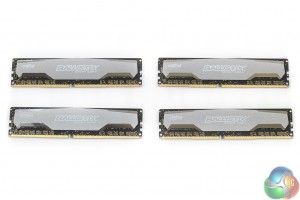 In order to meet the 8GB capacity requirement per DIMM, Crucial squeezes eight DDR4 DRAM chips onto each side of the memory's black PCB. The chips will be manufactured by Micron given that this is the effective parent company behind Crucial.
The Extreme Memory Profile (XMP) is set to operate at 2400MHz with slightly loser timings than is the norm – 16-16-16-39.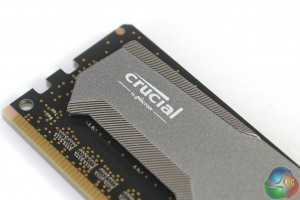 I think that Crucial's heatspreader design is smart. Two thin strips of metal dissipate what little heat energy the 1.20V DRAM chips output. Knowing that DDR4 memory does not output a significant amount of power and can therefore be cooled with relative ease, Crucial chooses not to extend the heatspreaders above the PCB.
This is a smart move which has significant benefits for users with a large CPU cooler. There is unlikely to be worry of interference given that the motherboard socket positioning and proximity to DIMM banks should be accounted for within the CPU cooler design.
Perhaps the only negative in regard to heatspreader design is the choice of colour. Boutique system builders may struggle to match components or stick to a theme with the metallic silver colouring. That said, the contrast with the black PCB is eye-catching in its own way.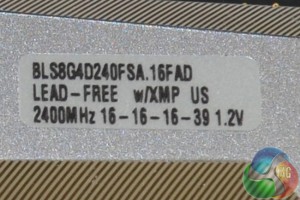 Specifications:
Model Number: BLS4C8G4D240FSA.
Compatible with Intel X99 chipset and Haswell-E processors.
Frequency: 2400MHz (PC4-19200).
Timings: 16-16-16-39.
Voltage: 1.20V.
Quad Channel Kit: 32GB (4x 4GB).
XMP 2.0 Ready.
Lifetime Warranty.