The Crucial Ballistix Sport 2400MHz 32GB DDR4 memory kit is a cost-effective set of DIMMs that provides a good solution for users with workloads reliant upon large quantities of memory but without much preference for enhanced frequency performance.
The Micron-infused Crucial DIMMs are able to compete closely with Samsung IC-based G.Skill memory of an identical capacity and operating frequency. There seem to be some occasions where the Micron ICs used by Crucial, despite their increased latency, register greater benchmark scores. This, however, is heavily tied to the accuracy of our benchmarks, especially when the granularity of performance differences is so fine.

It was good to see the ease by which we were able to achieve stable memory frequencies of 2666MHz and above. Enhanced frequency possibilities, with tighter timings, give users the potential to push their memory speed in order to increase bandwidth. With a single sample, we cannot speak for the overall overclocking performance, however we can say that our results shine a positive light on the quality of Crucial's Ballistix Sport DDR4 modules.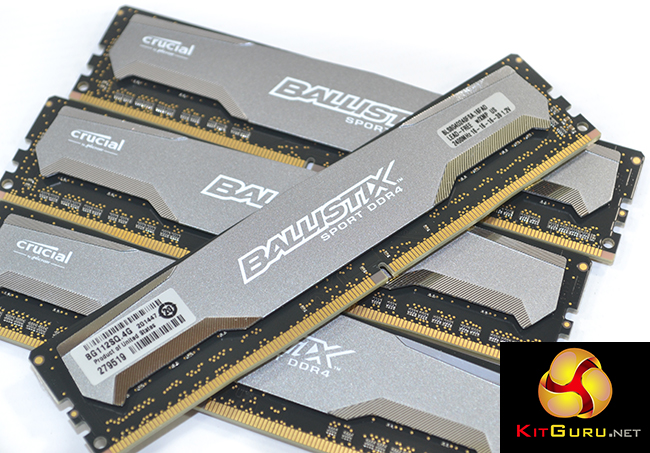 The Ballistix Sport modules' styling is unique and while the silver heatspreader colouring may be hard to match in a system build, the non-interference dimensions will be welcomed by users with large air CPU coolers.
Widely available at less than £200 for the 32GB kit, Crucial is leveraging the DRAM manufacturing power and direct supply from Micron in order to hit a particularly aggressive price point. In a market where pricing can play such a critical role in purchasing decisions, the quality and smart design of Crucial's Ballistix Sport 2400MHz 32GB DDR4 memory kit may be the additional factors that warrant a purchase.
You can buy from DABS for £185.31 inc vat.
Discuss on our Facebook page, over HERE.
Pros:
Very aggressive pricing for a 32GB kit.
Smart heatspreader design that does not extend above the PCB.
Potential for solid overclocking gains and tightened timings.
Black PCB.
Cons:
Metallic silver heatspreader colour may not appeal to all.
16-16-16-39 stock timings are looser than typical competing 2400MHz options.
KitGuru says: A very aggressively priced set of high capacity memory with the value factor on its side.