A leading professional overclocker has managed to set a new DDR4 clock-rate record using hardware from MicroStar Interational, Kingston and Intel Corp. While overclocking results of contemporary DDR4 memory modules are impressive, when it comes to actual frequency, they are considerably behind DDR3 memory solutions.
Toppc, one of the world's leading overclockers, has managed to boost frequency of a Kingston HyperX Predator DDR4 4GB memory module to rather whopping 4351MHz frequency in single-channel mode from 2133MHz default clock-rate. The performance enthusiast used an MSI X99S XPower AC motherboard as well as an engineering sample of Intel Core i7-5960X "Haswell-E" microprocessor.
It is unknown what kind of cooling system was used (liquid nitrogen is highly likely), but to keep the system stable, the central processing unit was downclocked to 1631.84MHz. Moreover, to ensure maximum overclocking potential of memory controller, seven out of eight CPU cores as well as Intel's Hyper-Threading technology were disabled.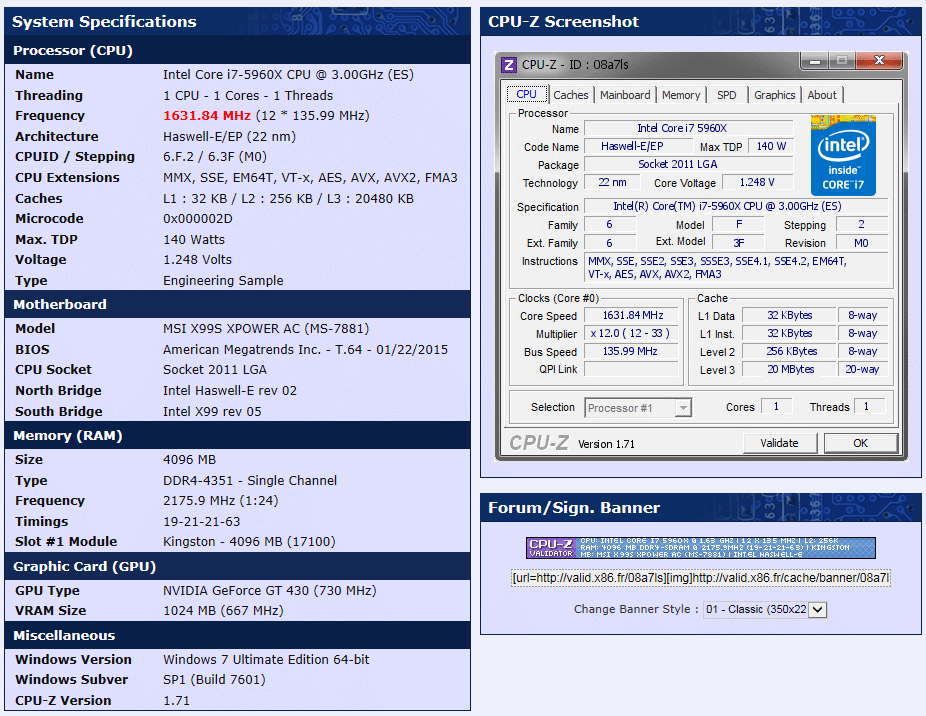 The world's fastest DDR4 memory modules are rated to run at 3.40GHz, which means that the overclocker has managed to significantly increase clock-rates of DDR4. Unfortunately, the overclocking has little practical use since one 4.35GHz DDR4 module provides 34.8GB/s of bandwidth, whereas four 3.40GHz DDR4 modules in quad-channel mode offer whopping 108.8GB/s of bandwidth.
Previous DDR4 overclocking records were 4326MHz and 4322MHz. Given that previously overclockers managed to boost clock-rates of DDR3 memory to significantly higher levels, it is obvious that modern DDR4 platforms and memory modules have relatively limited overclocking potential. It is likely that the new memory type will uncover its overclocking capabilities with "Skylake" or even "Cannonlake" generation microprocessors.
Discuss on our Facebook page, HERE.
KitGuru Says: Modern DDR4 platforms simply do not need extreme memory modules to demonstrate leading-edge performance. Quad-channel memory sub-systems provide great bandwidth at almost any clock-rate As a result, module makers do not hand pick DRAM ICs or develop very sophisticated printed circuit boards to hit extreme frequencies. Once DDR4 enters mainstream market, everything will change since dual-channel memory sub-systems clearly benefit from high clock-rates.