The United States Federal Communications Commission has today passed a vote to redefine the minimum broadband download speed to 25 Mbps, and the minimum upload speed to 3 Mbps. The previous 4 Mbps/1 Mbps standard set in 2010, was declared outdated and was in the view of the commission "failing to keep pace with today's advanced, high-quality voice, data, graphics and video offerings".
17 percent of all Americans (55 million people) lack access to 25 Mbps/3 Mbps service and a whopping 53 percent of rural Americans (22 million people) lack access to 25 Mbps/3 Mbps. Looking at the map the FCC have released to show where the problem areas are, it is pretty clear that, while the east coast of the US is pretty well served, there are a lot of states that seemly lack almost any access to the new definition of broadband.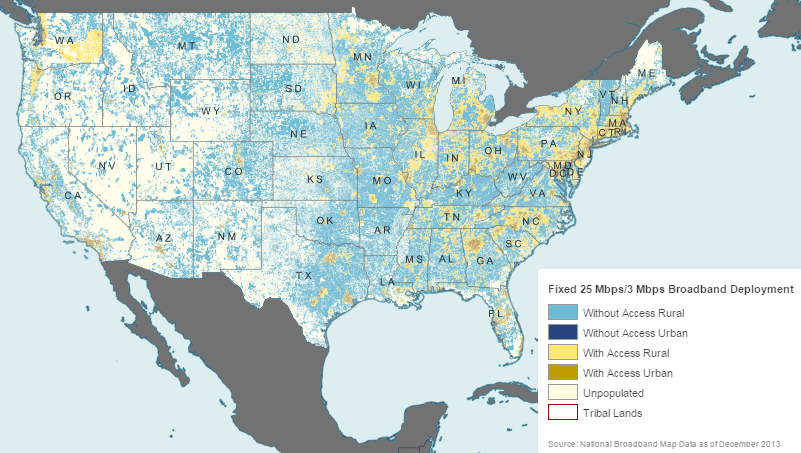 This decision should mean greater choice and faster speeds, for both rural and urban Americans who want broadband and is a pretty large win for consumers. Before today's vote ISPs could advertise "broadband" as any package that could achieve speeds of at least 4 Mbps down and 1 Mbps up.
FCC Commissioner Jessica Rosenworcel tweeted "Let's stop dreaming small & instead dream big. Good that @FCC raising #broadband threshold to 25 Mbps–but we should aim higher: 100 Mbps." Having broadband reclassified as 100 Mbps would be a huge win for consumers and would help the US move even higher in worldwide broadband rankings, but would also put a lot of pressure on ISPs to perform huge network upgrades right across the country and would make the map above almost totally blue, leaving large portions of the US without any "broadband" as the FCC would have it defined.
The US is actually doing quite well in Akamai Technologies worldwide internet speed ranking this year, having moved up from position 31 in 2013 to position 11 in 2014, just below Ireland, with an average speed of 10.5 Mbps. Still quite far from the leader, South Korea where the average speed is 23.6 Mbps!
Discuss on our Facebook page, HERE.
KitGuru Says: I'm all for faster broadband speeds for everyone and if this is how the FCC can achieve this in the US then it seems like a good thing. Here in the UK we have a lot more competition, but our infrastructure still needs a lot of work to get high speed broadband out to everyone possible.
Source: FCC