Triple-level cell (TLC) NAND flash memory is dramatically less durable than traditional multi-level cell (MLC) or single-level cell (SLC) NAND. However, it has one distinctive advantage over competing technologies: it is more affordable to manufacture. This single advantage drives its popularity among makers of various devices and by the end of this year it will account for nearly half of total NAND output on the planet.
"In the past TLC NAND flash was widely used in memory cards, USB drives, and external devices because of its cost advantage, but that has changed," said Sean Yang, assistant vice president of DRAMeXchange, a leading tracker of DRAM and NAND memory markets. "Samsung has actively introduce TLC into the eMMC/eCMP and client SSD markets since 2013. With its recent market share gains in 2014, Samsung managed to push its competitors to develop TLC-based embedded products as well."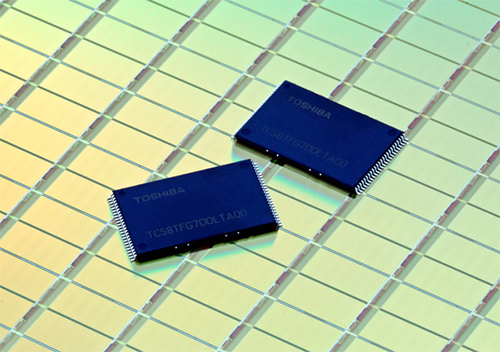 Modern MLC NAND can sustain around 3000 program-erase (P/E) cycles, but TLC NAND endures only around 1000 P/E cycles. While this is enough for applications like memory cards, to build a reliable solid-state storage solution using such memory, a special set of technologies (e.g., an advanced controller that supports error-correction capabilities, advanced firmware, etc.) is required. Due to low price of TLC NAND (which is 15 – 25 per cent cheaper than MLC), many companies have invested a lot of money in development of controllers to use this type of memory instead of more expensive MLC.
Thanks to development of controllers, usage of TLC NAND in applications like smartphones, tablets, and other consumer electronics have steadily increased in the recent quarters. In fact, select models of Apple iPhone 6 use TLC-based storage.
According to analysts from DRAMeXchange, advancements of SSD controller chips have resolved TLC's prior problem, including endurance and performance, making TLC-based solid-state drives viable. For example, Samsung has been offering TLC NAND-powered SSDs for more than a year now.
Due to increased usage of TLC NAND flash in mobile, consumer and SSD applications, demand for such memory type will increase and so will supply. As a result, already in Q3 around 44 per cent of all NAND produced will be TLC. By Q4 the share of triple-level cell flash memory will increase to 45 per cent.
According to Mr. Yang, supply of NAND flash will exceed demand throughout the first half of the year. The situation will get better for manufacturers of memory in the second half, when Apple introduces its next-generation smartphones and tablets.
Discuss on our Facebook page, HERE.
KitGuru Says: Despite of potential performance and endurance issues, end-users vote with their wallets for TLC NAND. While manufacturers of actual devices provide warranties and respect them, they never compensate potential data losses. But does anyone really care?