G.SKILL has announced new high-capacity, high-performance memory kits based on 32 GB modules and spanning several of their current DDR4 series. The company claims these modules will push the performance of high-capacity memory solutions to the limits.
Included in the new specifications are G.SKILL's Trident Z Royal and Trident Z Neo ranges of high-speed DRR4 memory. All of the new series will offer 32GB capacity modules and, in some cases, offer to support the demands of Intel's new HEDT Cascade Lake-X Platform which allows for up to 256 GB memory.
New Trident Z Royal Kits will be available in DDR4-3200 CL16 256GB (32×8) configurations which will offer high density, high-performance memory at consumer level. G.SKILL Trident Z Royal DDR4-3200 CL16 256GB is validated on the latest Intel X299 ASUS ROG Rampage VI Extreme Encore motherboard, with an Intel Core i9-9820X processor, which makes these high-capacity memory kits the ideal choice for HEDT workstations, running multiple virtual machines, according to G.SKILL.
A further G.SKILL Trident Z Royal kit will be available in a DDR4-4000 CL18 128GB (32×4) configuration, to provide consumers with a High-capacity high-frequency alternative option to the 256GB kits, along with two new Trident Z Neo configurations.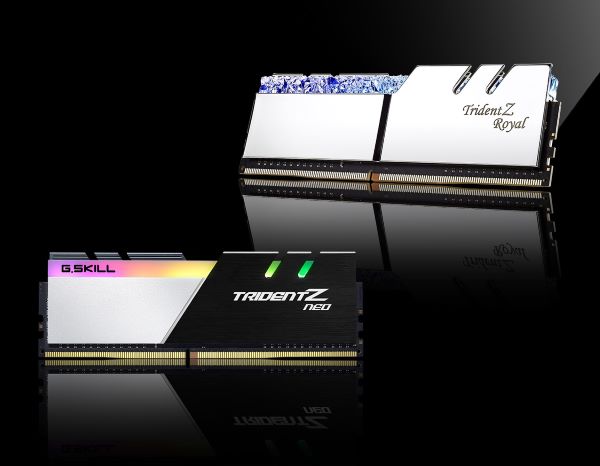 The first new Trident Z Neo kit will offer a high-speed, high-capacity memory solution to AMD Ryzen users with the introduction of an AMD Ryzen optimised, Trident Z Neo DDR4-3600 CL18 128GB (32×4) configuration. Even with desktop systems, it is possible to reach a total of 128GB on AMD's X570 platform. G.SKILL has stress-tested these Trident Z Neo DDR4-3600 kits using an MSI X570 Godlike motherboard and the Ryzen 5 3600 CPU to ensure optimal performance.
Continuing to push the limits of Ryzen 3000, G.Skill has also introduced a Trident Z Neo DDR4-3800 CL18 64GB (32×2) memory kit which G.SKILL describe as a blazing dual-module behemoth which was validated on the MSI MEG X570 Godlike motherboard using an AMD Ryzen 9 3900X CPU.
G.SKill is due to release these new high-performance memory modules worldwide by the end of this year. However, a specific date and pricing are yet to be confirmed.
KitGuru says: G.SKILL are well known for pushing the boundaries of memory with record-breaking frequencies. These new additions should offer the same great performance and reliability we have come to expect from G.SKILL over the years.